A stand-out performance on last month's Rallye Monte-Carlo ensured Elfyn Evans started his Toyota Gazoo Racing World Rally Team career on a positive note.
The Welsh rallying wizard and co-driver Scott Martin set some stunning stage times, led the event outright in challenging conditions and eventually finished on the podium on their first outing in the Yaris WRC.
Before the 31-year-old started his preparations for this week's Rally Sweden, we caught up with Elfyn at Caffeine & Machine in Warwickshire to find out how he's feeling about this new chapter in his career.
TGB Blog: Did you know going into Rallye Monte-Carlo that you were going to be absolutely on the pace in the Yaris WRC?
Elfyn Evans: "We had a good pre-rally test, but until you go head-to-head with the opposition, having a good feeling is only a small part of the package. We knew that the Yaris WRC was very competitive last year, but you never know. While we were upbeat, we never really knew how it would turn out. We hoped that it would be positive and it turned out to be that way."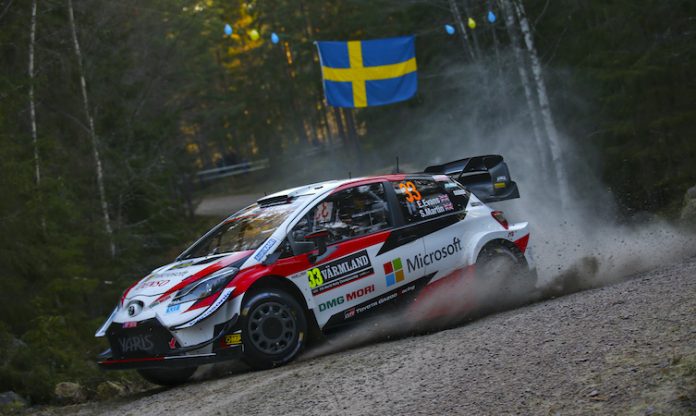 Did you feel comfortable in the car from the start of the rally?
"Not particularly, because it's Monte-Carlo and the first couple of stages are run in the dark. The tyre choice was very difficult because we had one special stage which we knew would be on a dry and abrasive surface, and then we had the following stage which was mostly clear in terms of road conditions, with sections of ice and plummeting temperatures. It was a bit of a lottery as to which way to go. In the end we made a compromise tyre choice. The first night is always a case of just getting through it. We didn't really get the feeling of 'this is going well' until Friday morning when road conditions were more consistent."
How hard were you pushing on the Friday? Were you at ten-tenths?
"These days in the WRC you usually have to be flat-out from the start if you want to stand a chance of winning an event, but Rallye Monte-Carlo is probably the exception to that rule. You have to keep a little bit back because you have to be ready for the unexpected. That isn't to say that you go slowly, but it isn't the rally where you really push the boat out, because you will get caught out. Friday morning in Monte went particularly well. It's never easy, but quick times were coming naturally and without us having to force it. That is a really nice thing to happen when you come to a new car and a new team!"
The pace in Monte Carlo must be a real confidence-booster for the rest of the season…
"Of course, it's much better than the other way around when you're struggling for pace or struggling to feel comfortable, however we know that Monte is quite a specific event. The thing that's quite interesting about the 2020 WRC calendar is that we now don't compete on asphalt again until Rally Germany in October. In fact, we won't tackle a pure asphalt event until Rally Japan in November, because the stages in Germany are usually dirty and wet, so there's very little 'fast' asphalt – even Japan is very mixed in terms of character.
Read more: The all-new, rally-inspired GR Yaris road car
"The key part of the championship is how you perform on the gravel-based events. That's the element that we're less experienced with in the Yaris WRC so far. We've had one test session on a very rough road as part of our winter development, so we've had no real opportunity to get a feel of the car on gravel. There's still a bit of learning to do in that respect, but it was a positive start to the season. We have to keep working to make sure we know we're in the right window with the car on gravel."
Which is your favoured surface, asphalt or gravel?
"I don't really have a favourite to be honest; I've had strong results on both. Some of my strongest performances have actually come on asphalt, especially on difficult, tricky asphalt. Sweden is something very specific, as is Mexico because the rally is held at high altitude. Even Argentina is specific because the stages are very rough and mixed-speed, so you don't really start to get to what you might call the 'standard' performance-levelling events until you get to Portugal in May. With so many drivers in new cars, it's going to be interesting to see who can find their feet the soonest."
In terms of the culture of Toyota Gazoo Racing, how are you finding it?
"It's really good so far. I feel like I have settled in really well. Remembering names is proving difficult because there are so many new faces! Not all new faces I have to say because there are some people who I have worked with in the past, but there still there are a lot of people in the team – that is something that struck me straight away. That's an advantage of being in a manufacturer team where every detail is catered for. Hopefully that will be worth something at the end of the year because the margins are so fine in the WRC and all of the top drivers are so close in terms of performance, so all of those fine details should add up to something. So far I have to say it's not a pressurised environment to work in, it's a nice place to be and everybody seems to be working towards the goal with the same sort of motivation."
You must have grown up watching Tommi Makinen on television when he was competing as a driver. What is it like having him as a team boss?
"It is a little bit surreal, like many things in WRC! I was still relatively young when Tommi was in his winning ways but I was still aware of who he was. But one of the strangest things for me was when I first got my break into the WRC in my first season in a World Rally Car and being team-mate to Mikko Hirvonen, who I'd watched more closely when I was starting out in rallying. He was the guy who was challenging Sebastien Loeb to win and then all of a sudden I was his team-mate. Now I've moved on to a team where I have a four-time world champion as a team boss. It's always a bit of a surreal environment. But working with Tommi comes with a lot of advantages, not least that he understands the stresses and pressures on drivers. Obviously it is part of the job to have those pressures, but at least he can sympathise with you at times and can appreciate when it might be good to take a breather from the sport. That much was clear over the winter when he was telling me not to spend all of Christmas with my head buried in the laptop!"
Have you had the opportunity to meet Toyota Motor Corporation president Akio Toyoda yet?
"I had a chance to meet Akio at the Tokyo Auto Salon in Japan last month. One of the reasons for my switch to TGR was the commitment and passion for the sport of everybody at Toyota all the way to the very top of the company. It is clear that the company is driven to succeed and as a driver who wants to win, that is a really encouraging thing to be a part of."
Drivers usually don't like answering this question, but are you entertaining thoughts of fighting for the championship?
"You always want to achieve the utmost you can. So far during my career I have been able to demonstrate the speed and consistent finishes, but I haven't yet displayed the consistent high-level speed required to be regularly winning rallies. I'm not setting any extravagant goals, rather I'm focused on delivering the absolute best on every event and letting the rest take care of itself. If you start thinking too tactically or try to come up with some kind of masterplan, it's all too easy to trip yourself up or overthink things. My personal goal is to give my absolute best on every event and then see what I end up with at the end of the year."