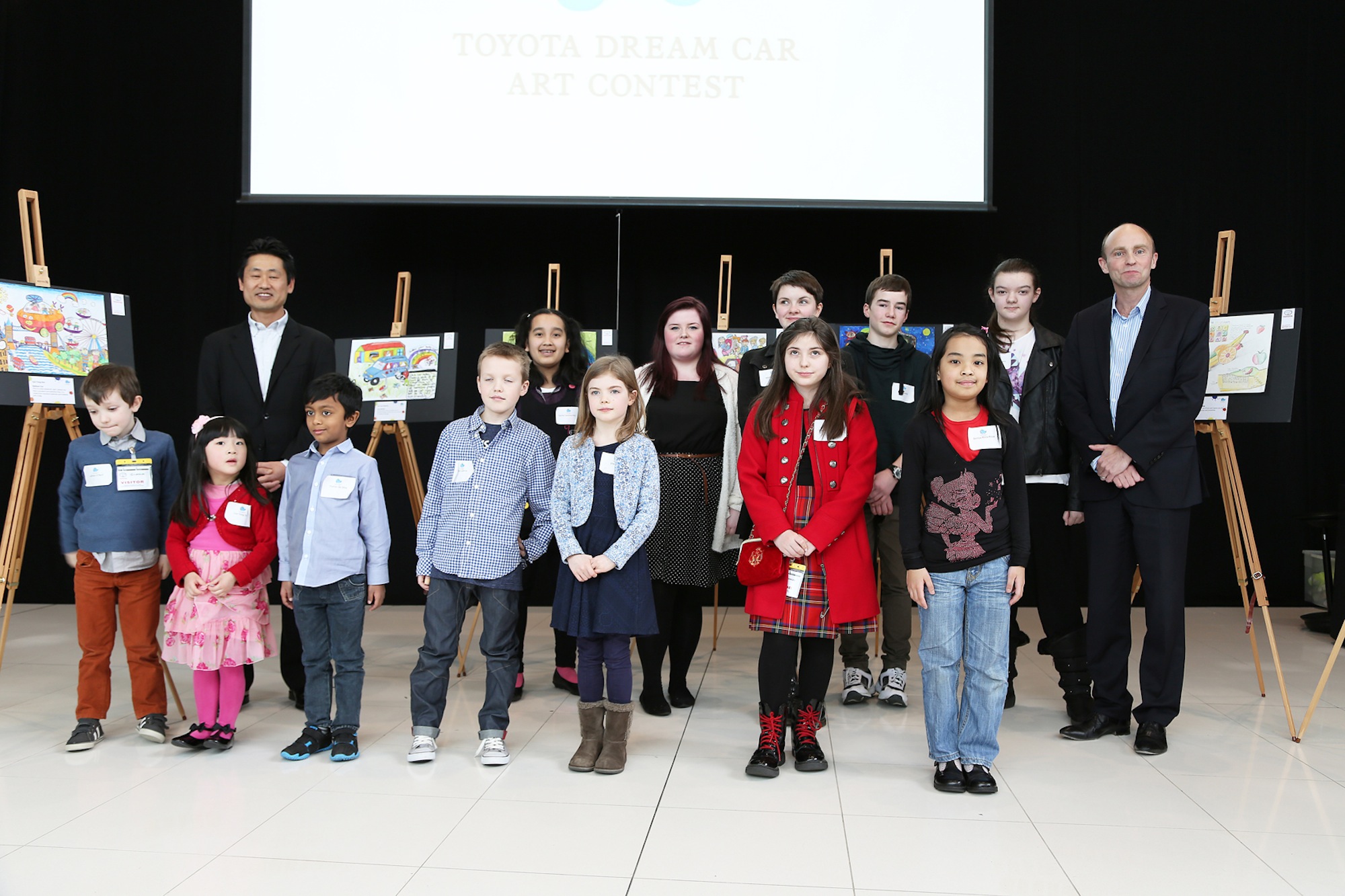 If you want a vision of the cars of the future, the Toyota Dream Car Art Contest is hard to beat – and a record-breaking number of entries made the 2014 contest the best yet.
Cars inspired by marshmallows, balloons, birds, bananas and frogs sat alongside vehicles that displayed technology including solar panels (like the Prius and this amazing solar-powered Toyota 2000GT!) and colour-changeable body parts in the finalists' display, hinting at the potential power of child-like imagination to solve real-world transport issues.
The winners of the children's art contest were recently announced at our head office in Epsom, Surrey, and provided a vivid splash of colour to our HQ. The winners were presented with a certificate, an Apple device and a goody bag, and have the chance of winning a trip to Japan.
Details on how to enter next year's competition will be announced in due course. In the meantime, read on to see the results and a slideshow of each category's winners – just hover over the images to and click the arrows to scroll through the entries.
Under-8s category
First place: Luo-Tong Sim, 'Balloon car'. This is a light, solar-powered balloon-like car that is accident-proof and pollution-free. It is made from recycled materials and can be folded into a bag.
Second place: Thehan de Silva, 'Rocket car'. A rocket powered car which can drive on the road, underground, underwater and in space.
Third place: Ella Lewis, 'Marshmallow car'. A super-soft edible car made from yummy marshmallow. It bounces high in the air on a spring. A car that's safe for its passengers and pedestrians.
Fourth place: Lachlan O'Neil, 'Red Eagle'. An electronic solar car that can fly above the traffic to see air ballons and birds.
8-11 category
First place: Eva McLeod-Quinn, 'Aqua car sub plane'. The car has a retractable, oval photo-chromatic window. The wings of the car are concealed underneath and come out automatically when put to flight mode. The wheels of the car are also retractable when used as a boat and submarine.
Second place: Denisa Rissa, 'Super multicoloured foldable car'. This car can easily fold and open into a personal (two seats) or a family car (nine seats), so it is two cars in one! The personal car would do for travelling and the family car would go to London without having to pay for buses.
Third place: Elliot Luckins, 'Solar powered frog car'. This car is designed to be suitable for floods. There are solar panels to save energy.
Fourth place: Lisa Masters, 'Help Mobile'. Helping babies sleep and the homeless.
12-15 category
First place: Megan Cahill, 'Toyota Emotion'. The Toyota Emotion is a car that has features such as a finger print lock, plug socket for charging devices and a touch screen.
Second place: Rachel Rissa, 'Duo traveller'. This car can go in the water so it's great for the beach.
Third place: Marlin Harrison, 'The Precedo'. This car deviates from normal expectations, while offering intuition, style and function. It also includes more people than a normal car does, allowing disabled persons to drive the car.
Fourth place: Isaac Stanesby, 'Fruit Mobile'. It's a car made out of fruit and it gives you all kinds of fruit drink.