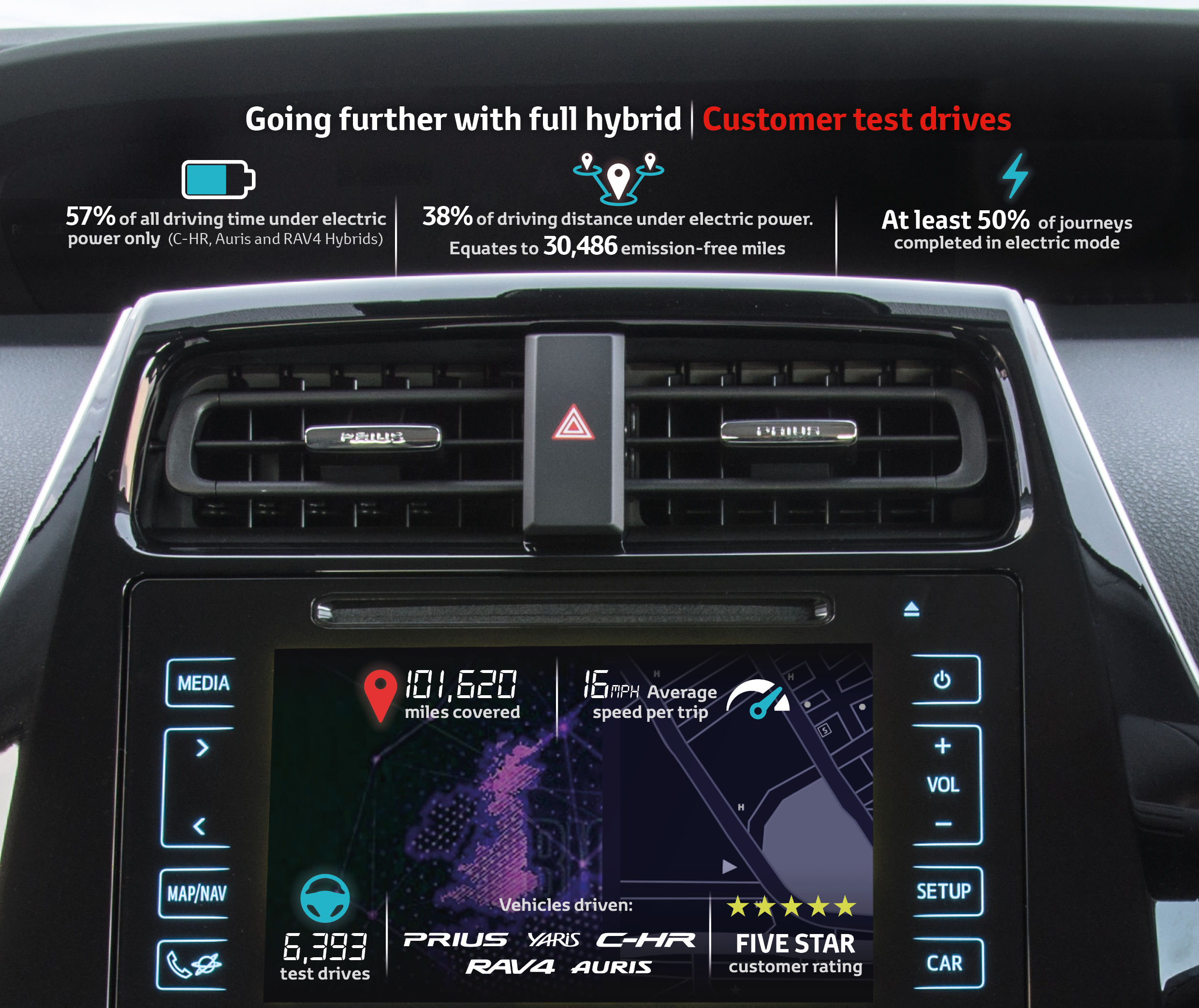 A Toyota test drive initiative devised to highlight the benefits of hybrid technology to customers has achieved some amazing results, with half of the journeys undertaken being completed entirely in electric-only mode.
As part of the Discover Toyota Hybrid campaign, we invited customers on test drives to discover the benefits of our hybrid vehicles for themselves, and also find out how far they could travel in electric mode. Each vehicle was equipped with a telematics device that measured key statistics, such as journey time, mileage and efficiency.
The results so far have been impressive. In the first six months, between 1 April and 28 September 2017, 6,393 test drives have taken place covering 101,621 miles – an average of 16 miles per trip.
At least 50% of journey times were completed solely in electric mode, meaning that no petrol was used on half of the test drives, while on average 57% of the journey time in Toyota C-HR, Auris and RAV4 Hybrid drives was spent entirely under electric power.
Electric power was also responsible for 38% of the distance covered, equating to a total of 30,486 emission-free miles.
These excellent results were achieved because Toyota vehicles are full hybrids, which means they can run purely on electric power, switching off the petrol engine when it isn't needed. This makes them fundamentally more efficient than the mild hybrid systems many manufacturers are turning to, in which the engine is always running when the vehicle is in motion.
With a five-star satisfaction rating from all the customers that took part in Discover Toyota Hybrid, why not book yourself in for a test drive and see if hybrid works for you.
Contents of this article were correct at the time of publication.