Ordinarily, Elfyn Evans would have spent the past few months pressing on with his World Rally Championship campaign, determined to build on the positive results he recorded in the opening three rounds of the season. With the global pandemic forcing motorsport to a halt, however, the Welshman instead found himself at home with a lot more time on his hands.
It was crucial that Evans remained in prime physical and mental condition in preparation for a return to competitive action. Evans opted to keep fit by cycling solo in the splendid isolation of the Welsh hills near his home. To keep him mobile and enable him to reach parts of the countryside other vehicles couldn't reach, the 31-year-old borrowed a Hilux Invincible 50 from our press fleet and almost immediately found it well suited to his outdoors lifestyle.
"When I took delivery the Hilux I was in the process of moving house, so it was able to assist with that," he says. "The Hilux suits my lifestyle because I'm always going off mountain biking or road biking, and it's so easy to throw everything you might need in the back. It's been nice to have it at home and now, of course, I've had a little skid round the forest with it as well, which has been good fun."
The Hilux Invincible 50 is a limited edition model created in 2018 to celebrate 50 years of the 'unbreakable' pickup. It was prepared by all-terrain experts Arctic Trucks, with special features including raised suspension, performance dampers, and a sports bar fitted with a battery of LED spotlights. No surprise that Evans caused a stir when he drives it around North Wales.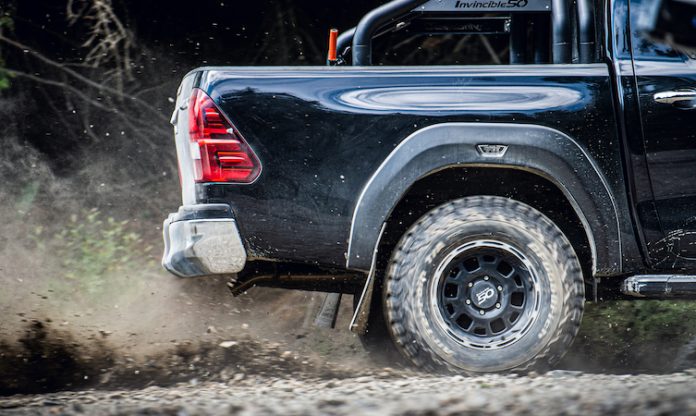 "It's been really well-received – everybody really likes the look of the truck," he says. "It's very practical and, as I mentioned previously, it really suits my lifestyle. Everybody's always asking 'what's it like?'. It does look quite mean…"
The premise of the Countryslide film is a simple one: to let Toyota's newest world rally star loose on a gravel rally stage, albeit in an unlikely vehicle rather than his usual mount, the Yaris World Rally Car. After all, when there's no rallying action, motorsport competitors have to get their kicks somehow.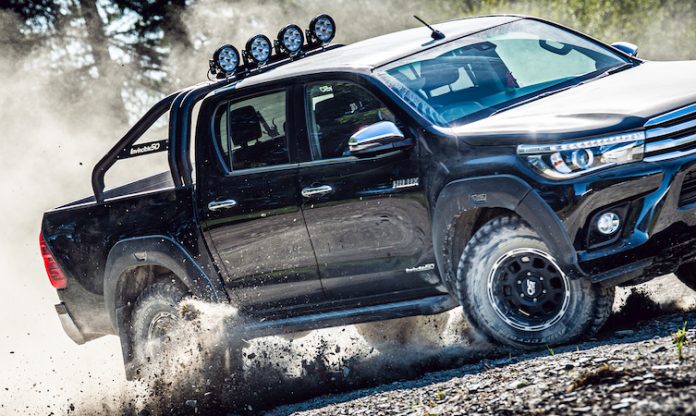 For Evans, this meant a trip to the Forest Rally Experience in Gribyn forest near Carno, a rural town in Mid-Wales. Given that he already had the Hilux Invincible 50 as a road car, there was no more capable vehicle to take onto the dusty gravel stage.
"We've thrown the bike in the back and gone to the Forest Rally Experience, not far from my home," Evans explains. "We've been trying to drift the Hilux as much as possible without breaking it – that's was basically the story for two days of filming. I'm not sure if we succeeded in drifting, but we haven't broken it, so that's a testament to the strength of the Hilux."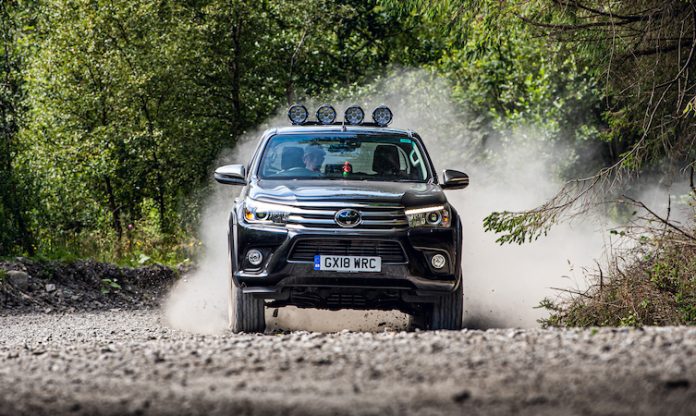 Evans concludes the Countryslide film by grabbing his mountain bike from the load bay of the Hilux and pedalling up a Welsh hillside.
"Growing up in North Wales, the possibilities for riding your bike are endless, so I've always ridden since a young age," he explains. "Now it's become a key part of my training. Mountain biking is quite similar to rallying in that you have long periods of time where you are performing physically but where you have to really maintain a high level of concentration."
Did you spot the Easter eggs in our Countryslide film?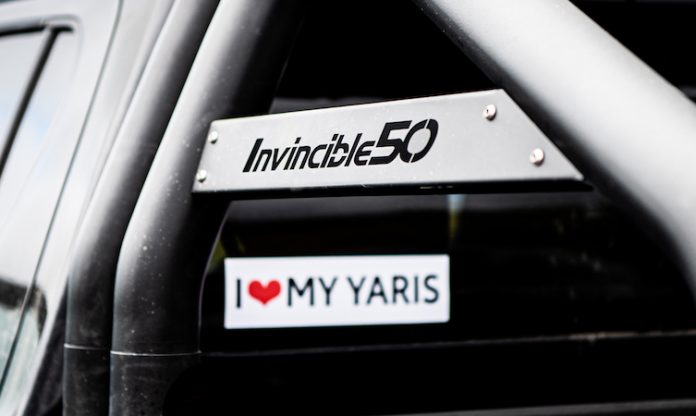 The Hilux Invincible 50's number plate reads GX18 WRC. This was a happy coincidence as opposed to a reference to Evans' profession as a World Rally Championship driver.
When Evans arrives at a nondescript T-junction, he has to call upon the guidance of his WRC navigator, Scott Martin, to tell him which way to go. Rally drivers, eh? Where would they be without navigators?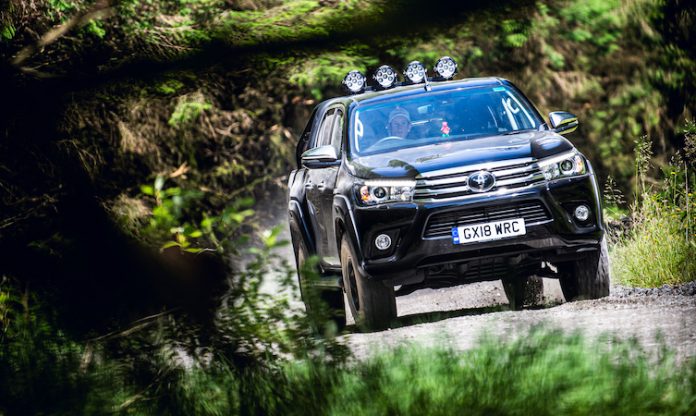 During his drive on the forest rally route, Evans encounters a somewhat older Hilux wearing a 'Toyota Gazoo Racing' sticker. The vehicle is owned by Dan Strong from DMS Media, the creative agency responsible for filming Countryslide.
Evans is from Dolgellau and is proud to show off his heritage, hence the nodding Welsh dragon affixed to the dashboard of his Hilux.
The 'I Love My Yaris' sticker in the back of the Hilux is a reference to the vehicle Evans usually drives on rally stages: the mighty Yaris WRC.
Don't forget you can read the full interview with Elfyn Evans here.