A one-of-a-kind Toyota Auris Hybrid, the top prize in this year's official Red Nose Day prize draw for Comic Relief, has been handed to its proud new owner. Anne Meikle, from Edinburgh, was handed the keys to her brand-new car at her local Toyota dealership in Newbridge.
Built specially for the fund-raising draw at Toyota Manufacturing UK's car plant in Derbyshire and featuring a hybrid engine produced by Toyota's engine factory in North Wales, the hatchback displays a wealth of Red Nose Day-inspired features. These include a red front grille, red leather steering wheel and instrument panel finish and red stitching on the seat upholstery and door trims.
Ms Meikle said: I'm over the moon to have won the car, it's absolutely gorgeous. I always support Comic Relief, so went online to see what I could this year and found the prize draw.
"I'm looking forward to driving it, especially for my work as a 999 first responder. I currently drive a Toyota Yaris, which I will now be giving to my son for his birthday."
Katherine Macklin, Comic Relief's Fundraising Development Manager, said: "We're so grateful to Toyota for donating such a fantastic prize, which helped generate support for Red Nose Day from thousands of people."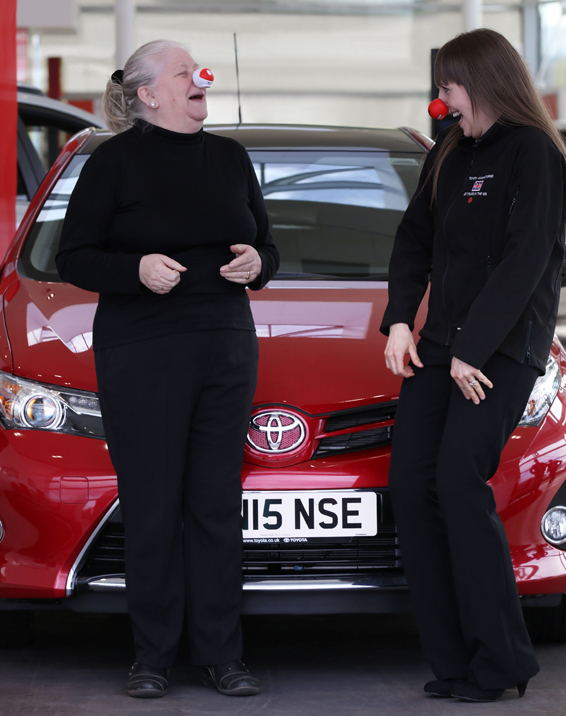 Toyota was proud to be an official partner to Red Nose Day, its UK business and its national dealership network joining forces to raise more than three quarters of a million pounds for Comic Relief, money which will support projects transforming people's lives in the UK and Africa.