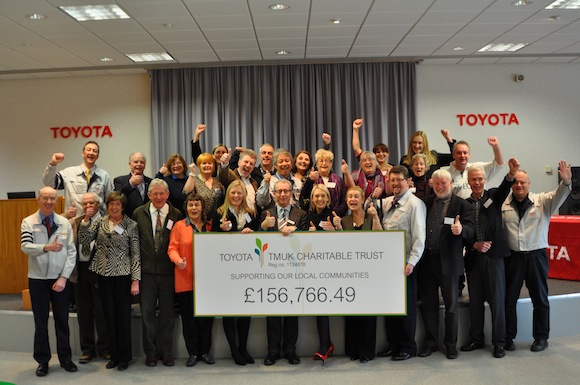 Charities in Derbyshire and North Wales were given a cash boost worth totalling £156,766 last week as the Toyota Manufacturing Charitable Trust handed out the proceeds of its 2012 fundraising.
The trust was set up in 2008 to distribute funds to good causes based near the Toyota Motor Manufacturing UK (TMUK) factory in Burnaston, Derbyshire that produces the new Auris and Avensis, and the Deeside plant where engines including the famed 1.8-litre Toyota Hybrid petrol powerplant are made.
Presentations were held last Friday, February 15th at both Burnaston and Deeside.
The Burnaston presentation saw representatives from The National Society for the Prevention of Cruelty to Children (NSPCC); The British Heart Foundation; Derbyshire, Leicestershire & Rutland Air Ambulance; The Play and Recycling Centre; The Padley Group; The Macular Disease Society; ACE Youth Worker Trust; The Canal & River Trust; Citizens Advice Broxtowe; Nottingham Hospitals Charity; The Arkwright Society; Derbyshire Disabled Cricket Club; The Vineyard Arches Trust; Sight Support Derbyshire; 58i and Rainbows Hospice for Children & Young People collect their donations from Toyota Manufacturing UK's Managing Director, Shigeru Teramoto, Trustee and Deputy Managing Director, Tony Walker along with the Chair of the Trust Mike Mitchell.
Representatives from The NSPCC, The British Heart Foundation, Wales Air Ambulance, Clatterbridge your Cancer Centre and Claire House Children's Hospice received their donations from TMUK's representatives including Deeside Executive Advisor Akihito Isobe and Senior Manager Graham Hillier at the Deeside event.
Money was raised through holding 'Lean Approach' benchmarking seminars, where businesses make a donation to spend a day at Burnaston to learn about Toyota operations and techniques. Other activities include the popular Public Visit Programme and employees' fundraising such as cake sales, auctions and ticket sales from the use of Toyota's executive box at Derby County Football Club.
Speaking ahead of the presentations Mike Mitchell, Chair of the Trust, said: "We are pleased that the fundraising activities of both the company and individual members allow us to continue our support of local charities".
In 2012, the two national charities chosen by the company and employees continued to be The NSPCC and The British Heart Foundation. The money donated to both these charities will stay within the local area, as is the case with all the donations made.
The Trust also supports local good causes through the Community Grant Programme, from which donations are made at the end of each year. Charities and groups are invited to apply for donations through the Toyota Manufacturing UK Charitable Trust website.
Since the start of production in 1992 Toyota has contributed over £4.5 million towards the local communities surrounding its plants in Derbyshire and North Wales.