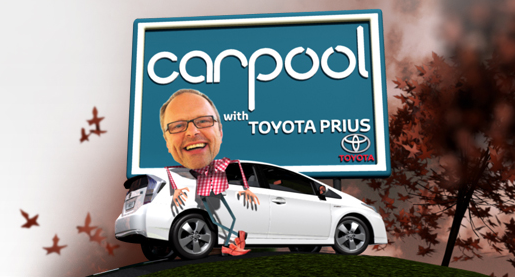 Can it really be that time already? We're heading towards the penultimate episode of Carpool, the in-car chat show that sees Robert Llewellyn driving his guests everywhere except to distraction. If you've been following the show you're probably wondering who's next in his Prius?
We can tell you that tonight's funny half hour, which begins at 8.30pm on Dave, is split between Tim Vine and Doon Mackichan. Tim, who can regularly be seen alongside Lee Mack in the BBC's Not Going Out, should have no problem filling his time with Robert – he once held the world record for the most jokes told in an hour (499 in total).
Equally quick on the draw, Doon's comedy highlights read like a roll-call of award winning satires, including The Day Today, Brass Eye and Smack The Pony. Let's hope Robert can keep up…
Carpool airs at 8.30pm, every Wednesday on Dave (Sky 111, Virgin 128, Freeview 19). Don't worry if you miss it, as the episode is repeated an hour later on Dave Ja vu (Sky 158, Virgin 129, Freeview 25).