There's a GT86-size space in the workshops of GPRM at Buckingham this week, for the Toyota sports car which is being built to contest the Britcar 24 Hours at Silverstone late next month has bent sent away for a paint job.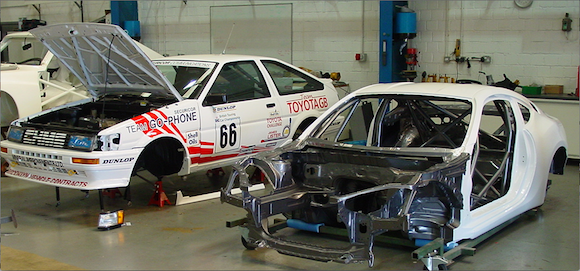 Having been fitted last week with its safety roll cage and fuel cell, it's an opportune moment for the GT86 to go off to a specialist to have a coat or two of performance paint applied all over to hide the welding and scarring that has been necessary and, well, to make the finished article all the more appealing.
But the GPRM technicians are busy nonetheless. While the chassis is away they are working to prepare the braking and suspension components which, when fitted to the GT86, will give it an edge on the circuit – larger, high-performance brake discs, for example, and fully adjustable shock absorbers and racing coil springs made by Koni Racing and supplied through Buckingham specialist Sportsline.
When the fully painted Toyota returns to Buckingham, GPRM will start to fit these components to the chassis.
"Once we have all the components assembled and ready the GT86 will come together very rapidly," said GPRM's Gary Blackham.
We'll bring you an update as soon as the GT86 is back in the GPRM garage for the next stage in its build.