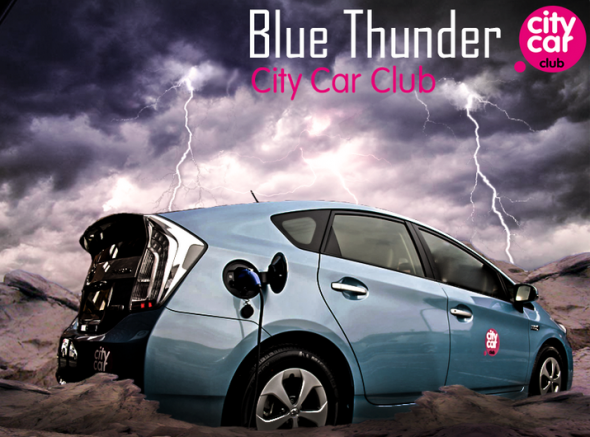 Short term car leasing club City Car Club is no stranger to Toyota models; 600 of the 830 vehicles the club keeps on its fleet are Toyotas! Now, the company has added Prius Plug-in to its collection and has welcomed the model's arrival on social media by asking its fans to name the car.
The firm received a number of pun-tastic entries including 'Sparky' and 'Electra', before choosing their overall winner, the ingenious 'Blue Thunder'.
Blue Thunder was suggested by Jayleen Duncan on Facebook; the entry earned her a £30 driving credit to use in any of the club's vehicles. Here's hoping she chooses a Toyota!
Congratulations Jayleen Duncan you are our competition winner! Say hello to Blue Thunder!!! pic.twitter.com/G0iHpaD3gu

— City Car Club (@CityCarClub) October 7, 2014
Super low CO2 emissions of 49g/km and combined fuel economy of 134mpg make Prius Plug-in a natural fit for the city, and indeed City Car Club. The car is both congestion charge and vehicle excise duty (road tax) exempt. The car represents a fantastic ownership proposition, as recently attested by the pricing experts at Glass's, who reported that the model retains 67% of its value after one year and 20,000 miles.
If you'd like to try Blue Thunder or any of City Car Club's Toyota models for size, they're available 24 hours a day, 7 days a week and can be reserved by the hour, day or as long as you want. The cars are located in designated parking bays and can be reserved online or by phone in advance. The club takes care of insurance, tax, parking permits and valeting and operates in 17 UK cities. Membership starts at £60 per/annum.
See also:
On the school run with Prius Plug-in
The Prius-Plug-in is a residual hero
The Prius Plug-in sets an economy record at the Nürburgring
Ben Cohen reviews Prius Plug-in
Where next?
You can find out more about City Car Club on the club's website, and further information about the Prius Plug-in is available on the designated section of the Toyota UK website.