Historian and Toyota Avensis driver Billy Callaghan tells the stories of his travels around the UK as @BillysBritain on Twitter. Here, Billy and his pup Fitz jump into their Toyota Avensis Touring Sports for the pair's first kayaking adventure.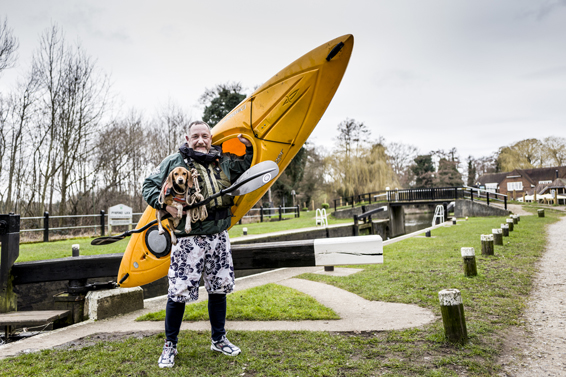 Fitzroy, my Beagle pup, is named after the great captain of HMS Beagle, the ship that took Darwin to the Galapagos Islands.
So my Beagle has a name to live up to and it's high time he got his paws wet. Fitzroy is only 15 weeks old but it's important to get a dog at this stage of development comfy with activities you'd like to do together throughout your lives.
The suitably named Anchor at Pyrford is situated on the banks of the River Wey, Surrey. It has a car park and easy access to the river for my kayak, plus – and this is important for later – it is a dog-friendly pub.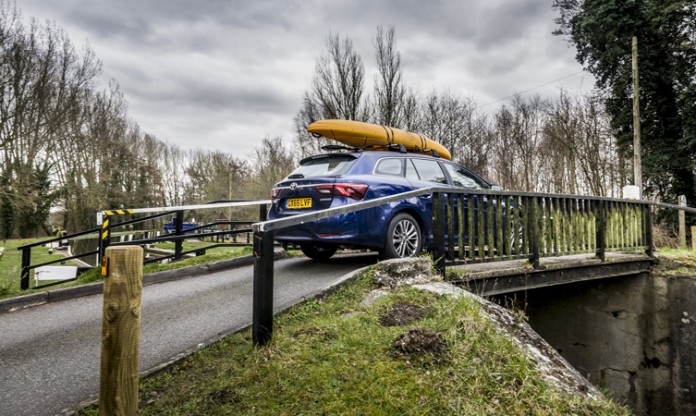 Fitz is learning to love the car but it's a hard school; he often gets sick and there's a lot of drooling. He's better when he feels safe. At least I think he feels safe; I might be imposing human psychological and physiological traits on him. So I turned the ample rear of the Avensis into his cabin at home.
With the kayak strapped securely on the roof bars and the wet and dry kit easily stowed on the rear seats, we set off. The drive out of central London was as swift and smooth as I could make it; east to the A2, south to M25 and clockwise to the A3. I switched the satnav off; it hasn't yet been programmed for a route that'll reduce nausea inducing stop-go driving in a puppy. Perhaps that'll come (interestingly we arrived 13 minutes earlier than the Fastest route the sanav had chosen).
Fitzroy made it to the car park but the last stretch of the drive with winding, bumpy roads took its toll. As I opened the hatch to let him out, he threw up. Good effort, Fitz! I'd prepped for this with well-placed towels and congratulated myself.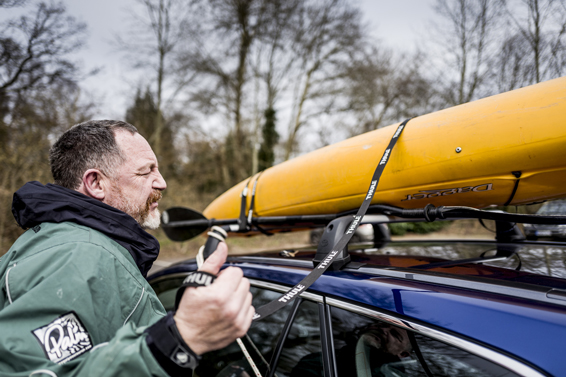 On arrival I realised that I'd left my dry bag behind. Normally this would be important because I need it to carry stuff like a mobile phone and car keys. In the old days that wouldn't have mattered as I never had a mobile phone and the car key was a key, not a signal from a transmitter. But today I wouldn't need it because I wouldn't be getting wet, right?
(For those that want the suspense created by that "?" look away now…)
For those of a nervous disposition I did remain quite dry. …
(Okay, you can look back now.)
The logistics of moving my Beagle have eroded my well-honed kayak-prepping skills.
I placed him in his PFD – Personal (or Puppy) Floatation Device – for a walk along the bank of the river. There was a lot to see and for Fitz there was a lot more to smell. I felt rather proud that he didn't run off despite being off his lead for most of the walk. Yes, he is a Beagle; he's just a bit… chilled.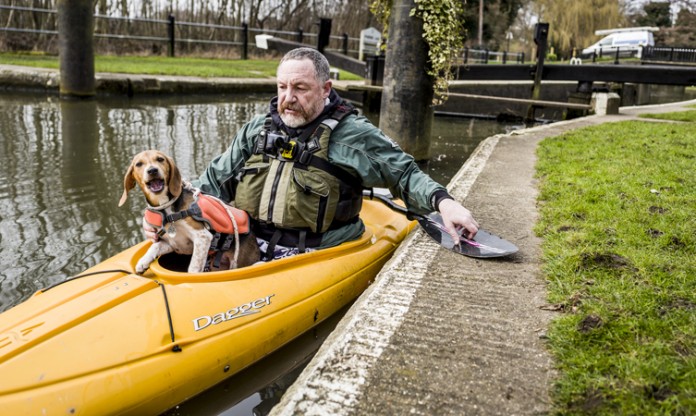 Getting into the boat is an experience. The kayak is plastic and it's not something Fitz would naturally go in to.
Learning to like the kayak involved some previous training with treat hunts, and pretty soon he followed his nose to the footwells to get his reward. He was quite happy in the boat on the land but I wasn't sure how he'd react afloat.
I needn't have worried; he loved it. You have to respect the water and so he was tethered to me for the paddle – that's what we call trips in the kayak – and when he decided he'd go for a swim he actually pulled the boat along a wee bit. He also had a go at being a barge horse and pulled me along from the tow path!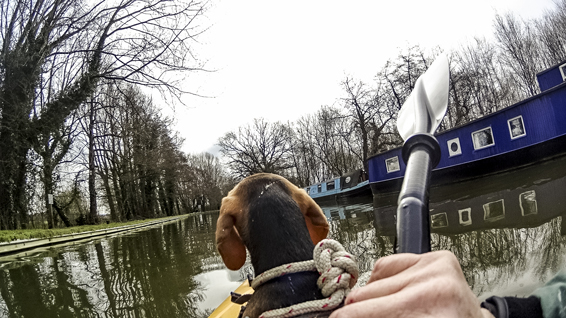 As an introductory paddle the Wey was great and The Anchor Pub was the perfect spot with its car park, proximity to the water and Sausage and Mash! The bitter was good, too, even if it was in a shandy. I'm told the place is pretty full in the summer, and I can believe it.
I followed the satnav back home into London and regretted it; the route was spot on but the stop-go of the drive was really irritating Fitzroy. As a medic with an empathy for the people in my ambulance, I feel every bump in the road and the pain that might cause them. It was the same with Fitz in the back. I'm sure there'll come a day soon when a satnav will have an LLtP* Route on the menu.
*LLTP – Least Likely to Puke.
See also
Race of Remembrance
Babies and beagles