Toyota People… is a series that celebrates individuals with a special enthusiasm for Toyota, whether that is related to its vehicles, philosophies, or manufacturing processes.
Read more: Alex Dotchev and his unique Toyota Aristo

Toyota People: Benny Heuvinck, rally historian
Benny Heuvinck has made it his life's mission to record, illustrate and promote the rich diversity of Toyota's rally history in Europe. In fact, you could say that Benny's upbringing as well as his proximity to the first headquarters of Toyota Team Europe (TTE) in Belgium was instrumental in nurturing a passion for all things Toyota.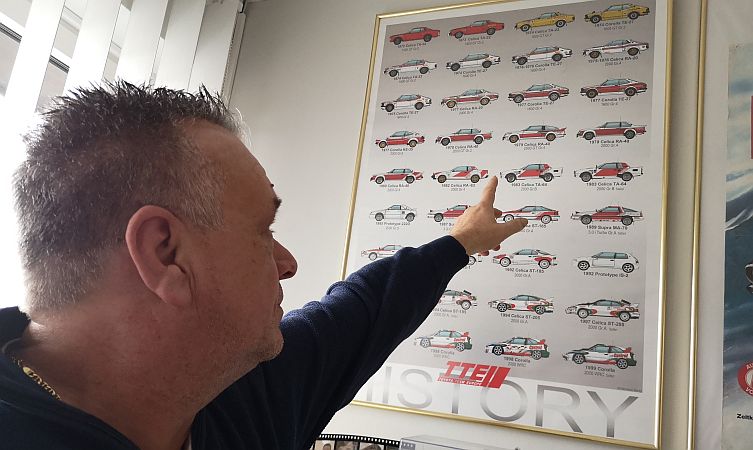 We first became aware of Benny through his detailed illustration of TTE rally cars from 1972 to 1999, a poster (above) that we frequently refer to when compiling our own historical accounts. But as we soon discovered after turning up at the Heuvinck residence in East Flanders, Benny's passion for the brand extends to both miniature and full-scale replicas of classic Toyota race and rally cars.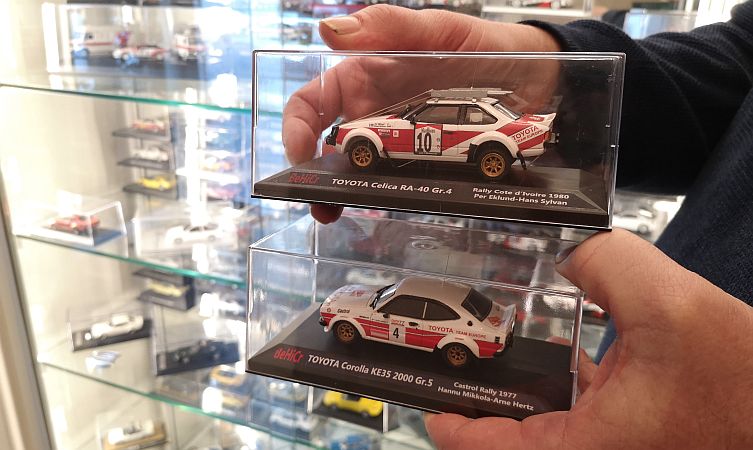 Benny particularly enjoys custom-making scale models of Toyota rarities, such as the Group 5 KE35 Corolla (above, bottom) that was only able to compete in one rally.
What initially attracted you to the Toyota brand?
"My dad worked at a local Toyota dealer and from the age of about ten I used to join him in the workshop on Saturdays to hand him the tools he needed. At the end of the day I was allowed to take a couple of the latest Corolla and Celica brochures so that I could read them at home. Believe it or not, I still have some of them!
"Whenever we needed spare parts we used to drive together to Holvoet Toyota, the main dealer for our region. Holvoet prepared and raced TA22 Celica GTs, and I was enthralled by these cars. So in 1977 we attended the Spa 24 Hours to support the race team, which is where my father gave me this 1/28 scale Celica LB 2000GT made by Eidai Grip (below)."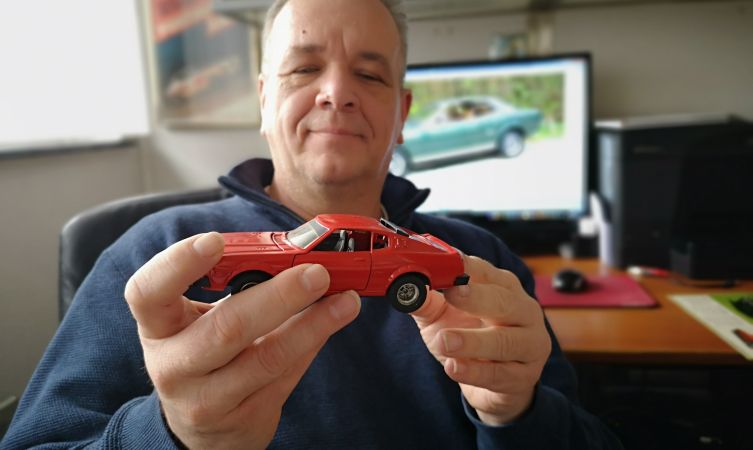 More than 40 years later, Benny still treasures the Celica model his father gave him
We presume that model was the starting point for your collection…
"Absolutely. But in the days before the Internet it was very hard to find any metal, resin or plastic Toyota models, especially in 1/43 scale. So in 1984, when I turned 17, I started working in a bodyshop to get me as close as possible to full-size cars. After that time I was fortunate enough to help repair a number of first-generation Celicas, including some with Holvoet Racing competition engines.
"My 22nd birthday present to myself was a TA23 project of my own, and I drove it to countless meetings around Europe and gradually restored it. But I couldn't help thinking back to my ten-year-old self and the brochure I still had that pictured a 1976 TA23 Celica GT with dark green metallic paint and a beige vinyl interior. That was the car I really wanted, so I worked to restore my Celica and eventually traded up to buy a GT in that exact spec.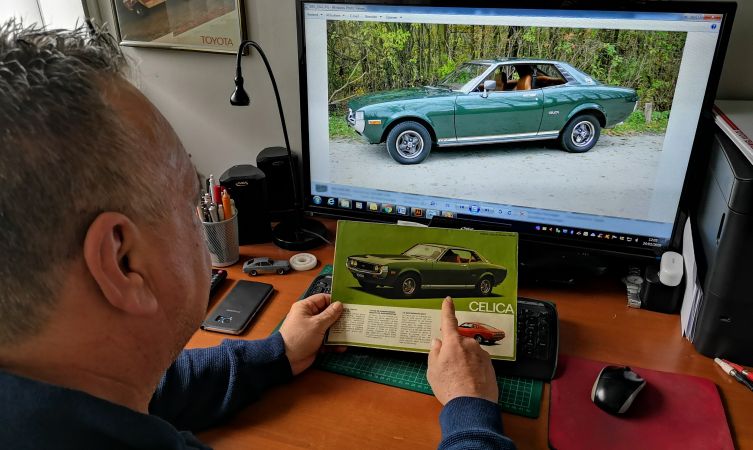 From the age of ten, Benny dreamed of owning a Celica GT like the one pictured in the brochure. His dream was eventually realised, though it took a lot of effort to restore it to showroom condition.
"As it was so special to me, I spared no expense restoring that car. I think it won around 20 concours events after restoration and although I did eventually have to sell it, I made sure it went to a good home. It's now owned by the Toyota Design Centre in Italy."
But the passion for scale models never left, did it?
"Of course not. It's been a passion as well as a hobby for most of my life. But over the years I've tried to make my collection different from anything you could buy off-the-shelf or over the Internet.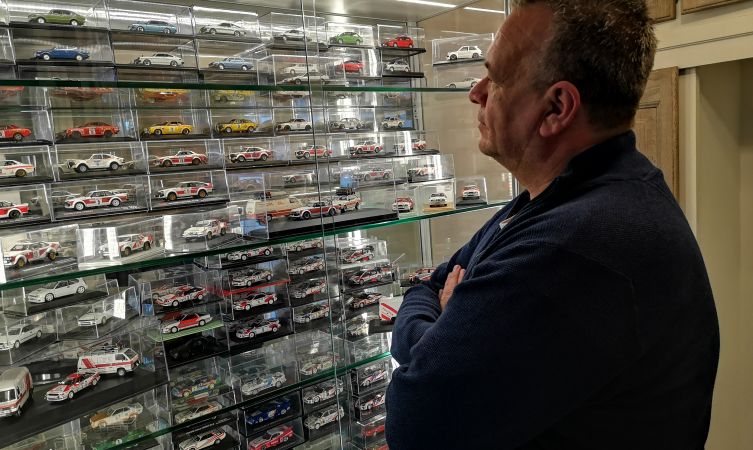 Open the front door to Benny's house and you are greeted by an impressive, illuminated showcase of rare and unique Toyota models – just a small sample of his huge collection.
"I've chosen to be creative and custom-make models that have never been available to the public, such as the Holvoet Racing cars and even rally support vehicles like the Hiace van and Cressida wagon (see below) that Toyota Team Europe (TTE) ran in the late Seventies.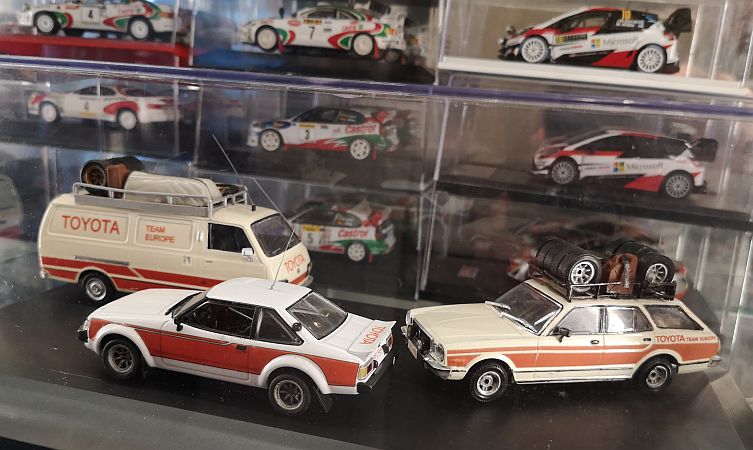 "I choose the car, research its history and details, and try to contact all those who experienced it back in the day, from the drivers and photographers to the mechanics that worked on it. Sometimes it's taken me a year before I can even begin sourcing parts from various existing models to build the vehicle. The components and body parts that I can't find I have to make or get 3D printed, and then the bodywork is finished off with decals that I've printed on special transfer paper."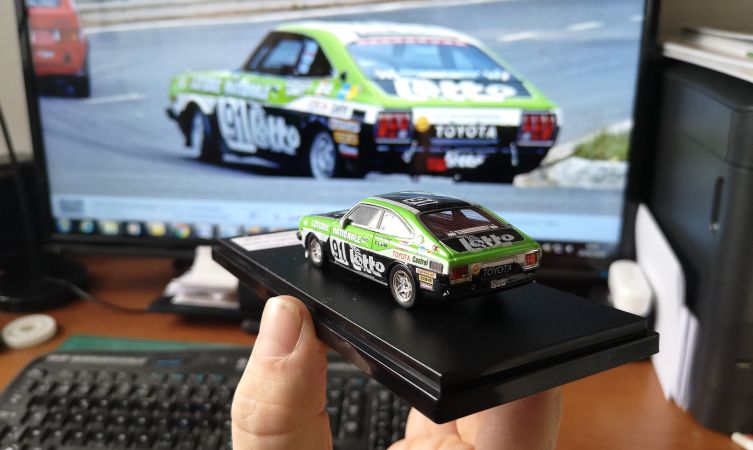 To ensure accuracy in the tiniest details of his scale models, Benny references all available source material. Can you spot the battery cut-off switch on the rear quarter panel?
What made you start illustrating Toyota rally cars?
"I'd seen other manufacturers make posters of their motorsport cars, and I simply decided to take it upon myself to make my own. I presented the idea to TTE (now Toyota Motorsport GmbH) and asked permission to use their logo. They agreed and also expressed an interest in having one of the prints, so when the first run of 500 posters were printed I presented one to them with a special certificate. Since then, I've sent copies of the poster to enthusiasts all over the world, though most have been to Scandinavian countries, the UK, Japan and Australia."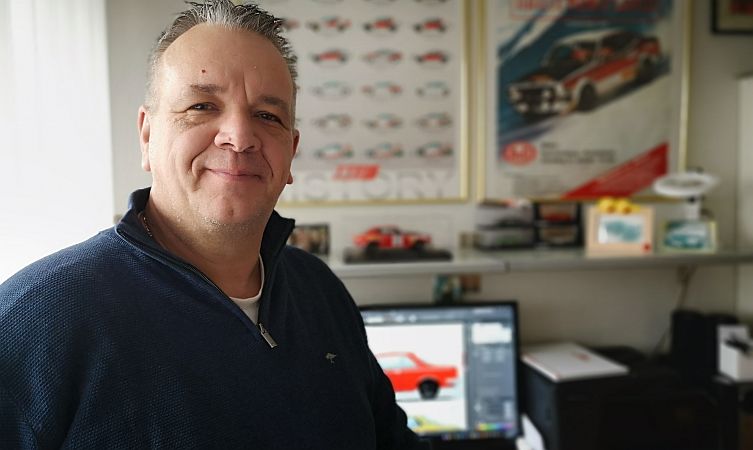 How did you ensure that the illustrations were accurate in size and detail?
"I have a huge library of pictures and magazines, and I studied these closely to make sure the illustrations were as accurate as possible. Then in the Adobe Illustrator programme, I used the same scale so that each car was the correct size in relation to each other.
"But over the years I have also made contact with a number of original TTE employees, from the very early days in Sweden to the first headquarters here in Belgium. These people were very helpful in getting the details right. Hearing their stories about the love and passion within the company, as well as their amazing anecdotes, gave me goosebumps."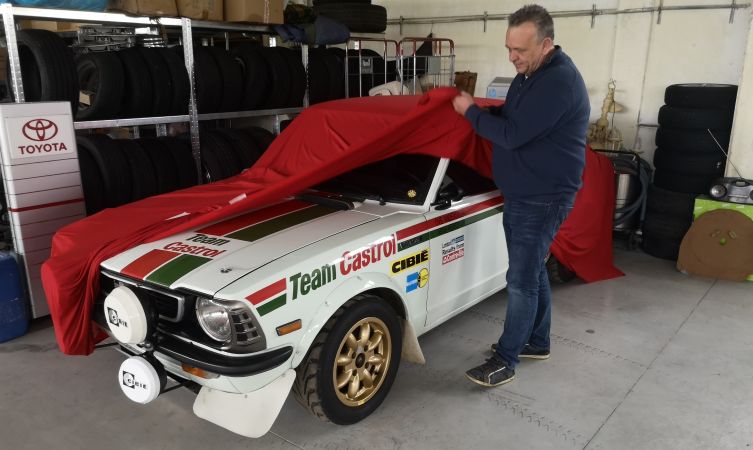 As the original poster concludes with the 1999 Corolla WRC, are you planning to update it?
"In September last year I received an email from TMG requesting that very thing. So I've been busy illustrating and adding the missing cars; not just newer models such as the latest Yaris WRC but the Corona and 1600 GT rally cars from the late Sixties, too. I plan to officially release the new, updated poster as soon as the next-generation Yaris WRC is unveiled."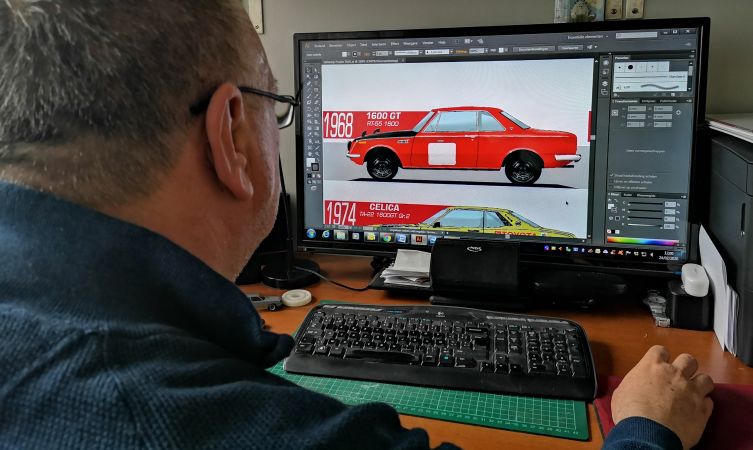 Forthcoming updates for the Toyota rally history poster will include early, Tosco-prepared models such as the RT55 1600 GT from the 1968 Monte-Carlo Rally
But your passion for Toyota motorsport is not limited to illustrations and scale models…
"Not at all. My prized possession is my 1973 KE25 Corolla. I bought it back in 1998 and restored and prepared it to pay homage to a number of people: my father and his first Toyota (also a second-generation Corolla coupe), the race and rally Corollas prepared by my good friend Claude Holvoet, and the works Castrol livery Corolla driven by Ove Andersson and Arne Hertz in the 1974 RAC rally. I've got such fond memories of all those people and cars that this has really been a passion project for me.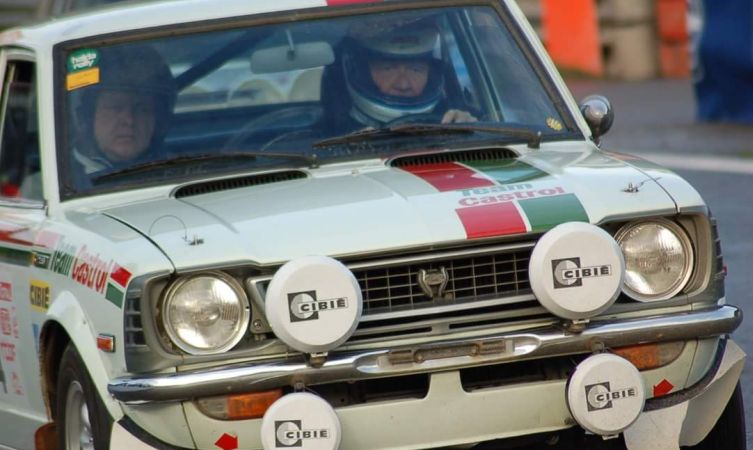 A special moment for Benny was when rally driver and ex-TTE boss Ove Andersson (above, right) was invited to drive his prized, rally-prepared KE25 Corolla
"That effort was rewarded in 2006 when I was invited by a Belgian TV station to bring the Corolla to a special champions' day event that Ove Andersson would be attending. It was such a special moment for me that Ove had the chance to drive my Corolla and that I was able to co-drive for him (see above). He even wrote his autograph on the roof afterwards, so this is a car that I never, ever want to sell."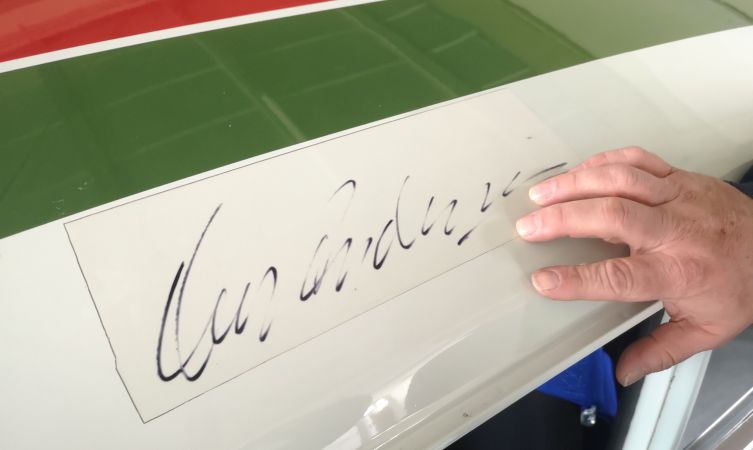 Ove Andersson's autograph on the roof of Benny's Corolla is now protected under clear vinyl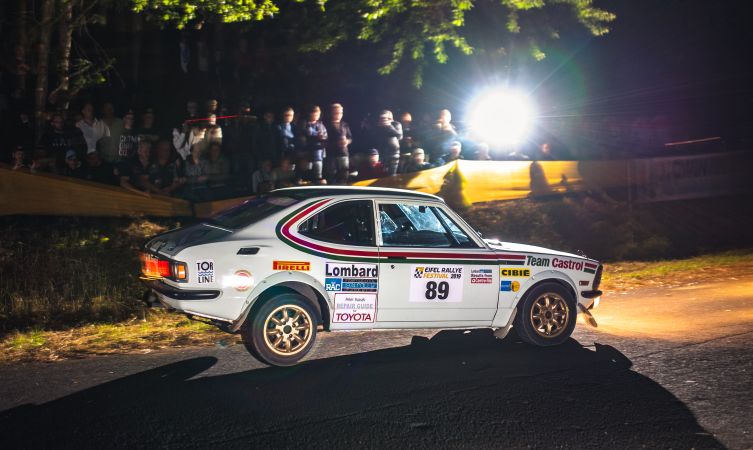 Benny's KE25 Corolla has a remarkable turn of speed thanks to the recent installation of a race-tuned 3-TG twin-cam engine linked to a TRD T50 transmission, four-link rear axle with TRD limited-slip differential and 5.1 final drive ratio.
It's an absolute beauty, Benny. Thank you so much for taking the time to speak with us.
Click here to read more from our collection of Toyota People articles