When is a car art? When it's been a canvas for artist Scott Wade, that's when! Based in Wimberley, Texas, Wade specialises in creating 'Dirty Car Art', using nothing but a dusty car and a paintbrush. He's created art on the rear windscreens of the Yaris and RAV4.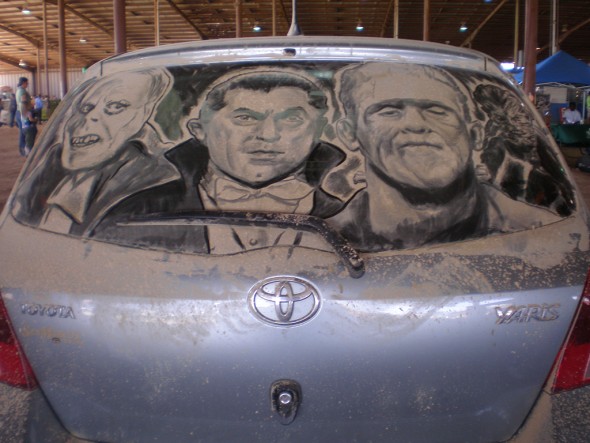 Wade explains his method on his official website, writing: " I lived on a long, dirt road in Central Texas for over 20 years. Since our cars were always dirty, I would often "doodle" in the dust on the rear windows of our cars…I started experimenting with ways to get shading. At first I would use the pads of my fingers and brush very lightly to get "grey" tones.
He adds: "One time I was chewing on a popsicle stick, and I tried using the chewed up end as a brush. I liked the effect, so I started trying paintbrushes, and eventually developed the techniques I use today. Nowadays, I use a rubber "paint-shaper" tool and assorted brushes (and of course my fingers)."
Scott says it used to take around 90 minutes to create his artworks, but as his compositions get more involved and as he pushes himself further technically, each piece now takes more than three hours.
See the full gallery of Wade's dusty car artworks here.