Cops in Arkansas are saving time and money after replacing their Ford Crown Vics with Toyota Camry Hybrids.
The Arkadelphia police department recently traded in 10 of their traditional black-and-whites for the efficient, cheap-to-run Camry – and their story has been told in a new short film by Peter Byck, titled Hybrid Law.
The move came about as Arkadelphia city manager Jimmy Bolt challenged the department to try hybrid cars – primarily to reduce emissions. But the APD is also seeing other benefits including lower fuel and maintenance costs, fewer refuelling stops that take officers away from patrol duties, and quieter running.
In fact, the car's silent electric-only capability has been labelled 'stealth mode' by officers – which comes in handy when they're aiming to collar a suspect.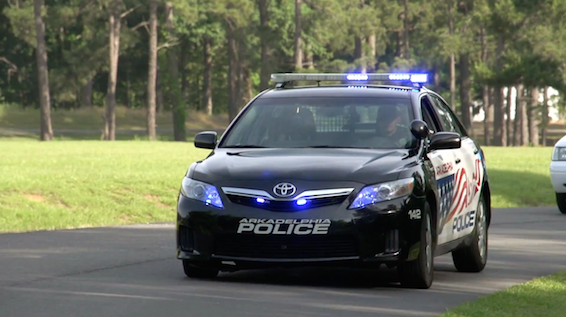 "I was dead set against it," veteran officer Don Cleek explains. "To me, a police car's supposed to be rear wheel drive, V8 and can go through ditches." In short, he didn't believe the hybrids would be up to the job. After a few months in the field, it was pretty clear: the hybrids were doing every bit as well on the job as the Crown Vics.
What's more, the fully-loaded Camrys were getting about 27 US mpg (which equates to 32 UK mpg) in all-city driving – around double the what the Crown Vics averaged. Thanks to the fuel savings and much lower maintenance costs, the city of Arkadelphia is saving itself about 3 per cent of its annual budget.
Watch the film below.