A group of apprentices from Toyota Manufacturing UK's external apprenticeship scheme aim to make outdoor learning more exciting for children at two local schools.
While pupils are enjoying their summer holidays, a team of apprentices from the Burnaston Plant put their skills to good use to complete an intensive four day makeover at two schools in the Derby area.
Portway Infant School in Allestree now has twelve raised beds, one for each class, which will allow pupils to learn about growing a variety of vegetables. A story telling area has also been created with a hand carved story telling chair, bringing a sense of fun and colour to the area.
Meanwhile, at Alvaston Junior Community School special needs unit, apprentices have been busy renovating an unused outside play area. The fence was very unstable which meant that their special needs children were not always able to play outside. As well as replacing the fence, raised beds have been erected along with a shed to help improve their outside storage area.
The projects were funded by the Toyota Manufacturing UK Charitable Trust to provide materials in order to achieve the highest standard possible. The volunteering projects form part of the company's commitment to supporting the local community and aim to further develop the apprentices' interpersonal skills in teamwork and leadership.
Claire Walker, Headteacher at Portway Infant School commented "the end result is just what we need to inspire the children. It will support the school in gaining its green eco award and will help to teach the children about planting and producing food. We would like to say a huge thank you to the apprentices from Toyota for their hard work and professionalism".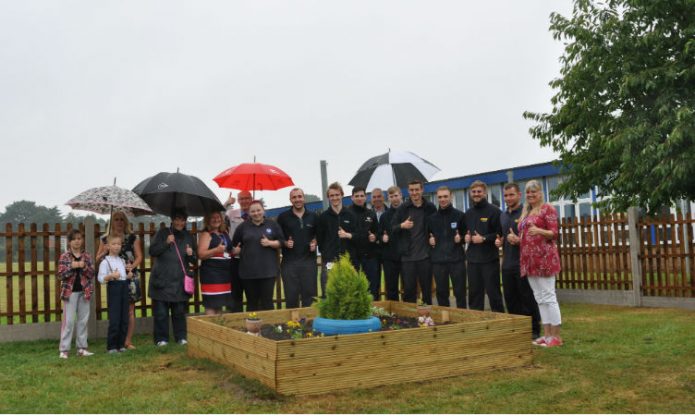 Rosie Bullivant, Teaching Assistant at Alvaston Junior Community School commented "our special needs unit will have 14 children attending in September who will now be able to work and play outdoors in a safe and attractive environment. They will love it.
Mike Mitchell, Trustee of the Toyota Manufacturing UK Charitable Trust, said, "it is a privilege to be involved with such fantastic and worthwhile projects which not only allows the apprentices to learn new skills but also supports our continued commitment of giving back to our local community".
Toyota Manufacturing UK produces Avensis, Auris, Auris Touring Sports and Auris Hybrid models at its vehicle manufacturing plant at Burnaston, Derbyshire, and petrol and hybrid engines at its engine manufacturing plant at Deeside, North Wales.
Read more: Toyota Auris at the seaside
Read more: A new perspective on Toyota Manufacturing UK
Read more: TMUK heats up partnership with Derbyshire Fire & Rescue Service