Anthony Davidson wil drive the number 8 Toyota TS030 Hybrid endurance racer at this year's 24 hour race at Le Mans on June 16th and 17th. The 32 year old found fame as a Formula One driver, racing for Minardi and Super Aguri. His Le Mans career has seen him race for Aston Martin and Peugeot in the elite LMP1 class – in which Toyota's TS030 Hybrid also competes.
We asked him ten questions ahead of his race at this year's event, asking him to describe what it is that makes the TS030 Hybrid race car so special, and why he loves the race at Le Mans.
What is the best thing is about team Toyota Racing, and the TS030 Hybrid?
I think the best thing about TOYOTA Racing is the new hybrid technology we are using. This is really revolutionary stuff which is really exciting for a driver to be a part of; it really feels like we are breaking new ground. I hope the best thing about the TS030 HYBRID is its speed and reliability… But up to now the thing that has most impressed me is the electric mode we use to leave the pits. I still find it really exhilarating to hear the electric motor; it's proper science fiction stuff!
How hard is the car to drive? Could anyone get in and complete a lap of Le Mans?
Unless you've been shown how to operate the car you can't even get it out of the pit box. Actually, I had a bit of trouble the first time I drove this car because LMP1 cars nowadays are so complex you really have to read an instruction book before you get behind the wheel.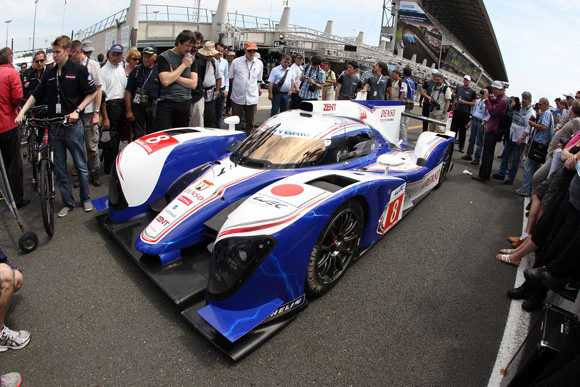 You have driven petrol, diesel and Hybrid engined Le Mans cars. What's the difference?
In the end, the fundamental nature of all three engine types is very similar; the differences are relatively subtle. With the hybrid powertrain you really notice the difference at two points: under braking and on acceleration out of a corner. Because we harvest energy under braking, the driver gets a different sensation as soon as you step on the brake and this can take a little while to get used to. But it's really worth it because then when you are coming out of the corner you get the hybrid boost which feels great. The defining characteristic of a diesel engine is the massive amount of torque you get low down the rev range, which is noticeably more than a standard petrol engine. In the LMP1 cars, the diesel engines are also a lot quieter than the petrols which is one of the most striking features.
Have you driven a Prius? Is there any similarity between the way Prius and TS030 Hybrid work?
I haven't driven a Prius actually but I doubt you would notice an obvious similarity. Our car uses the hybrid system in a completely different way. The Prius system is designed to save fuel so it switches to EV mode during normal driving, but our system is focused on performance so we get a power boost when the hybrid and combustion engine combine.
What is the maximum speed of the car? Do you get used to travelling that fast? 
We were topping 330kmh (206mph) on the test day which feels pretty damn quick! But as a driver it's normal; everything is relative so you get used to it easily enough especially when you've been in F1 or LMP1 for a few years like I have.
What's it like driving around the Le Mans circuit?
It can be pretty hairy. The problem is that you have so many GT cars which are running 30 seconds a lap slower than an LMP1 car, so you are driving at 40kmh faster than them on the big straight at Mulsanne. You have to be really alert because you catch them so quickly, and don't forget there are 56 cars out there so there's plenty of traffic.
Which part of the 24 hour race do you like most?
I would say the best part is the start of the race. It's such a dramatic beginning to such an epic event and definitely one that any race fan should come and experience. However, it goes without saying that if I ever have the chance to stand on the top step after winning the race then that would automatically become the best part!
Which part of the 24 hour race do you find most demanding?
To be woken up in the night for a stint then jump directly into the car and drive flat-out is quite demanding. You have to return to full alertness very quickly as well as adjusting to the different conditions. Inevitably plenty of things have changed; the brakes will be subtly different after a few more hours of driving, the track temperature will be lower and of course it's dark. That sums up the challenge and magic of Le Mans.
What would you consider a good result?
Of course, we would love to be on the podium or even winning but we have to stay realistic so I think we would be satisfied if we show the potential of the car and finish the race.
Who is the best sportscar driver of all time?
It's too hard to compare different drivers throughout the generations of motorsport and I always feel it's unfair to do so, but I certainly feel I've been racing against a few of them since I began my LMP1 career.