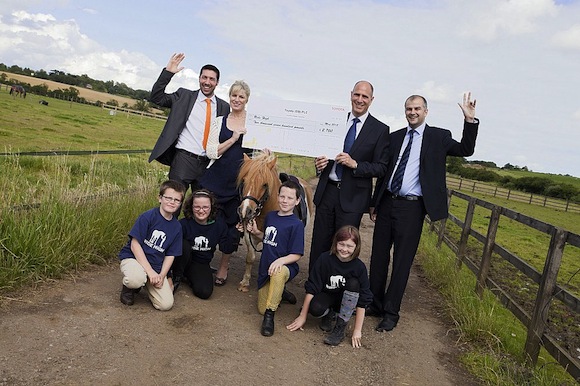 Charities, schools and good causes across the country are receiving valuable support from the Toyota Fund for a Better Tomorrow. Projects for environmental conservation, road safety and children are among the wide range of beneficiaries during its first full year.
The fund, set up and administered by Toyota GB, works at grassroots level, involving Toyota centres in projects that help improve the quality of life and the environment in their local communities.
Grants are available for Toyota centres and their partners in their local community. Each submission is judged on the positive impact it can have on the community and how this can be measured. The degree of team-work involved in the activity is also considered, together with the project's focus – such as the environment, education, well-being or road safety. In 2012, more than 50 projects received help.
Thomas Rosselle, Toyota GB's Manager of Corporate Social Responsibility and Environmental Affairs, said: "In its first full year the Toyota Fund for a Better Tomorrow has already helped make a difference for groups and organisations across Britain.
"As well as providing financial support, it also plays a useful role in bringing communities together. Our network of centres gives us an excellent reach to all parts of the country and an understanding and involvement in projects that have real local value and impact."
Projects which have benefited from the fund include:
Children's Scrapstore
Toyota's vehicle import centre at Portbury, near Bristol, collects and sends safe and useful waste items from its own operations to the Scrapstore, an activity centre where youngsters make good use of the card, netting, cable reels and other items for handicraft fun and creative play.
Mount Pleasant Primary School
RMB Toyota Darlington supports this project in which the school is converting an unused part of its grounds into an outdoor learning area with help from the local branch of the Wildlife Trust.
Ride High
Steven Eagell Toyota supported this Milton Keynes-based charity with a grant for a new interactive whiteboard.
Ride High aims to help disadvantaged children and those having difficulties in their daily lives, by giving them the opportunity to learn to ride and look after horses and ponies.
Safe Drive, Stay Alive
Toyota GB's headquarters in Epsom supports this Surrey Fire and Rescue Service initiative to produce multimedia live performances and hard-hitting displays that promote safe and responsible driving messages to young teenagers.
Mark Taylor of the Surrey Fire and Rescue Service said: "Our Safe Drive, Stay Alive performances would not take place without the financial support provided by sponsors such as Toyota. This year our 16 shows at the Dorking Halls, attracted a combined audience of 9,500 young people, taking the total number of attendees since April 2005 to almost 80 000."
Find out more about Safe Drive, Stay Alive here.