Green Tomato Cars was the first private hire company in Europe to take on hydrogen fuel cell cars. The environmentally friendly, London-based firm has run two Toyota Mirai cars on its fleet since 2015, completing over 25,000 miles a year in normal commercial operation.
Learn more: Britain's hardest-working Mirai marks 50,000 clean and reliable miles
Delighted by the zero-emission, zero-problem performance of the two hydrogen-powered cars over the past two years, Green Tomato Cars has decided to add a further 50 Toyota Mirai to its fleet.
The new cars are being supplied with support from the UK's Office for Low Emission Vehicles Hydrogen for Transport programme and the Zero Emission Fleet vehicles for European Roll-out programme, funded throughout Europe by the Fuel Cell and Hydrogen Joint Undertaking.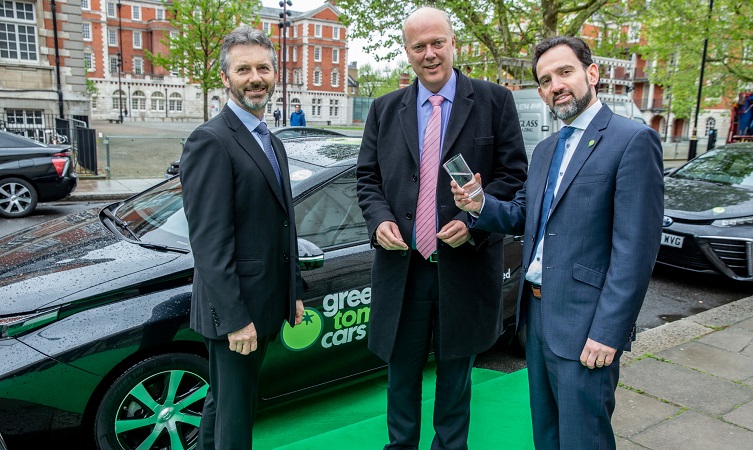 From left to right: Paul Van der Burgh, Chris Grayling MP and Jonny Goldstone with the only emission that comes out of the Toyota Mirai – clean water.
Jonny Goldstone, managing director and co-founder of Green Tomato Cars commented: "We're very proud to have pioneered hydrogen-powered transport in London and are delighted with the performance of our two original Toyota Mirai. This is a unique project where investors in hydrogen technology, manufacturers of hydrogen cars and Green Tomato Cars as the end users, have come together with a commitment to make hydrogen transport work for the good of people and the environment."
Paul Van der Burgh, president and managing director of Toyota GB said: "We're delighted that Green Tomato Cars has been happy with its Toyota Mirai cars and that it is taking 50 more. It's clear that confidence in hydrogen-powered transport is growing among end users, which is another step in the path towards a hydrogen society."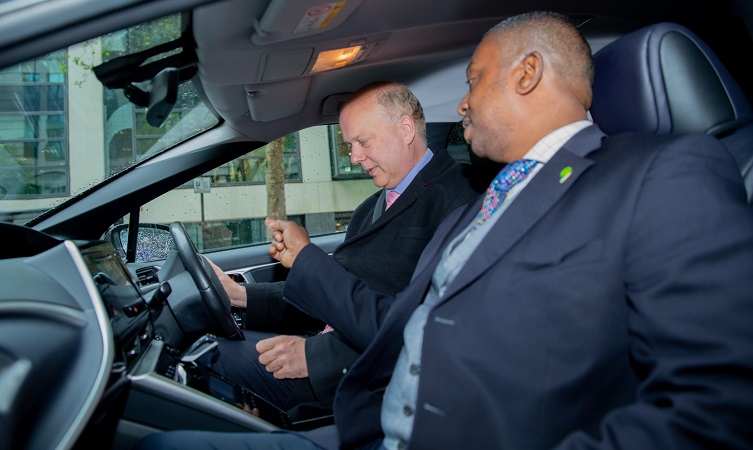 Chris Grayling MP was among the first to drive one of the 50 new Toyota Mirai hydrogen fuel cell vehicles joining the Green Tomato Cars fleet.
After making the short journey from the Department for Transport offices in Westminster, Grayling commented: "I was thoroughly impressed by the Toyota Mirai and delighted to drive one of Green Tomato Cars' new zero-emission vehicles. Improvements in hydrogen infrastructure over the last year and the developing partnerships between the hydrogen power providers, manufacturers of hydrogen vehicles and end users, is helping accelerate the decarbonisation of road transport."
Each Toyota Mirai on the Green Tomato Cars fleet is expected to average around 120-150 miles a day. The Mirai can travel up to 300 zero-emission miles on a full tank of hydrogen, so the private hire cars should be refuelled every two days on average.
Improvements in hydrogen infrastructure have increased the viability of hydrogen-powered transport in the UK. Over the last year, several new hydrogen fuelling stations have opened across the UK. There are a total of six stations in and around the M25 and more are expected to be operational by the end of the year.
Learn more: How does Toyota's fuel cell vehicle work?