As the world's largest car manufacturer, Toyota has produced cars that have broken global sales records, brought hybrid technology to the masses, and helped introduced 'drifting' into our vernacular. But there has also been a host of Toyota models famous for a different reason entirely – being gloriously quirky. We take a look at five of the wackiest Toyotas.
Wackiest Toyotas 1: Sera (1990)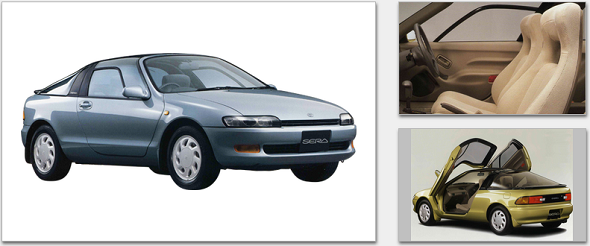 Unveiled at the Tokyo Motor Show in 1987, Sera is a two-seater coupe famous for featuring doors which open upwards instead of out. The top half of the 'Butterfly' door glass wraps around the roof and extends toward the centre, providing unparalleled visibility in all weather conditions. Under the skin, Sera employs the platform of the Starlet hatchback, and uses a 1.5-litre, inline 4-cylinder, 16-valve, transversely mounted engine. What do you think? Does it deserve to be in our list of wackiest Toyotas?
Wackiest Toyotas 2: Mega Cruiser (1996)
Developed for the Japan Ground Self-Defense Force, the Mega Cruiser was modified for civilian use and went to market in 1996. Boasting truly epic proportions; the car has a wheelbase of 3,390 mm, and is a whopping 5,000 mm long. Under the bonnet there's a 4.1-litre, 4-cylinder, direct-injection turbo diesel engine, and under the skin Mega Cruisers mate a full-time, 4-wheel-drive layout to a 4-speed automatic transmission with torque converter lock-up control  and a sub transmission with a 2-speed centre differential lock. Virtually unstoppable off-road, the car has a ground clearance as high as 420mm!
Wackiest Toyotas 3: Toyota Classic (1996)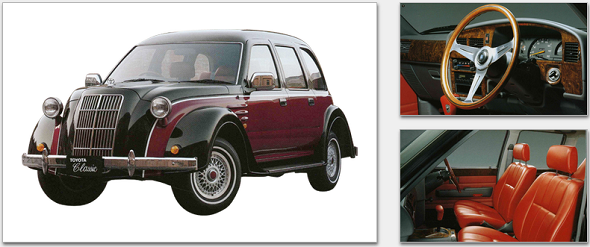 Toyota Classic went on sale in 1996 to coincide with the 60th anniversary of Toyota's inauguration. The model looked to the past, with styling that was inspired by the original Toyoda Model AA of 1936. The chassis of the Hilux pick-up provided the base for Classic, because its size was similar to that of the Model AA. A 97bhp 2-litre, 4-cylinder engine lies under the bonnet. Production of Classic models was limited to 100, and like all of the  models in our list, it was not officially offered for sale in the UK.
Wackiest Toyotas 4: Will Vi (2000)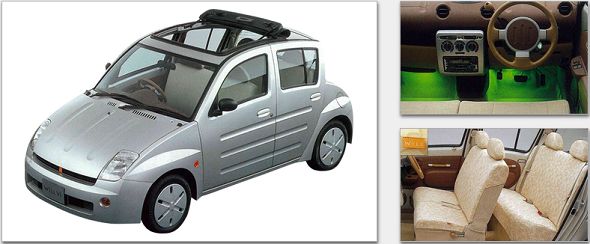 In 1999, Japanese businesses from various industries, including Toyota and Matsushita Electric Industrial (now Panasonic), joined forces for a youth-orientated marketing  project called 'WiLL'. Each brand introduced new products to market that were developed with customers in their 20s and 30s in mind, and all featured a distinctive orange-coloured logo.
Toyota produced three cars under the WiLL project; all of which could have qualified in our list of wackiest Toyotas. The first was Vi, launched in 2000. Lacking a hatchback, whilst avoiding the 'three-box' look of a traditional saloon car; WiLL Vi's unusual set-up harked back to the original Mini – a youth favourite. Inside, there was bench seating front and rear, while a centre-mounted instrument binnacle dominated the dash.
Wackiest Toyotas 5: Origin (2000)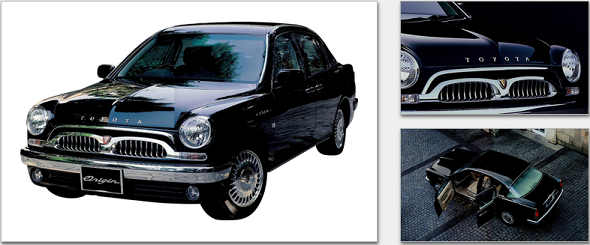 The Toyota Origin four-door saloon was a special car. Produced to celebrate cumulative Toyota vehicle production in Japan reaching 100 million; the model was hand-built by master craftsman at Japanese auto body manufacturer Kanto Auto Works. The car benefited from Rolls-Royce-esque rear-hinged doors, which provided easy access to the car's sumptuous, woodgrain and leather-lined interior. Externally, the model sported a retro look, that played homage to the original Toyota Crown of 1955, and featured a similar version of the model's distinctive 'M' shaped grille. In total, 1,000 examples were produced.
See also:
6 US TV shows starring a Toyota
6 innovative projects from the Toyota Motor Corporation
8 things you didn't know about hybrid
8 awesome Toyota concepts that could be the shape of things to come
9 of the coolest Toyota Aygo moments
10 reasons to #LoveHybrid
10 reasons the Toyota Hilux rules the Earth