More than 70 years after the launch of the original Land Cruiser, Toyota is proud to reveal the all-new 2024 Toyota Land Cruiser. This next-generation model is destined to continue the icon's history of continuous production into a new era while drawing directly on the qualities that made the Land Cruiser name synonymous with strength and go-anywhere reliability.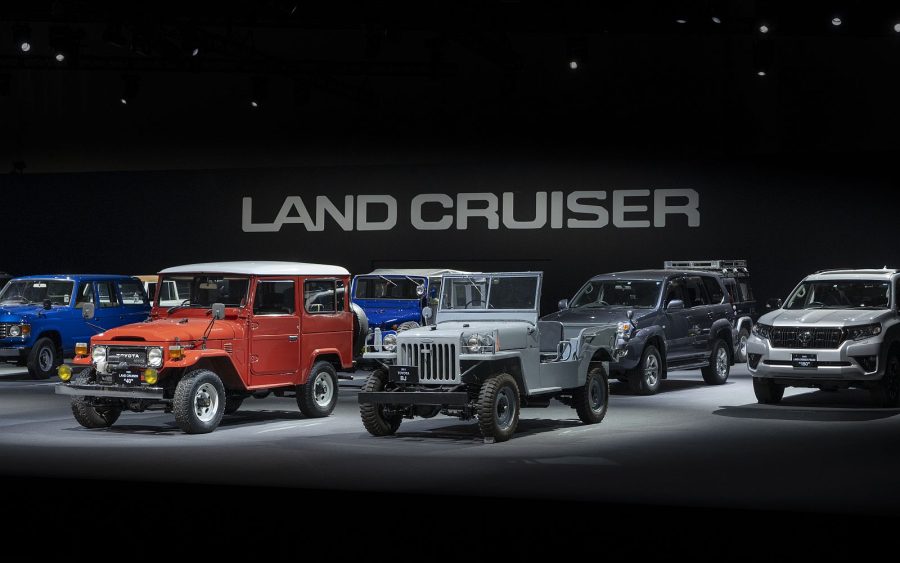 Pre-sales of the new 2024 Toyota Land Cruiser for UK and European customers will open during the fourth quarter of this year, with the first vehicle deliveries expected in the first half of 2024. Further details of the UK model range and pricing will be announced soon, but the following is what we can reveal right now.
Classic construction with improved all-terrain performance
This new model represents the fifth generation of the Land Cruiser's Light Duty, or Prado, product line, and as such will likely be identified by its 250 series chassis code. It retains the traditional body-on-frame construction of every Land Cruiser and follows the larger 300 series (Station Wagon product line) Land Cruiser in adopting our GA-F platform, which plays a key role in significantly improving off-road performance.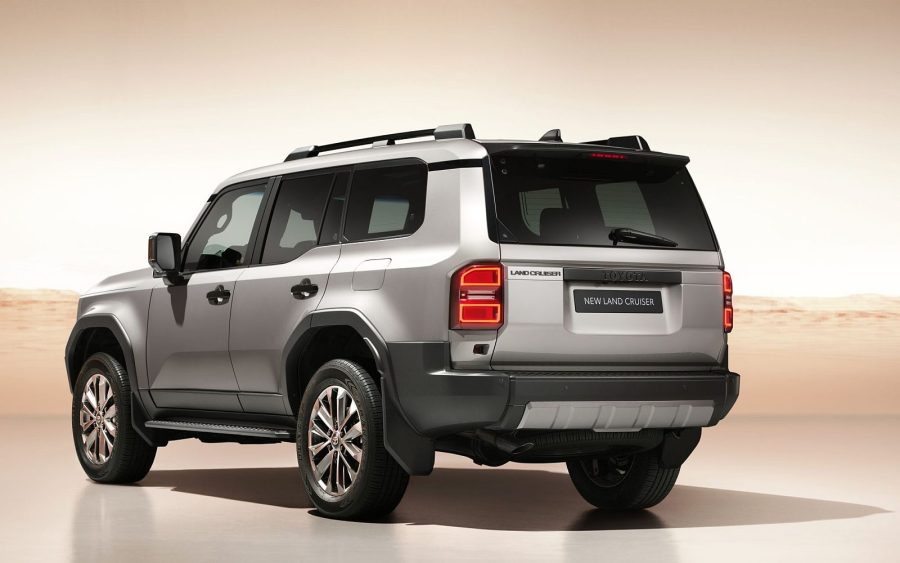 The new frame is 50% stiffer, while the rigidity of the combined body and frame has been improved by 30%. These substantial increases contribute to improved responsiveness, handling and ride comfort, both on- and off-road. Suspension performance has also been enhanced, particularly in the area of wheel articulation – a key factor in off-road driving. At the same time, the new model is easy to manoeuvre and more comfortable on the road, true to our commitment to making the 2024 Land Cruiser eminently practical and tailored to customers' day-to-day needs.
New electric power steering
The 250 series Land Cruiser is the first to adopt an electric power steering system. It reduces the amount of kickback that can occur when navigating rough terrain and provides smoother, more direct steering and improved manoeuvrability at all speeds. This new system also allows the new Land Cruiser to include Lane Tracing Assist as part of its comprehensive Toyota Safety Sense active safety and driver assistance package.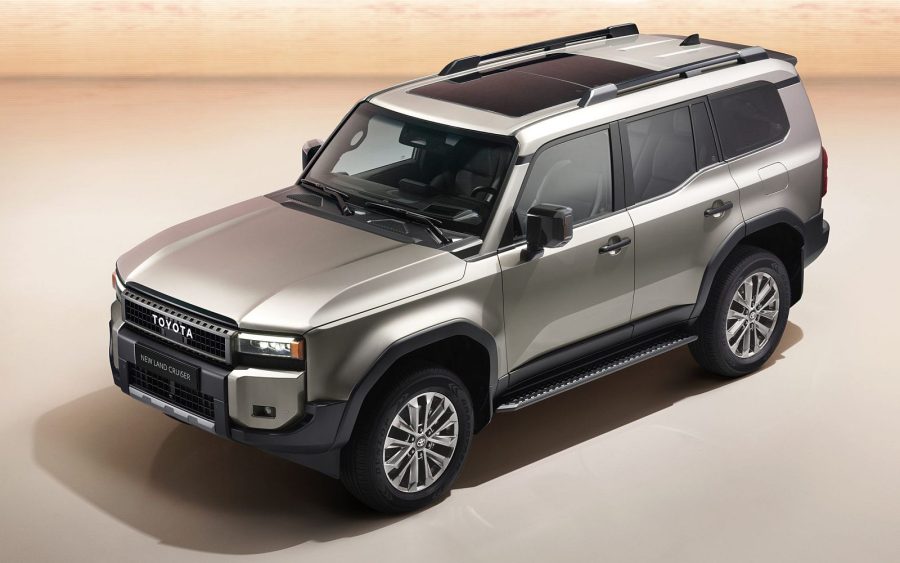 Disconnecting the front anti-roll bar
Further off-road capability is built-in with a new electronically disconnecting front anti-roll bar mechanism. This technology enables the driver to disengage the anti-roll bar using a switch on the dashboard, a facility that allows maximum wheel articulation – and therefore maximum tyre contact with the ground – to successfully tackle challenging terrain at low speeds.
Further support when driving off-road is provided by upgrades to the Multi-Terrain Monitor and Multi-Terrain Select system. Using high-resolution cameras and a dashboard display, the Monitor gives the driver a clear view of the area immediately around and beneath the vehicle. Meanwhile, the Select system automatically adapts the chassis and performance to suit the demands of different off-road driving conditions.
2024 Toyota Land Cruiser: new powertrain
In the UK and Western Europe, the new 2024 Land Cruiser will be introduced with our 2.8-litre 1GD-FTV turbo diesel engine – the same 2.8-litre unit installed in the Toyota Hilux. Engineered for a strong balance of fuel efficiency and performance, this four-cylinder engine produces 201bhp and is matched to a new eight-speed Direct Shift automatic transmission, giving it the strength to tow loads of up to 3,500kg.
An electrified version that combines the same 2.8-litre turbo diesel engine with 48V mild hybrid technology will be available in early 2025.
Design – modern yet traditional
The styling of the 2024 Land Cruiser captures the lean, functional beauty that's found in the best professional tools. Design cues inspired by the model's long heritage reinforce the 'back to its origins' ethos of the new Land Cruiser, creating a modern interpretation of the traditional form-follows-function approach.
In profile, the new 2024 Land Cruiser has a classic silhouette based around strong horizontal lines. It measures 4,920mm long, 1,980mm wide and 1,870mm tall, while the wheelbase is 2,850mm. Off-road performance is helped by shorter overhangs, sculpted corners and bodywork that subtly narrows towards the sills. Other body parts have been thoughtfully designed for easy replacement in the event of damage.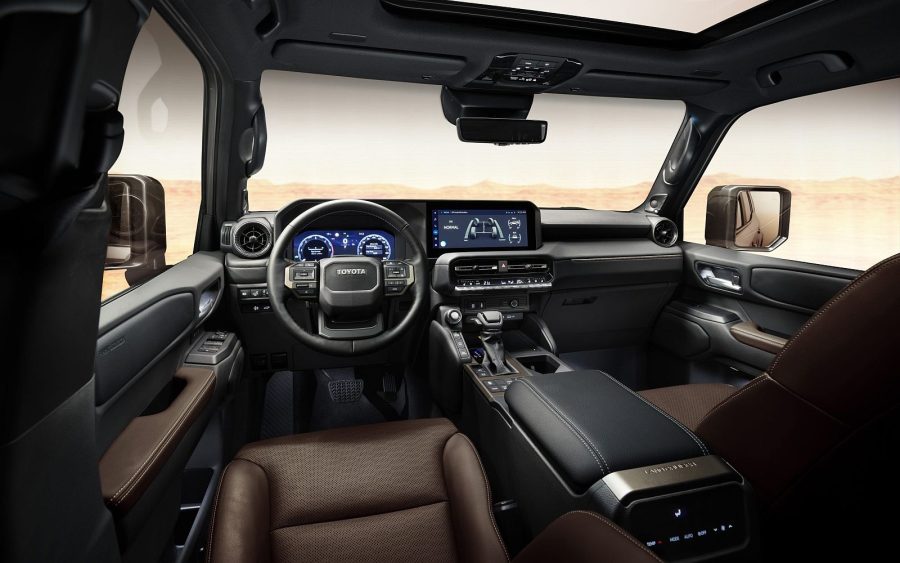 The interior can be specified with a choice of either five- or seven-seat configurations and offers a design that underlines the strength and functionality of an authentic off-roader. This is evidenced in details such as the horizontally arranged instrument panel and switches that are shaped for easy operation, even when driving over challenging terrain. All-round visibility has been given priority, assisted by the lowered belt line that allows deeper side windows to be fitted.
2024 Toyota Land Cruiser First Edition
The new 2024 Land Cruiser will be introduced with a special First Edition model, available exclusively for customers to reserve during the initial pre-sales period later this year. Only 3,000 examples of this limited-run version will be built for Europe, which will be distinguished by special heritage-inspired styling features (see also lead image). Details include classic round headlights and two dedicated bi-tone exterior paint finishes: Sand and Smoky Blue.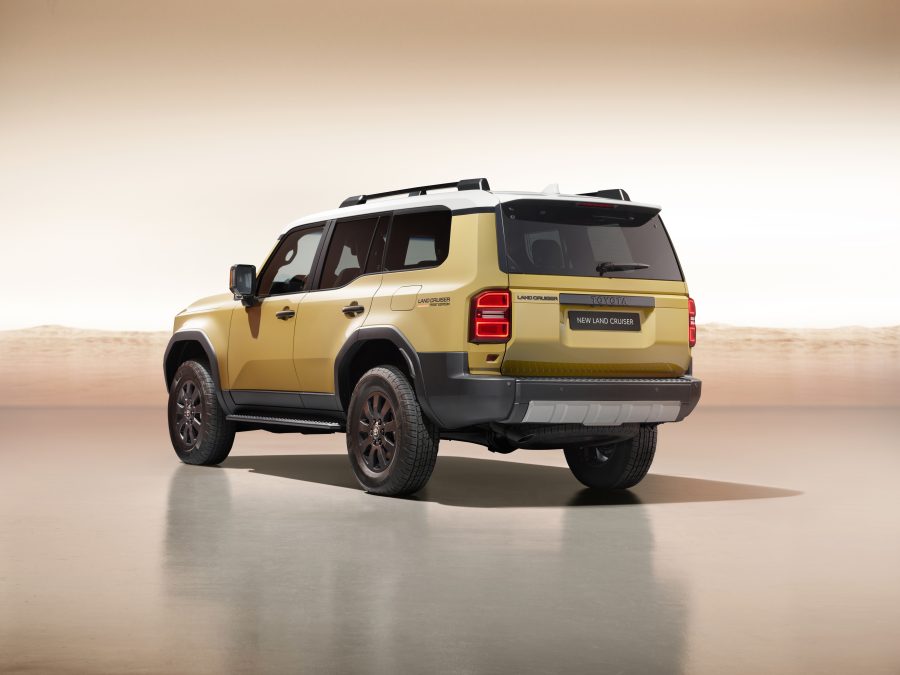 Further details will be provided closer to the pre-sales launch. So watch this space!
All information is correct at time of publishing.