The 2020 Toyota C-HR arrives to offer new multimedia systems and hybrid powertrain updates to our popular compact crossover model. The original Toyota C-HR hit the market three years ago and its combination of striking design, athletic handling and efficient powertrains has so far attracted some 50,000 sales in the UK, 80% of which have been specified with the self-charging hybrid powertrain.
Building on that strong customer appeal and sales momentum, the refreshed 2020 Toyota C-HR includes improvements in dynamic performance, subtle changes to the exterior and interior designs, and the introduction of the latest Toyota multimedia technology, which includes Apple CarPlay and Android Auto smartphone integration.
2020 Toyota C-HR: exterior design
As Toyota's design language continues to evolve, you will notice that the distinctive character lines of the new Toyota C-HR have been refined and executed with a softer touch.
At the front, the crescent-shaped lower lip is now colour-coordinated, while the fog lights have moved from the lower grille to the far extremities of the bumper to emphasise the car's purposeful stance and increase the width of the lower air intake. The headlights have also been subtly redesigned with an attractive new light signature that positions the daytime running lights above the main beam projectors.
Focusing on the opposite end of the Toyota C-HR, the rear light clusters continue to stand proud of the bodywork but now connect with one another via a sleek spoiler that bridges the width of the car. Now equipped with LED lamps, the new 'hockey stick'-shaped light signature is more expressive and the indicators now feature sequential illumination.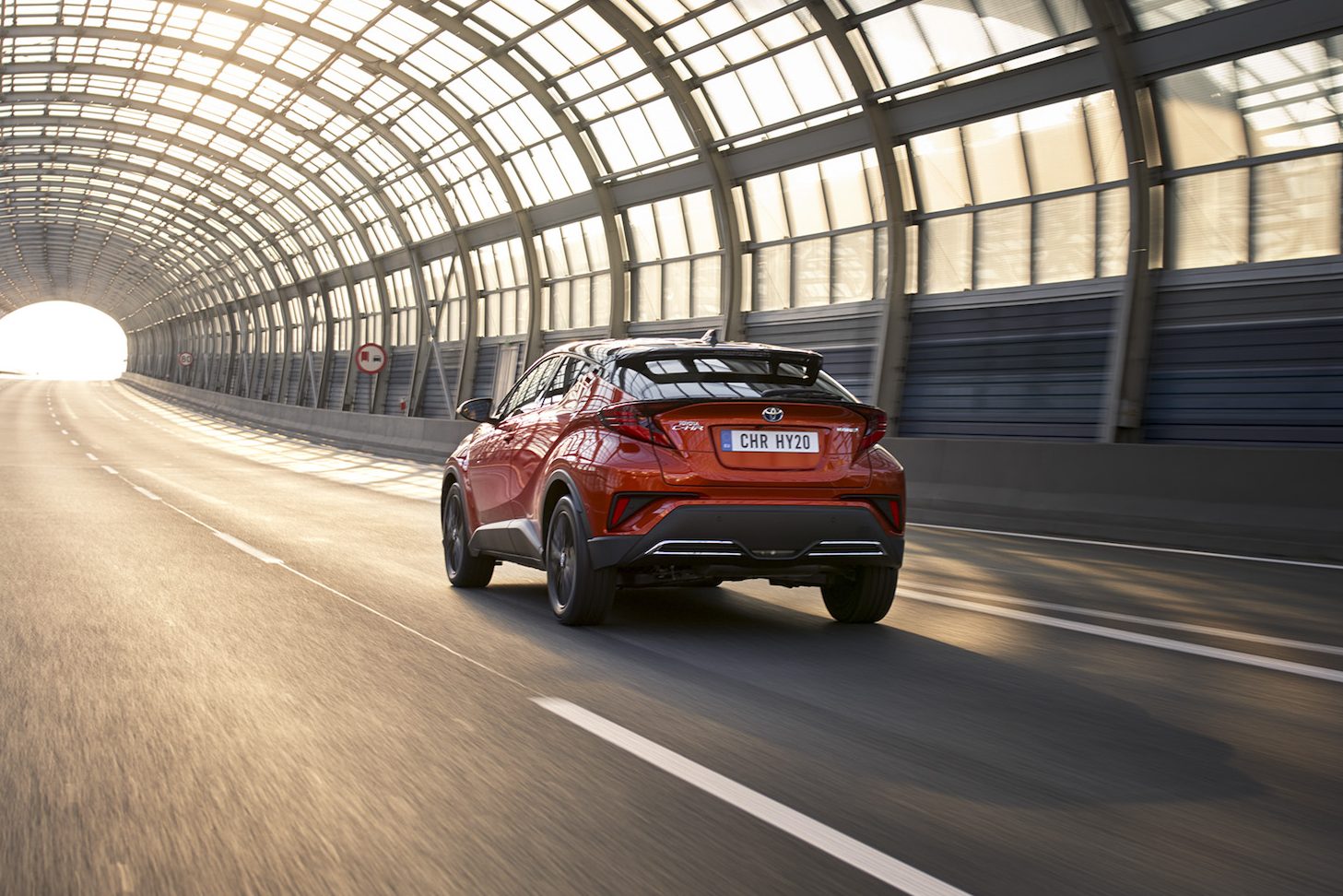 Three new body colours are available – Scarlet Flare, Satin Grey and Scorched Orange – while Dynamic (and for a limited time Orange Edition) model variants offer additional visual appeal by contrasting the body colour with a gloss black roof and A-pillars.
All grades are equipped with either 17- or 18-inch alloy wheels, with Icon grade receiving a new 17-inch design in a silver finish and Dynamic grade receiving a new 18-inch design with a contrasting dark grey and machined alloy finish.
2020 Toyota C-HR: interior design
Feedback from existing Toyota C-HR owners has been overwhelmingly positive regarding the car's attractive cockpit design and airy feel. So rather than make sweeping changes to the design, for the 2020 model year we have focused on improving the visual and tactile quality of interior surfaces and switchgear.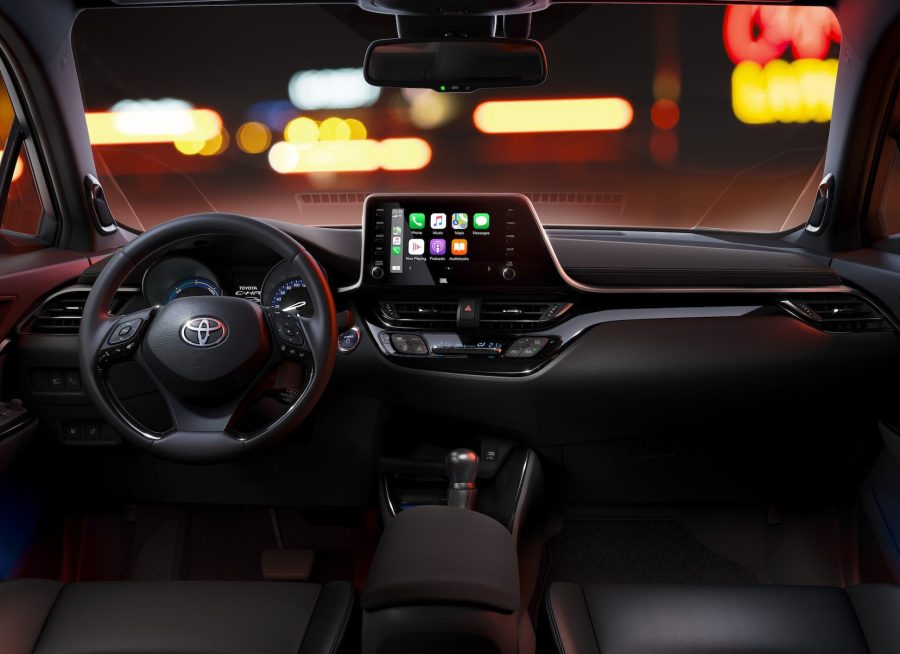 As a result, all contact areas on the door panels are now soft to the touch, while the Toyota C-HR's familiar diamond design theme has been extended to many of the switches. To improve usability and visibility, the central eight-inch multi-media touch screen has been angled more towards the driver and supplemented by physical short-cut buttons and rotary dials for easier adjustment on the move. Perhaps the most divisive element of the dashboard – the separate digital clock – has been removed and integrated into the screen for a cleaner appearance.
The front seats have been reconfigured to offer more support for the lower back and now feature stronger bolsters to better hug the body. Height adjustment has been added to the front passenger seat, while power adjustment is now standard on Excel models.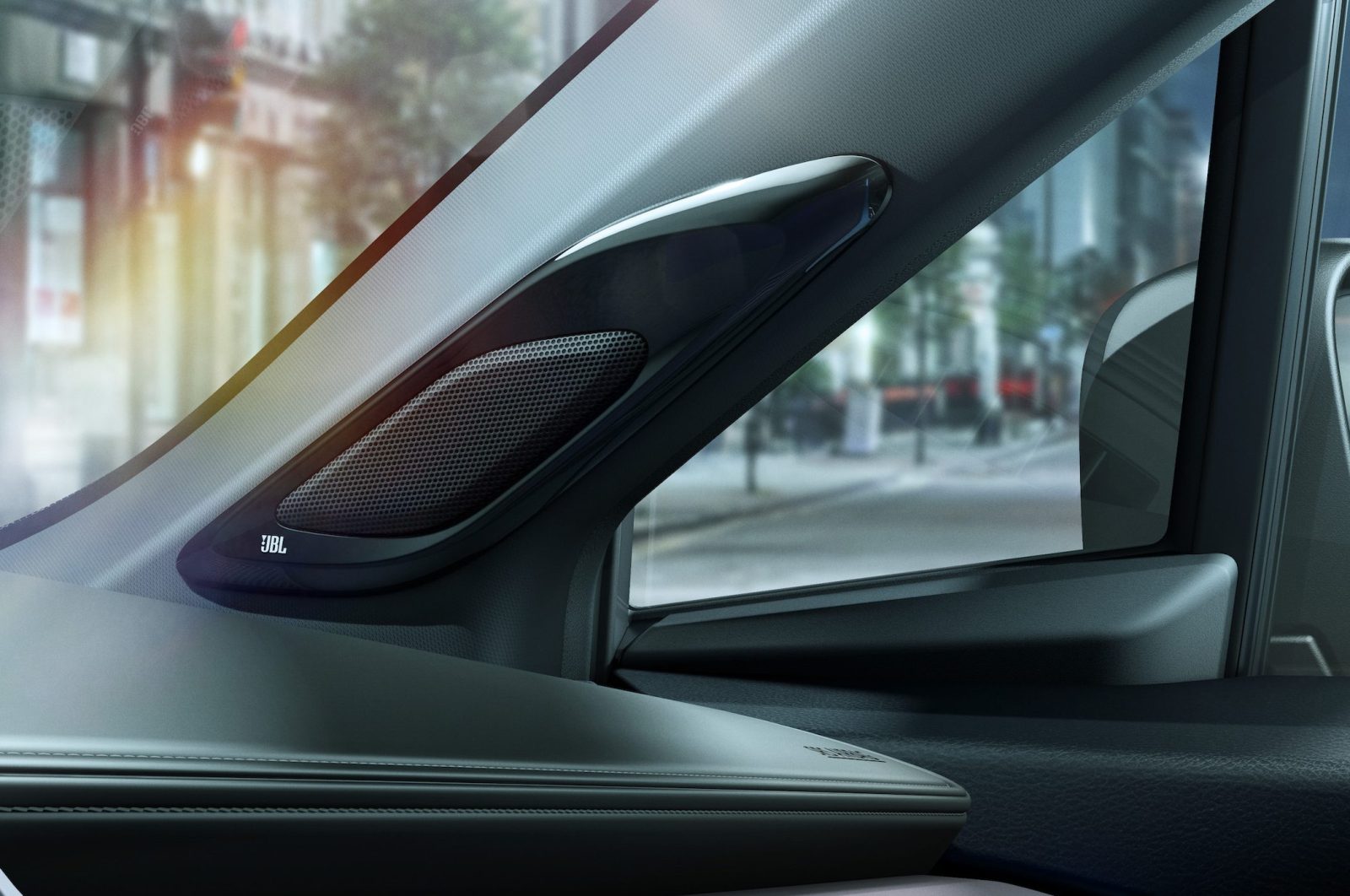 Specific interior finishes are linked to grade choice. On entry-level Icon grade, the interior is upholstered in black fabric with grey stitching, accented by a metallic decoration line across the dashboard and door panels. Design grade switches the stitching for a blue thread. Dynamic grade adds blue fabric accents on the shoulders and thigh bolsters of the seats, plus a striking anodised blue decoration line. Finally, Excel grade features leather upholstery and a soft silver decoration line.
2020 Toyota C-HR: driving dynamics
At the heart of the Toyota C-HR is a version of our TNGA platform specially adapted to suit the requirements of a C-segment crossover. Known as GA-C, the platform provides high rigidity and an unusually low centre of gravity for the class. In turn, the low centre of gravity provides the Toyota C-HR with car-like responses that are linear to driver inputs and therefore more engaging.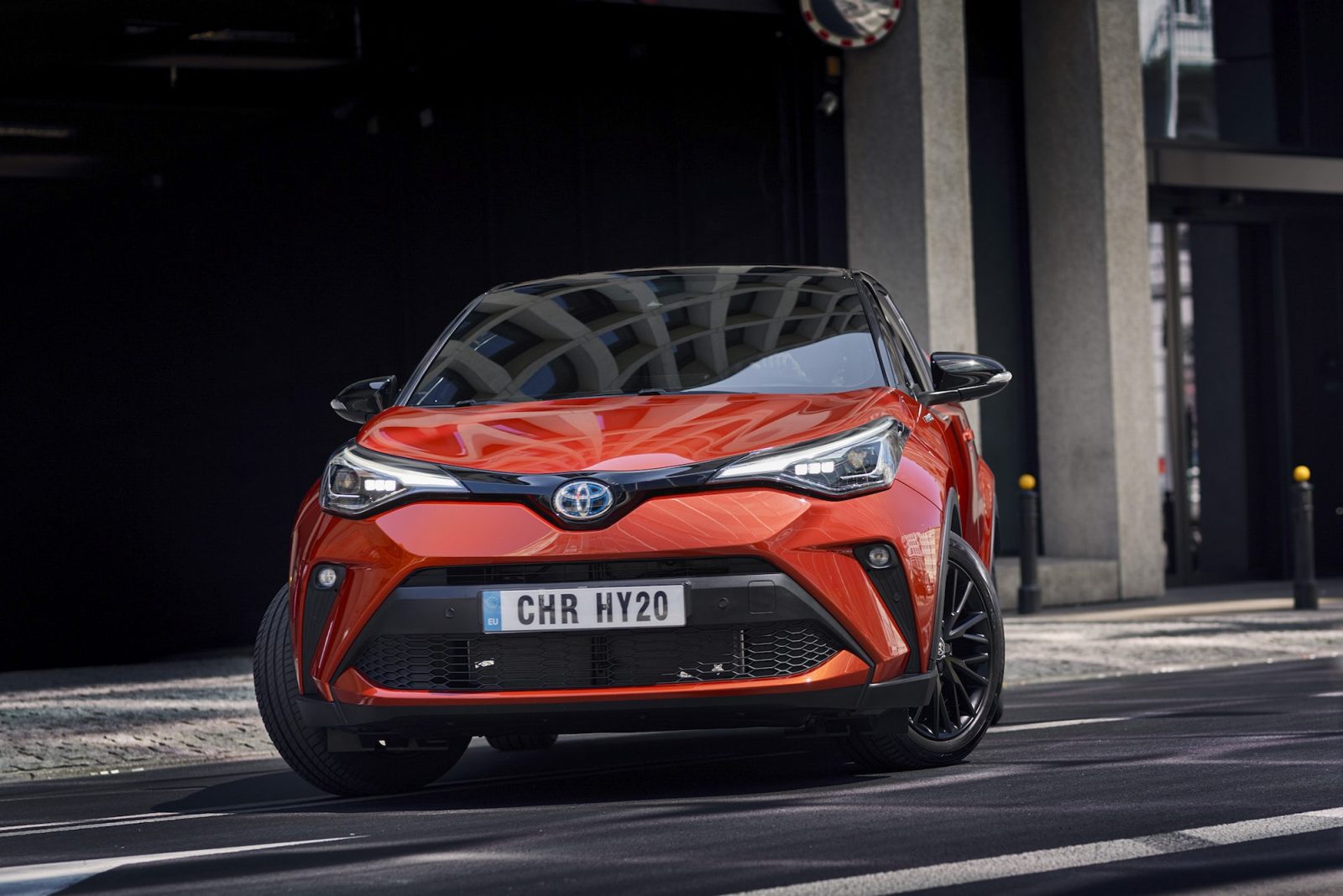 Versions specified with the higher-performance 2.0-litre hybrid system are equipped with new suspension components. These are specially tuned to maximise the vehicle's handling potential and deliver enhanced stability.
Similarly, when assessing the entire vehicle for this mid-life revision, our engineers identified 11 locations where improvements could be made in further isolating the cabin from the outside world. New seals and strategically placed insulation and noise absorption pads have reduced the penetration of unwanted sounds, while the physical installation of the engine actively suppresses the transmission of noise and vibrations through the chassis. Even the tyres have been specially chosen for their quiet behaviour.
2020 Toyota C-HR: on-board technology
The 2020 model year ushers in Toyota's latest multimedia system, which offers improved connectivity and functionality by incorporating Apple CarPlay and Android Auto applications. An additional benefit is that it allows over-the-air updates, so there is no longer a need to visit a Toyota dealer or use intermediate devices to access the latest software updates.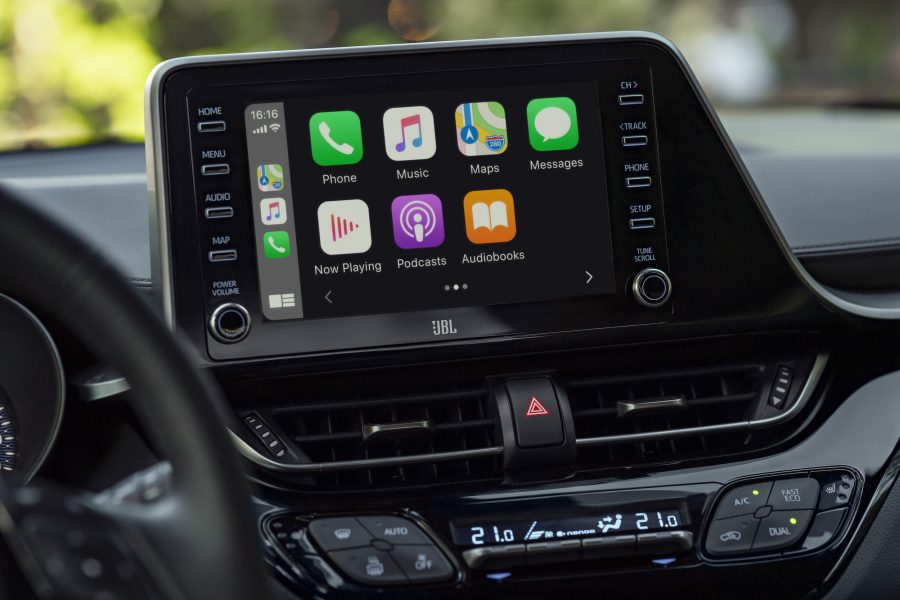 Another important element of the in-car entertainment system is the availability of a tailor-made JBL Premium Audio system, which comprises an eight-channel, 800W stereo amplifier and nine speakers for concert hall sound quality.
Interestingly, this high-end sound system was not an afterthought; it was engineered from the start. As a trusted audio partner for almost 25 years, JBL was involved early on in the Toyota C-HR's design stage in order to ensure this system was optimally tuned for this unique environment. Such attention to detail is one of the reasons why JBL audio systems are used in 80% of the world's live concerts, 70% of all recording studios, and 90% of all THX-certified cinemas.
2020 Toyota C-HR: hybrid powertrains
Following in the footsteps of its Corolla cousin, the new 2020 Toyota C-HR will benefit from a choice of two hybrid powertrains. Joining the existing 1.8-litre hybrid system is a new, more powerful, 2.0-litre hybrid so customers can choose the powertrain that best suits their driving style. Power outputs and emissions for each variant are listed below.
| | | | |
| --- | --- | --- | --- |
| | Power | NEDC data | WLTP data |
| 1.8-litre hybrid | 120bhp | From 86g/km | From 109g/km |
| 2.0-litre hybrid | 182bhp | From 92g/km | From 118g/km |
Dynamic upgrades include modified electronic power steering tuning for an improved steering feel. The 2.0-litre hybrid also benefits from a new suspension design that improves ride comfort while retaining the Toyota C-HR's excellent handling capabilities. All variants also feature an upgraded package to further reduce cabin noise.
1.8-litre hybrid powertrain
The 1.8-litre system in the outgoing Toyota C-HR already consisted of the most up-to-date, fourth-generation hybrid architecture. But for 2020 this cutting-edge powertrain has been equipped with a new high-voltage lithium-ion battery pack that is smaller, lighter and yet more powerful than the previous nickel-metal hydride unit. Located entirely beneath the rear seats to avoid any intrusion in the rear load space, it consists of 56 cells and is rated at 207.2 volts.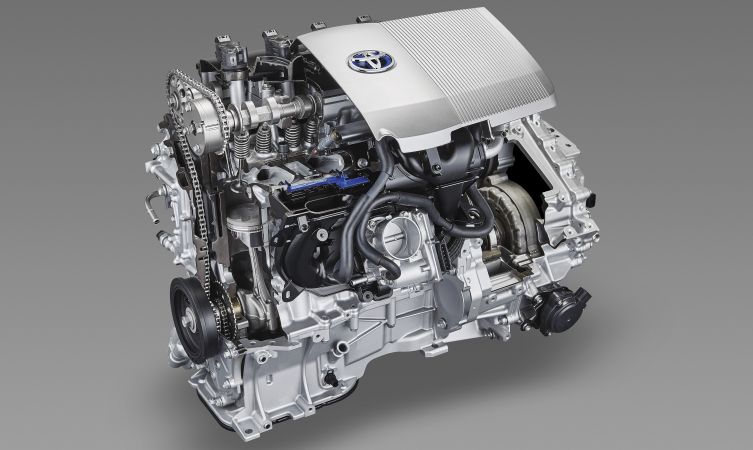 It is a revision that gives the battery the capacity to absorb and deliver more current. This means we've been able to improve the delivery of electric drive power and produce more natural driving characteristics without affecting the car's excellent economy or emissions.
2.0-litre hybrid powertrain
This new hybrid system consolidates our latest advances in battery, electric motor and petrol engine technologies into a compact, lightweight and efficient package.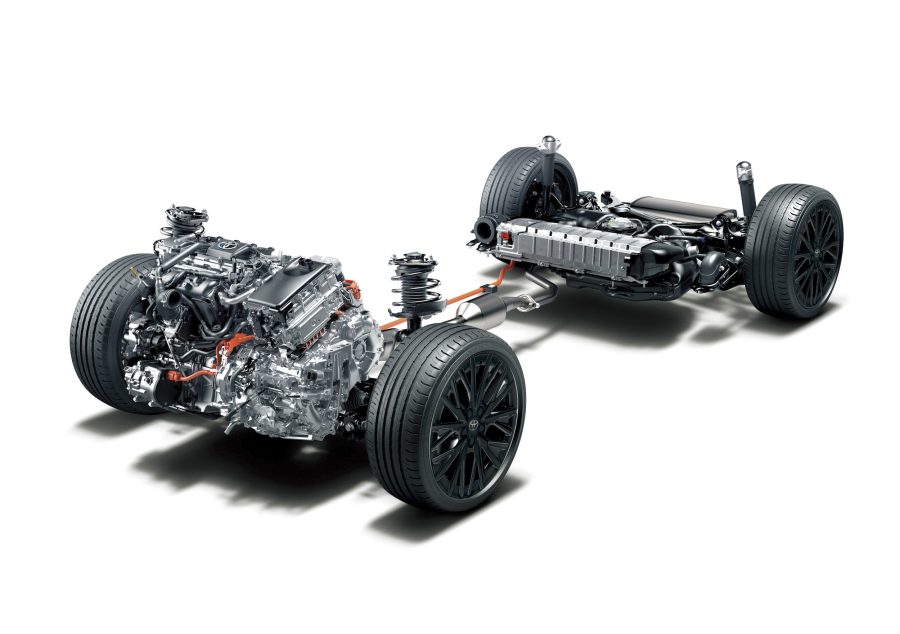 At the heart of the system is a new 2.0-litre internal combustion engine. Every component was designed to be as small and light as possible, without compromising quality.
For instance, the outer wall of the cylinder block is just 2.3mm thick, while reciprocating parts such as the crankshaft, connecting rods, pistons and camshafts are made from special alloys to reduce internal losses. This, in turn, allowed the specification of super-thin 0W16 oil to enhance lubrication and reduce friction. The net result is an engine that weighs just 113kg – almost 20% less than our previous 2.0-litre unit – yet produces 148bhp.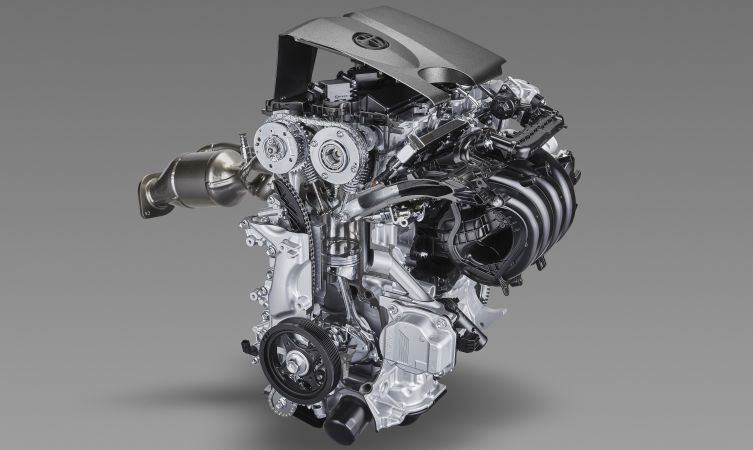 Efficiency is also noticeable in the combustion process. The engine runs an unusually high compression ratio of 14:1 yet maintains stable combustion through a number of means. First is the adoption of an intake system that creates high air velocity as well as a powerful tumble effect as the air is directed into the combustion chamber. It is charged with fuel both directly and indirectly and compacted into a spherical shape surrounding the spark plug. Ignition is then performed on the efficient Atkinson combustion cycle, which ensures maximum combustion efficiency. This excellent aspiration is further tuned by intelligent, variable valve timing across both the intake and exhaust ports.
In fact, the engine is so good at converting fuel energy into power that it offers a peak thermal efficiency of 41%. This is a figure that is unsurpassed among mass-produced petrol engines; even the 40% thermal efficiency found in the current Prius.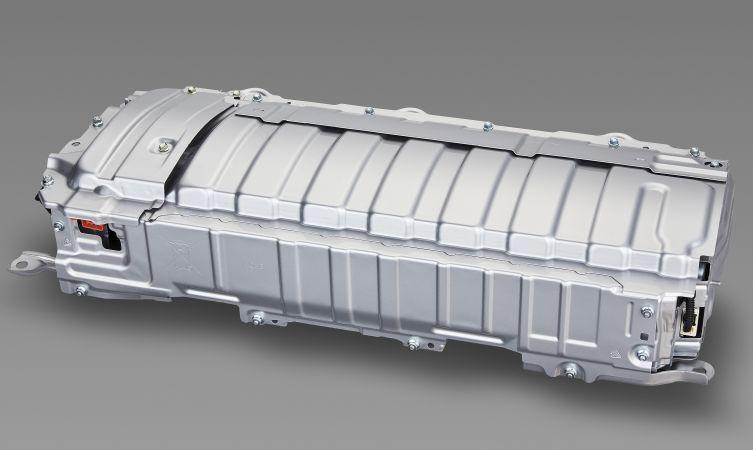 The nickel-metal hydride hybrid battery in the 2.0-litre system (above) is specified to suit this model's more powerful electric motor/generators. Its high-density energy pack consists of 180 cells and offers a nominal output of 216 volts, which allows the largest of the motor/generators to deliver 80kW of power (equivalent to 107bhp) and 202Nm of torque. Although bigger than the hybrid battery in the 1.8-litre system, it remains covered by the rear seats and does not intrude into the luggage area.
While the hybrid battery provides the muscle, the fully redesigned Power Control Unit can be described as the heart of the electrical system. Now 33% smaller and 20% more efficient, this multi-purpose device controls the motor/generators. It uses an inverter to boost its output to 650 volts, and also provides a suitable level of direct current for the vehicle's auxiliary power needs.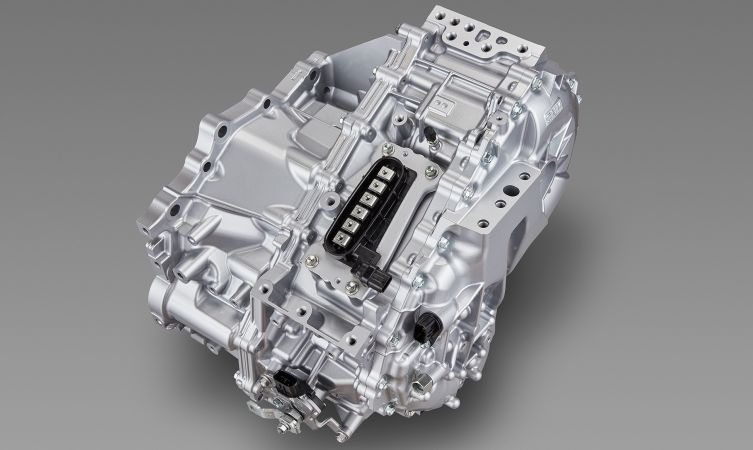 Both motor/generators (MG1 and MG2) are housed within a redesigned transaxle (above), together with a single planetary gear and a reduction gear to the final drive. MG1 is primarily used as a generator and converts any surplus energy from the petrol engine into electricity, which is then stored in the hybrid battery. It also serves as the engine's starter motor. The larger MG2 is the electric drive motor but also reverses itself to regenerate power in braking mode. Its improved output means the motor alone can propel the car at motorway speeds of up to 75mph.
Powertrains compared
| | | |
| --- | --- | --- |
| | 1.8 HYBRID | 2.0 HYBRID |
| Engine code | 2ZR-FXE | M20A-FXS |
| Displacement | 1,798cc | 1,987cc |
| Compression | 13.0 : 1 | 14.0 : 1 |
| Max engine power | 97bhp | 150bhp |
| Hybrid battery | Lithium-ion | Nickel-metal hydride |
| Nominal voltage | 207.6V | 216V |
| Motor/generator output | 53kW | 80kW |
| Max hybrid system power | 120bhp @ 5,200rpm | 182bhp @ 6,000rpm |
| Max speed | 105mph | 112mph |
| Acceleration 0-62mph | 11.0sec | 8.2sec |
| Fuel consumption (WLTP) | 54.32 – 58.85mpg | 49.56 – 54.32mpg |
| CO2 emissions (NEDC / WLTP) | 86 / 109g/km | 92 / 119g/km |
Enhanced active safety
An additional quality of the TNGA platform is its inherent safety performance. In fact, its construction either meets or exceeds the most stringent passive safety standards set by independent crash test programmes.
Active measures are becoming increasingly important, and in this respect, Toyota is continuing its commitment to democratise its advanced safety equipment. This is why the comprehensive Toyota Safety Sense system (TSS) is applied across the Toyota C-HR range. TSS is a suite of technologies that can reduce driver fatigue, actively help prevent collisions and mitigate the consequences if an impact is unavoidable.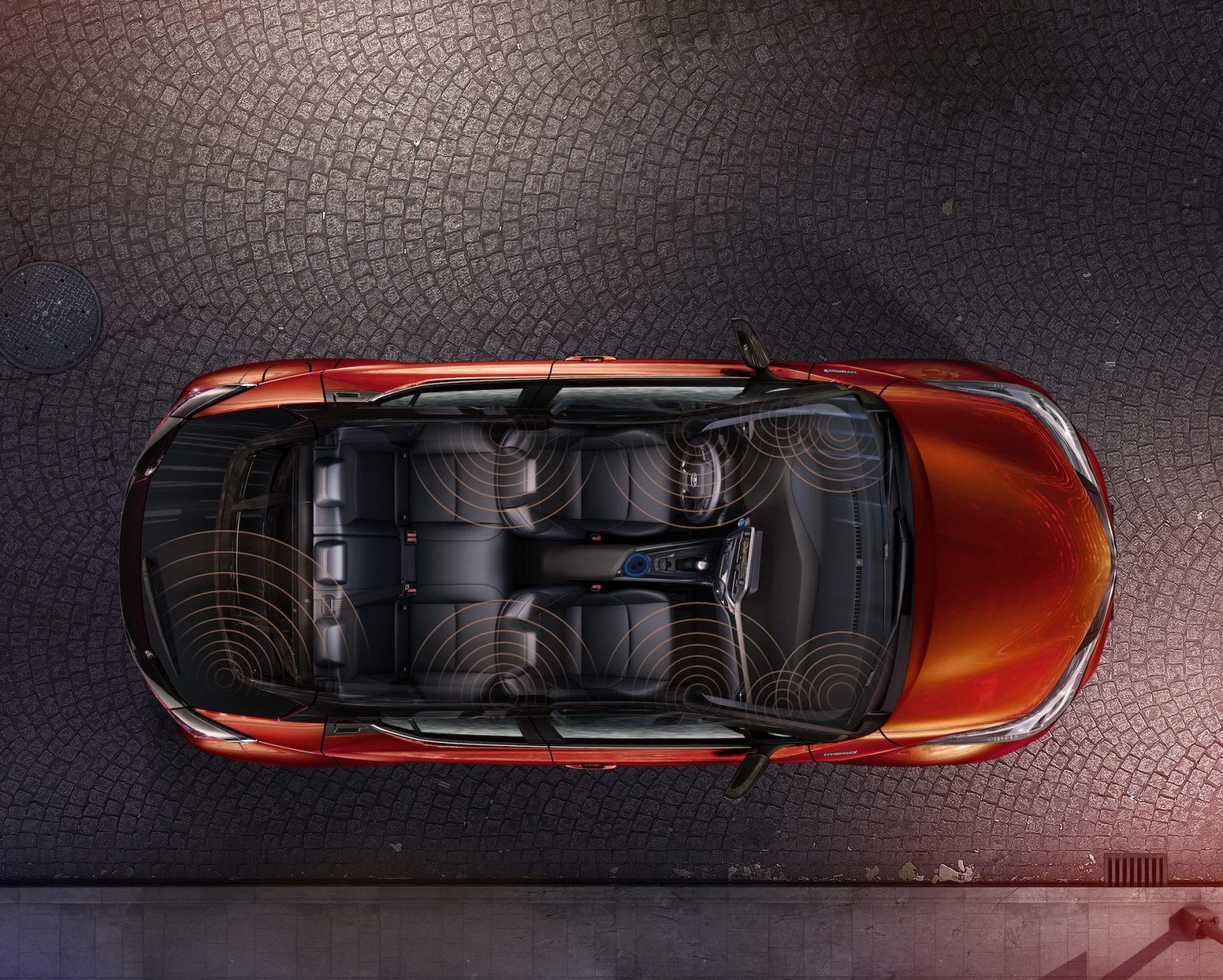 Standard TSS features, therefore, include a Pre-Collision System pedestrian recognition, Adaptive Cruise Control, Lane Departure Alert with steering control, Automatic High Beam and Road Sign Assist.
Mid-range Design models are additionally equipped with Intelligent Clearance Sonar with front and rear parking sensors, while top-of-the-range Excel and Dynamic models also benefit from Rear Cross Traffic Alert with auto braking function and an Adaptive Front-light System. A number of these extra systems can be fitted as optional extras in entry-level Icon models.
All information is correct at the time of publishing