This past weekend, Tom Ingram flew to his first-ever BTCC victory, piloting his Speedworks Motorsport-prepared Toyota Avensis from lights to flag in the 2016 first round at Brands Hatch. We've already spoken to Tom about how it feels to claim a historic win, so now our attention turns to Christian Dick, Team Principal at Speedworks Motorsport, to discover what it meant to him.
Toyota Blog: Hi Christian, thanks for finding the time to speak to us in your busy schedule. How does it feel to have secured your team's first BTCC win?
Christian: I still don't think it's fully sunk in what we've achieved. We've been working at it and trying for so long that I don't think I've allowed myself to relax and actually think about it! It certainly doesn't feel bad, and we're absolutely over the moon, but as soon as you've finished race one and you've got the victory you only allow yourself a couple of seconds to think about it before you've got to think about what we've got to do for the next race.
It feels fantastic, is the answer, but we're certainly not resting on our laurels so we can go on and have an even better weekend at Donnington (the next race meeting in the BTCC calendar) .
Blog: It was a massive shame about the second race, getting knocked out that early.
Christian: It was, but that's motorsport, that's British Touring Cars. It happens. You put that behind you and start to think about moving on. The good story is we've got a fast car, a good driver and a really good package, so we know at Donnington Park we're going to be really strong. There's no reason why we can't go on and put in the same kind of performance and try to make sure we don't get involved in any incidents in the second and third races.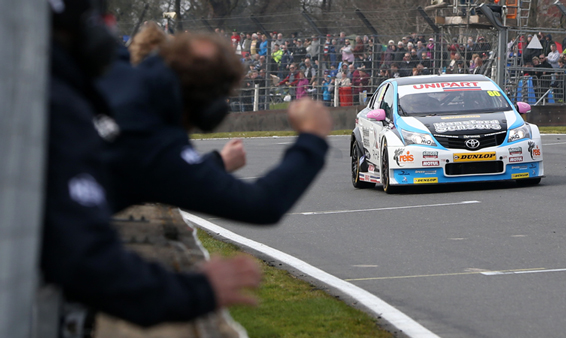 Blog: You had a couple of 2nd places last year, did you think you would go one better this season?
Christian: Yeah. I think the way we've gone about our plan to get to the front has been very structured and measured. It's taken a reasonable amount of time for us to get there and the hope is that now we're there we can maintain that performance for a while. Coming towards the end of last year we managed to break through and get on the podium twice in the last three races, and we'd got a good plan of what we wanted to try and achieve through the winter.
Fortunately, Tom and Speedworks got our deal done really early, so that continuity was good. That whole excitement and good feeling around the team at the end of the season allowed us to secure sponsors and take some new ones on board. Again, because this was all done early it meant we could get out and do some testing and development over the winter.
We knew that we had to step up, we knew we'd got the second places and there was a real feel good factor to both of those, but we knew second place is still second place. We want to be winning races and championships eventually so we had to step up this year. For it to come in the first race I've got to say, was a little bit beyond what we were expecting! I knew we'd taken a step forward; I just didn't know how big it was.
Blog: How did it feel when Tom crossed the line?
Christian: I can't begin to tell you. We knew we'd got a fast car, particularly in race trim. We knew we were going to be strong but you've got to make it through the first lap with all the other cars close to you and the possibility of getting damage, you've got to get off to a good start; all those bits and pieces have got to go according to plan.
And then of course there's all the hard work that the boys put in to prepare the car to go through the kind of extremes the car is put through during the race. We've got to make sure that we're not going to have any technical or mechanical failures. So you're not taking anything for granted. You get to a point in the race where you're quite sure that the pace is there and that you're strong enough to stay out front and you can hold it, but still in the back of your mind you're thinking about mechanical failures and other things that could happen. There's certainly no counting your chickens before they've hatched and it's a very tense time throughout.
Once the car crosses the line and you've actually achieved it, it's a feeling that is very, very difficult to describe. It's a whole range of emotions: we're into our sixth season in BTCC so it's taken us that long to crack the winning formula, so it's pretty immense.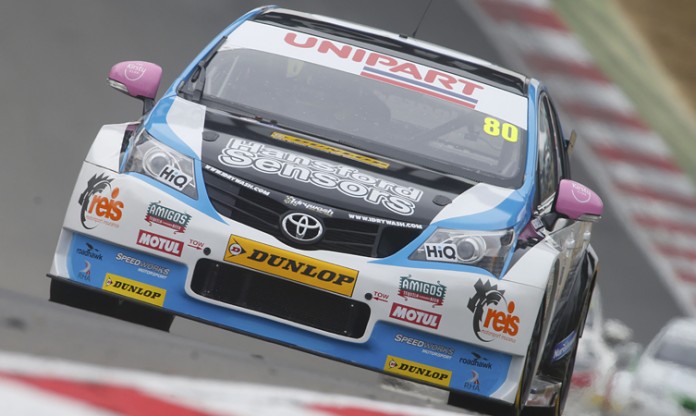 Blog: Was your wife Amy there to witness the victory too?
Christian: Yes. Amy runs the business with me. She's responsible for a lot of different stuff like marketing acquisition, right through to organising logistics, bookkeeping, a whole range of different things. She was in the garage and I was out on the pit wall, and she was the first person I was looking for and one of the very first people I got to, to grab hold of and give a big hug.
Blog: For those who don't know too much about the BTCC, what can you tell us about the Toyota Avensis BTCC car?
Christian: It's a very special piece of kit. We start with a standard production Toyota Avensis, and then we go through pretty much every aspect of the car to develop it to do the job that it's got to do. So there are changes to suspension, we strip as much weight as we can out of there, and add a lot more safety equipment like a roll cage.
Masses and masses of time is spent on little bits of performance development, with aerodynamic modification; little tweaks to the bodywork to make sure we're cutting through the air a bit better. There's a lot of work that goes into them.
Blog: And what can you tell us about the man of the hour, Tom?
Christian: He's something else. 22 years old and I have to keep reminding myself that he is that young. He's got such a mature head on his shoulders, as his race one proved. He drove all those laps at the head of the field while immediately behind him are a double BTCC championship winner and in third place a triple BTCC championship winner, piling the pressure on and he just soaked it up; never put a foot wrong, never made the tiniest mistake. Yeah, he's something special and I hope he stays with us for a long time.
Blog: Is that the plan?
Christian: Certainly. He's hot property. He's worked with us now for two years, and we very much do work together on the whole project, from the engineering side of things right through to working on sponsorship proposals, talking to guests and coming up with ideas about how we're going to push things forward. He's very much part of the team, so I don't think he'll be going anywhere in the immediate future but as I say, long may he be with us.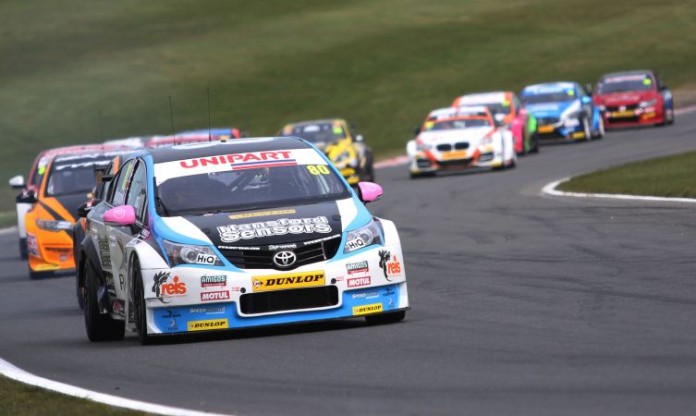 Blog: How does winning as a team principal compare with winning when you were driving?
Christian: We've won quite a few things with me at the helm and behind the wheel, but the achievements we've had in the BTCC I would definitely say are my biggest achievements in motorsport. At this level it takes so much more dedication and commitment than anything else I've ever been involved in that it's almost exhausting the level of commitment that you've got to have. So when you start achieving at this level, it's by far beyond anything that I've achieved when I was behind the wheel in terms of satisfaction.
Blog: Now that you've got one win under your belt, have your expectations for the rest of the season changed?
Christian: Yeah, definitely. We spent five years pushing for a race win, and now that's done, and we've got it in the first race of the year, we've got to reassess our objectives and raise the bar again. Obviously we want more race wins and we want to be getting these consistently – and I don't see any reason why we can't be doing that – but we've also got to look at not just the very realistic proposition of an Independent title, but see where we can get in the overall championship and push those manufacturer teams as hard as we can.
Blog: Can we push you for a prediction?
Christian: Because it's so unpredictable I wouldn't like to say, but certainly on current form we've got to be pushing as hard as we can to get as high as we can. Overall title, I don't know, but we'd certainly be disappointed if we don't go to the last round at Brands Hatch again later in the year without a chance of winning the Independent title.
Blog: Thanks for your time Christian, and we wish you and all of the Speedworks team the best of luck over the rest of the season.
Has Tom Ingram's maiden victory intrigued you about the BTCC? Full race day coverage is available on ITV4, and a full schedule of races is available here . You can also follow the action on our Twitter account, @ToyotaGB.