Making the world a cleaner, safer place proved a priority among the top entries in the 2015 Toyota Dream Car Art Contest.
Hundreds of entries were received for the competition, which encourages children aged eight to 15 to combine their imagination and their creative skills to design what they think would be a great car for the future.
The best entries went on display at Toyota (GB) PLC's Surrey headquarters, where staff members were able to vote for their preferences in each age group. Final judging then produced three winners in each of the three age groups, all of whom were invited to a prize-giving reception at the HQ building.
The occasion was hosted by Matt Harrison, President and Managing Director of Toyota GB, who congratulated the young designers on their skills and insights into how cars can be developed in exciting new ways. The winners each received Apple products, a goody bag and a certificate to mark their achievement. Their success in the UK competition will see their work go forward for the chance of winning a trip to Japan as part of the global Toyota Dream Car Art Contest.
The winners
Under-eights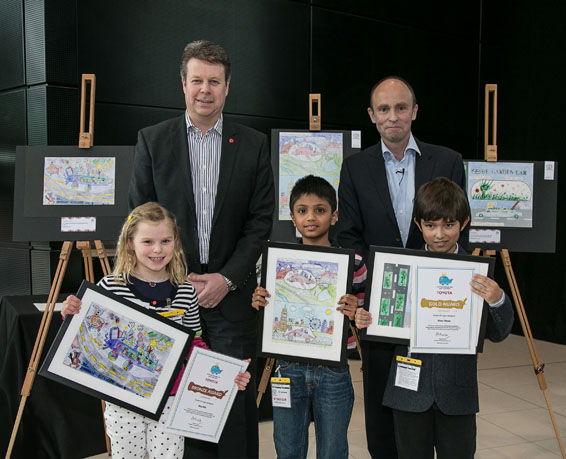 1st Place
Victor Ghose, from London, The Garden Car. A car with a garden on its roof to make cities greener, generate oxygen and help save the bees.
2nd Place
Haseen Farook, from Harrow Weald, The Force Field, All-Weather Flying Car. A car that is powered not by petrol, but by solar panels, rubbish and wind turbines. A force field prevents accidents. It is made from lightweight, recycled materials and can fly.
3rd Place
Biba Mills, from Lingfield, Surrey, The Dinosaur Firework Car. A fast, mean machine that is powered by fireworks and rockets.
Eight to 11 years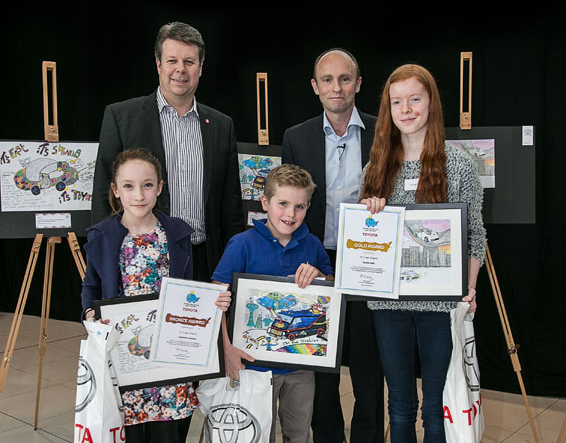 1st Place
Sophie Reid, from Blackridge, Scotland, The Ecospectra. A car that can travel through air and water and on dry land. It changes exhaust gases into harmless, coloured vapours.
2nd Place
Archie Mills, from Lingfield, Surrey, The Dude Machine. A gadget-packed car that is like a space-going A-Team van, complete with mobile disco.
3rd Place
Charlotte Johnson, from Helensburgh, Scotland, Autojig. An interlocking jigsaw body shell makes scratches and bumps easy to repair.
12 to 15 years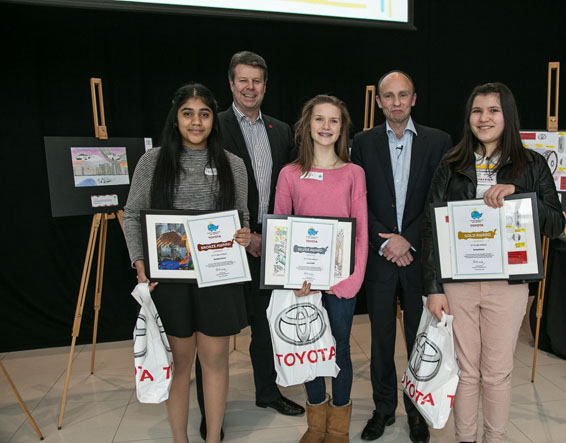 1st Place
Seray Hatton, from Leeds, Toyota Martian All-Terrain Mars Car. The first ever all-terrain Mars Car is a response to all the recent news about the planet.
2nd Place
Laura Goff, from Leeds, The Multicube. A fun vehicle which adapts to keep you cosy in winter, yet cool in summer.
3rd Place
Kirthiha Kumar, from Wallington, Surrey, Toyota Phoenix. The Phoenix carries passengers in pods on its back. Wherever it flies, it destroys global warming, saving the environment.
Winners were presented by Matt Harrison, President and Managing Director of Toyota GB and Robin Giles, Director, HR, Corporate Planning, CSR and Legal, Toyota GB.