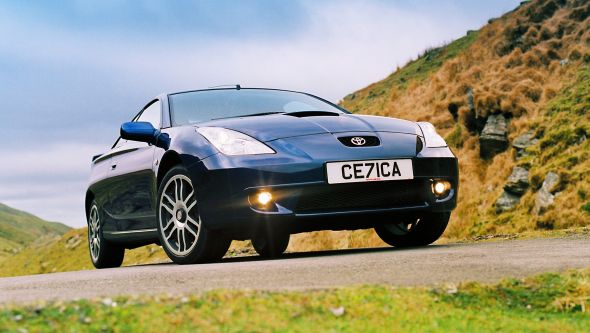 It's celebration time, because it was precisely 15 years ago to this day (12 November 1999) that the seventh-generation Toyota Celica went on sale in the UK. Time flies when you're having fun, eh?
Arguably the most striking mainstream sports coupe of its day, the new Celica was almost as short as the first-generation car but had a wheelbase longer than any previous generation for a powerful, wheel-at-each-corner stance and excellent agility. In addition, while the model had historically featured a long-bonnet aesthetic popularised by American muscle cars, the new cab-forward design penned by Toyota's Calty Research division in California was inspired by motorsport, notably the Toyota GT-One Le Mans racer.
Beneath the wedge-like exterior was an originally developed front-wheel drive platform hung on new double wishbone rear suspension and refined MacPherson struts up front. Its overall weight was up to 90kg lighter than the outgoing model, which allowed Toyota to endow the new Celica with a class-leading power-to-weight ratio using an intelligent but relatively small capacity 1.8-litre engine. Putting that into perspective, its 130bhp per tonne ratio was equivalent to that of the iconic 2.8-litre Ford Capri.
Firing through the Celica's new close-ratio six-speed gearbox revealed sparkling performance – 0-62mph in 8.7 seconds and 127mph top speed – allied to a combined fuel consumption figure of 36.7mpg. Compared with the best-selling sixth-generation Celica 1.8 ST, the new car was faster, cleaner, cheaper, more frugal and even better specified. Of course things got even more exciting when a 190bhp model was added almost a year later.
What elements of the seventh-generation Toyota Celica do you fondly remember? Was it the surprisingly practical luggage area, the strange mix of orange and green dashboard illumination, the cool engine-cooling bonnet vent, or the fact that most new buyers couldn't resist the optional Sports Pack that included 17″ alloys and a rear spoiler?
Whether you used to own a seventh-generation Celica or still do, why not join our celebrations? We'd love to hear about your experiences or memories using the comment box below.
Learn more: History of the Toyota Celica
Read more: What does the press say about Toyota's latest coupe?