Loyal Toyota customers do not come much stronger than W.H. Bond & Sons, the Cornish family firm having recently taken delivery of its 100th Toyota Hilux in 21 years. And there is no stopping now they have reached three figures: the company plans to continue ordering three Hilux a month to keep its fleet up to date.
Andy Pearce, W.H. Bond's Business Development Manager, said: "Since our first Hilux, there has been no reason not to continue with this model. It's faultlessly reliable, has excellent re-sale values and is well specified. Toyota continues to do exactly what we require."
Over the years Toyota has constantly updated and upgraded Hilux to deliver a vehicle that bridges the gap between being a reliable workhorse and a comfortable, versatile vehicle for everyday driving needs, combining its celebrated ultra-tough qualities with advances in comfort, safety and fuel efficiency.
Hilux fulfils two roles at W.H. Bond & Sons. Many are used as company vehicles for members of staff, while the remainder form part of a £10 million hire fleet alongside excavators, telehandlers, dumpers and rollers.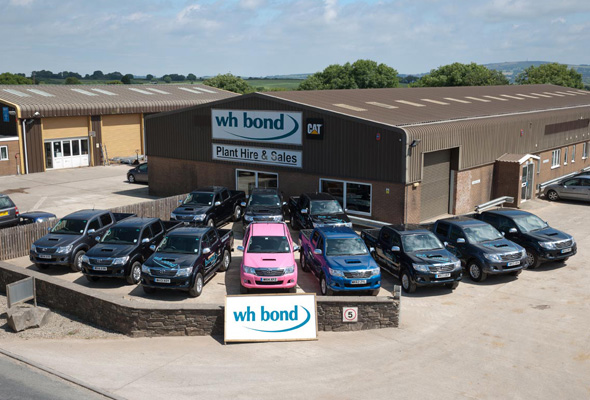 The company was established in 1957, as a family farming business and has since developed into a one-stop shop for construction and agricultural services, with more than 100 employees. The business has evolved and diversified through successive generations of the family, but continues to retain its agricultural heritage. The company's current areas of expertise include plant hire and machinery, timber sales, civil engineering and agriculture and training.
The milestone 100th Hilux was handed over to the firm at its headquarters near Saltash by Ian Pollard of Parklands Toyota Truro, which supplied the vehicle.
See also:
Toyota Hilux Review
10 Reasons the Toyota Hilux rules the Earth