Toyota retained the top spot as the most valuable automotive brand in the BrandZ™ Top 100 Most Valuable Global Brands report 2015. Toyota's brand was valued at $28.9 billion (approx. £18.8 billion) and maintains its top 30 position in the all-sector ranking.
In the 10 years since the BrandZ™ report was first published. Toyota has been crowned brand value leader in the automotive sector eight times, and second on two occasions.
According to the report, although automotive sales improved in some regions, they remained below pre-recession levels in others, adversely impacting overall brand values. In contrast, global sales for Toyota in 2014 increased by 2.5 per cent to 10.2 million units, which contributed to the company's brand valuation in this year's report.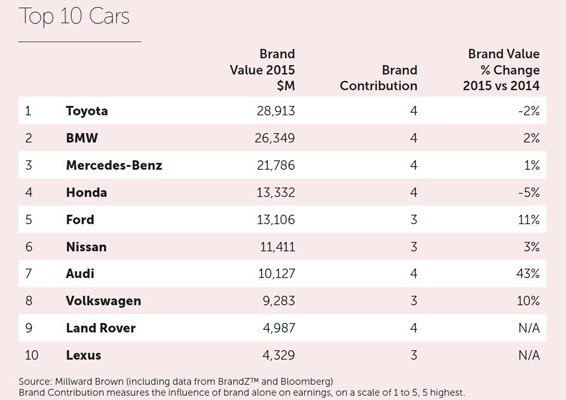 The report details some of the challenges faced by the auto sector, including the increasing difficulty that auto makers face in differentiating their product ranges, and the waning interest in car ownership from the 'millennials' consumer group.
The BrandZ™ Top 100 Most Valuable Global Brands report, commissioned by WPP and conducted by Millward Brown Optimor, surveys some two million consumers in more than 30 countries.
Akio Toyoda in Ad Week's Power List
In the same week that the BrandZ™ report was published, Toyota CEO and president Akio Toyoda was included in Ad Week's first ever Power List. Ad Week says Toyoda has brought  'a sleek sense of high-tech sophistication to the world's No. 1 carmaker'.
The top of the Power List is dominated by executives from tech companies such as Google, Amazon and Facebook, but Toyoda is highest ranking exec from the car industry.
"Toyoda can concentrate on molding the company into an even more formidable competitor," continues Ad Week. "Toyota will be hard to stop with its resources and aggressive attitude."