The Toyota RAV4 EV, the first electric vehicle jointly developed with Tesla, made its debut as a concept at the 2010 LA Auto Show – and as these images show, it was more than a static display model.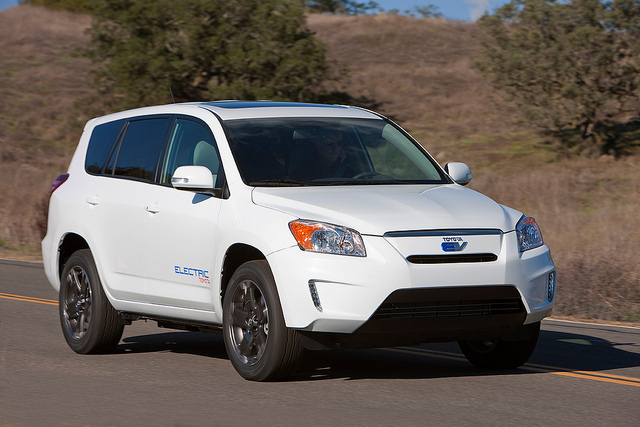 A total of 35 vehicles were planned to be built for a demonstration and evaluation programme through 2011. The introduction of a final production model in the US was mooted for 2012.
Read more History of the Toyota RAV4
The final production vehicle was due to have a target range of 100 miles in actual road driving patterns, in a wide range of climates and conditions. The RAV4 EV concept was based on the second-generation Toyota RAV4 and was fitted with a Tesla electric powertrain.
"When we decided to work together on the RAV4 EV, President Akio Toyoda wanted to adopt a new development model that incorporated Tesla's streamlined, quick-action approach," said Jim Lentz, president and chief operating officer, Toyota Motor Sales USA.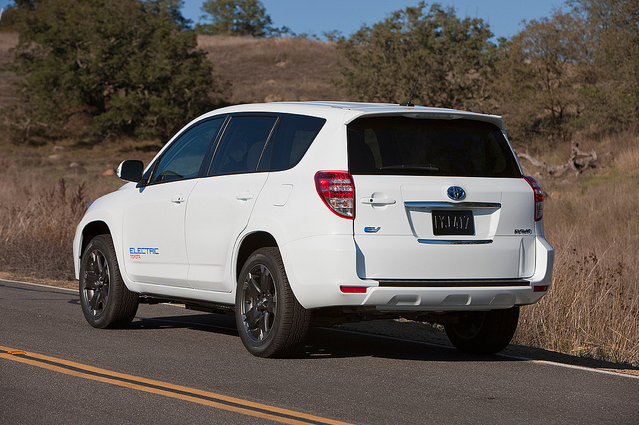 Tesla was responsible for building and supplying the battery, as well as other related parts, that met specific Toyota engineering specifications in performance, quality and durability. Toyota was responsible for development and manufacturing leadership and the seamless integration of the powertrain.
"From the beginning, the customer experience has been the focus," said Lentz. "The end goal is a vehicle with driveability characteristics as close to the conventional RAV4 as possible."
As you can see, the RAV4 EV received several distinct exterior styling changes compared to the RAV4. These include a new front bumper, grille, fog lamps and headlights, unique EV badging and a custom "mutually exclusive" paint colour.
The interior benefited from a custom seat trim, multimedia dash displays, push-button gear selector and dashboard meters. No luggage space was lost in the RAV4's conversion to an electric powertrain.
As planned, the Toyota RAV4 EV was put into production in 2012 and went on limited sale in North America for two years. Production was carried out at Toyota Motor Manufacturing Canada (TMMC) in Woodstock, Ontario.
| | |
| --- | --- |
| Toyota Tesla RAV4 EV technical specifications (approx) | |
| Overall length | 4575mm |
| Overall width | 1816mm |
| Overall height | 1684mm |
| Weight | 1829kg |
| Power output | 115kW (max) |
| Cruising range | 100 miles (approx) |
| Drive battery type | Lithium-ion |
| Drive battery capacity | 41.8 kWh |
| Charging time | Approx. 6 hours (at 240v/40A) |
| Maximum speed (Sport mode) | 100mph (approx. 160kph) |
| 0-60 mph acceleration (Sport mode) | 7.0secs |
| Drivetrain | Front-wheel drive |
| Seating capacity | 5 |
Click here to view our RAV4 EV photo library.