Toyota's return to the World Rally Championship has been an incredibly well kept secret. But while speculative reports about the project began to appear in the press in mid-2014, work to create the car started much earlier…
Watch the video below for the inside line on the creation of the Toyota Yaris WRC.
In fact, the development team assembled for the project actually came together in 2012, working out of Toyota Motorsport Germany's Cologne facility.
Originally the home of Toyota Team Europe, the group that developed and built Toyota's rally cars during the 1990s, the facility was expanded and updated to handle Toyota's Formula One programme.
The first step was to develop a new engine for the car, a clean sheet design overseen by ex-F1 engine designer Falk Schulkowski.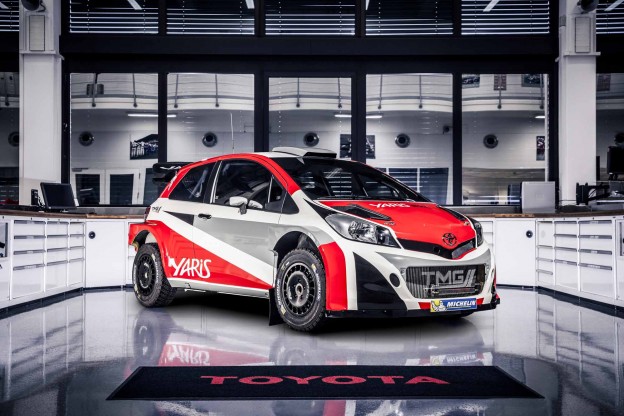 Performance targets for the direct-injection, 1.6-litre turbocharged four cylinder were set, and the engine fired into life in mid-2012.
"It's a great feeling when you get to hear the baby cry for the first time…" said Falk, "But performance is really important. The engine needs to offer a wide power band, and good drivability."
At the same time, the car's chassis began to be developed, and the first "road" tests followed in 2013.
'I feel very proud that the Yaris WRC is being developed in my factory. Rally is in my blood' – Yoshiaki Kinoshita, TMG president
Fast forward to early 2015, and the development programme is now in full swing – but this is a rally programme like no other.
Cast your eyes around the workshops in which the new Yaris rally cars are being built, and you'll see evidence of Toyota's past rally glories all around, and there's no shortage of heritage to inspire the small but growing team that's working on the cars…
Even the mechanics tool chests ooze history, with stickers bearing names of famous Toyota works drivers, like Carlos Sainz and Didier Auriol.
As soon as the news about Toyota's WRC return was announced, Sainz was one of many from the rally community to welcome the team back to the WRC.
Que buenas noticias para WRC toyota vuelve!!! Very good news to all the rallye family!! Toyota back to WRC. Proud to be the first champion.

— Carlos Sainz (@CSainz_oficial) January 30, 2015
There are now two Yaris prototypes at TMG's Cologne factory. And their existence marks a proud moment for TMG president Yoshiaki Kinoshita. "I feel very proud that the Yaris WRC is being developed in my factory, I am a very big rally fan, and when I was 18 years old, I started my rally career as a driver. Rally is in my blood."