With over 40 million examples sold worldwide over the course of its lifetime, the Toyota Corolla remains one of the most important and successful models in Toyota's history.
See also:
All Toyota owners' stories
History of the Toyota Corolla
Toyota Corolla generations – 1974-1979
While the Corolla hasn't been part of Toyota's UK line up since 2007 (it was replaced by the Auris), there are thousands of Corollas reliably providing transport to their owners up and down the country.
However, there aren't quite so many like Graeme Calvin's Toyota Corolla Deluxe. The car was sold by Graeme's Toyota salesman father to a couple in Cumbria in 1977, who recently sold the car back to Graeme and his family after almost 40 years of ownership.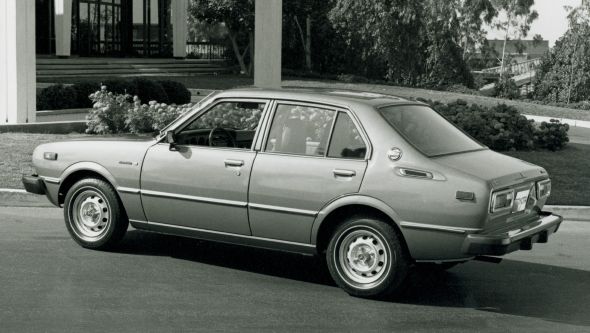 The third-generation Corolla was billed as the "ultimate family car" upon its introduction, and its combination of performance, excellent build quality and dependable reliability made it an instant success. It became the world's best-selling car in its first year of production, proving its popularity at home and overseas.
Compared to the competition, the Corolla offered so much more. With standard features like a radio and heated rear screen, and included accessories like a small tool kit in the boot, the specification of the Corolla and its overall ownership experience was far superior to the contemporary rivals. It's an aspect of Toyota's range that continues to this day, with high levels of standard equipment across the entire line up.
Everything's original on the vehicle. If you look at the wiper blades, it's even got 'Toyota' stamped on the rubbers.
38 years after it first rolled out of Myers & Bowman, the Toyota main dealer in Workington, Graeme's Corolla is a testament to the quality of Toyota's engineering. Even though the classic Toyota may seem tame by modern standards of performance and equipment, its punchy 1200cc engine and four-speed gearbox can still excite on the winding roads of the northern Lake District.
"Everything's original on the vehicle," Graeme says. "If you look at the wiper blades, it's even got 'Toyota' stamped on the rubbers." That level of care throughout its life has helped the plucky Corolla consistently and reliably live up to Toyota's reputation for quality and dependability – if you look after your Toyota, it will look after you.
Enjoy Graeme's story in the video below, and if you have your own Toyota Story, then share it with us here.
See also:
Toyota Stories – Bob Old and Murphy
Toyota Stories – the Hyatt family
Toyota stories – Ewan Johnston's AE86
Toyota stories – the Watson family
Toyota Stories – the Crews