Dave and Sue Compton wake early to the bleats from a flock of trespassing sheep. They are the only ones parked at the very far end of a large caravan site near the bottom of a steep-sided valley in west Wales. On one side, the pitches are bordered by a leafless woodland of moss and lichen-covered trees, which are failing to quite soak-up all the drizzle. On the other, half-a-dozen premature daffodils, with bowed yellow heads, reluctantly bloom next to a grey slate-roof toilet block.
But the Welsh stereotypes fail to dampen the newly-retired couple's colourful spirit – their heads are full of adventure. Sat in their warm caravan, they pour over a map, deliberating which of Europe's off-road mountain passes they will tackle first. They are taking their first steps into the world of caravanning and are in Wales for a shake-down before waltzing off to Europe for 90-days, to begin their 'Schengen Shuffle'.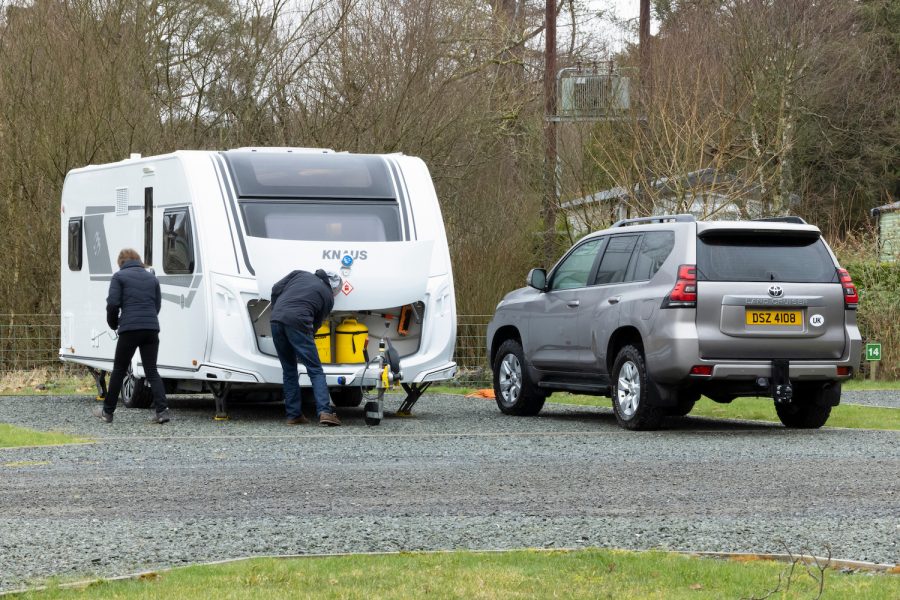 The pair, from Southampton, has already toured the Peak District. And next week they'll be heading to Cornwall, stopping to service their Toyota Land Cruiser in Weston-super-Mare along the way. "We're settling in and getting used to it all." said 59-year-old Dave.
"Since Brexit, you can only visit European countries in the Schengen Area for a maximum of 90 days without a visa. You then have to come home for 90 days before going back. In caravanning circles, we call this 'the Schengen Shuffle'."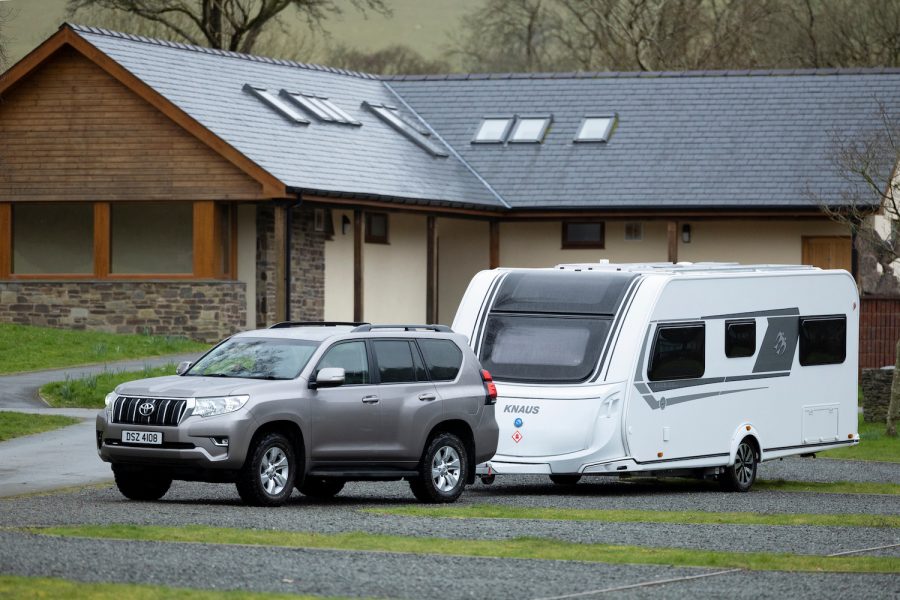 You might wonder why the former Naval engineer and NHS manager need to practice. Surely they could just hook up and head off for the Continent?
But theirs is no ordinary set-up. It's the widest and longest they can legally drive. "The caravan is 2.5m wide – we have to fit wing-mirror extensions the same width. So it's as wide as a bus. And the combined length is 12.5m – we'll need a 'Long Vehicle' sticker on the back if we go to Spain.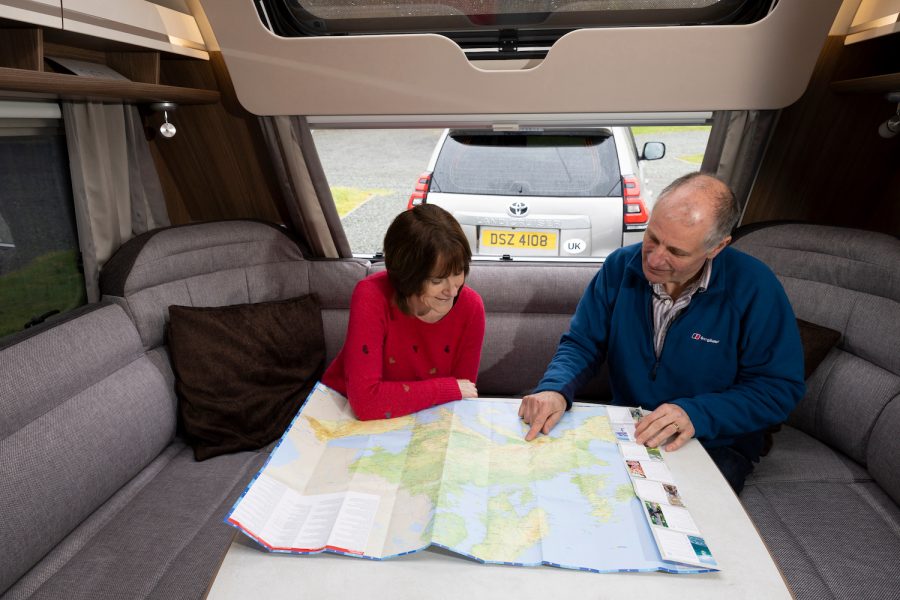 "We had a motorhome a few years ago. When we're on holiday we like to travel a few hundred miles, base ourselves in one area for a couple of weeks and then go exploring – that's difficult in a motorhome. We wanted to do more travelling so we decided on the caravan so we can unhitch and explore and look for off-road routes too. We'll dump the caravan and head off the beaten track. I have a German book with all the challenging routes you can legally drive. I'm looking forward to the Alps and Spanish mountains.
"We needed a car which could tow the caravan and be good in the mountains too. I like the engineering of Toyotas. If you want to keep it, it's got to be a Toyota. We've had two Yaris in the family – our son recently toured Europe in his one-litre 1999 V-reg. I've looked underneath it and it looks like it's never going to fail. They keep things simple.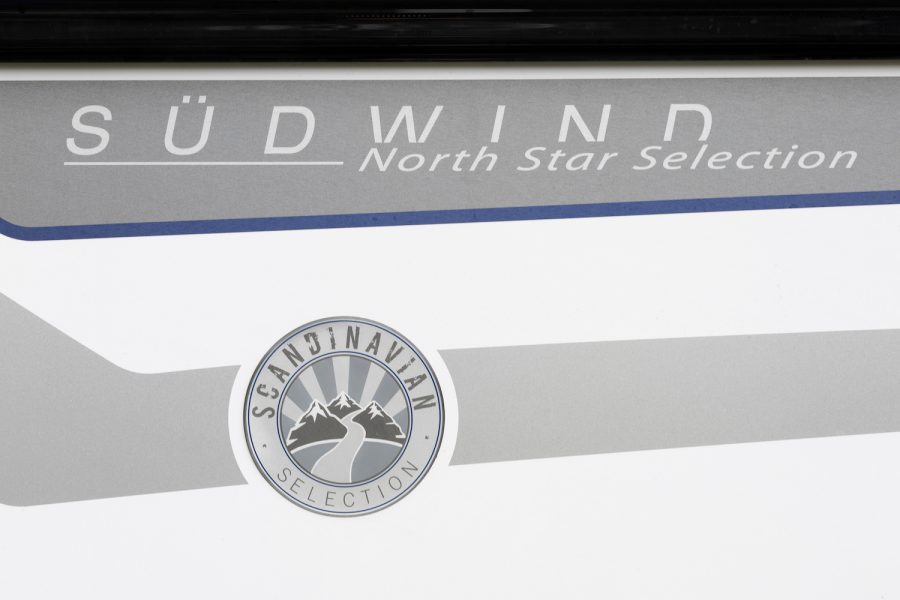 "That's why I chose the Land Cruiser. It's a basic 2019 Active model – with fewer electronic things to go wrong – it even has a conventional handbrake rather than an electronic one. It's the 2.8 automatic. It's got cloth seats which don't get too hot and has all the other luxuries you need including cruise and high and low ratio gearbox and centre-locking diff.
"I bought it last August from Nottingham with 22,000 miles on it for £35K. I wanted a five-seater because they have a larger boot for all our tools and spares. And this was one of only two in the UK at the time. It was first registered in Northern Ireland, hence the strange number plate. I had it serviced and checked over at Snows Toyota in Waterlooville.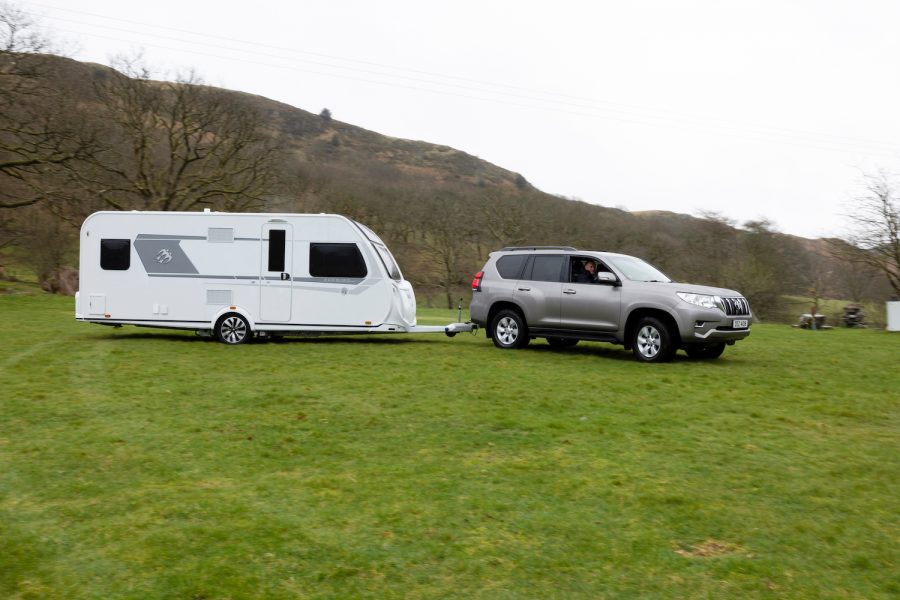 "I've fitted the Land Cruiser with 17-inch BF Goodrich All-Terrain tyres. They're brilliant. At the first campsite we went to, I pulled out my mate who'd got stuck in the mud. And I can tow the caravan here on the wet grass easily. They're also winter approved and very quiet. There's no point having a great four-by-four without fitting great rubber too.
"I've also wired in a lithium leisure battery and charging system into the second battery slot under the bonnet.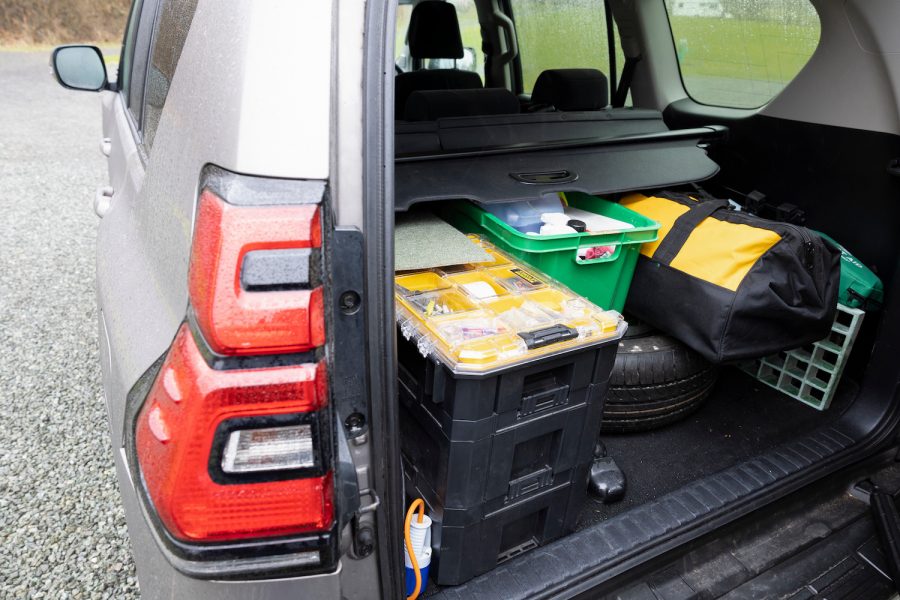 "On the road, the caravan feels more stable than our motorhome ever did. It has Toyota's VSC [Vehicle Stability Control] anti-sway technology. And there's something similar on the caravan too so nothing's ever going to get out of shape.
"The engine's Euro 6 compliant for emissions – we've already got our 'Crit Air' sticker so we can park anywhere in France and drive into all the big cities. It's about as clean as you get, this side of electric."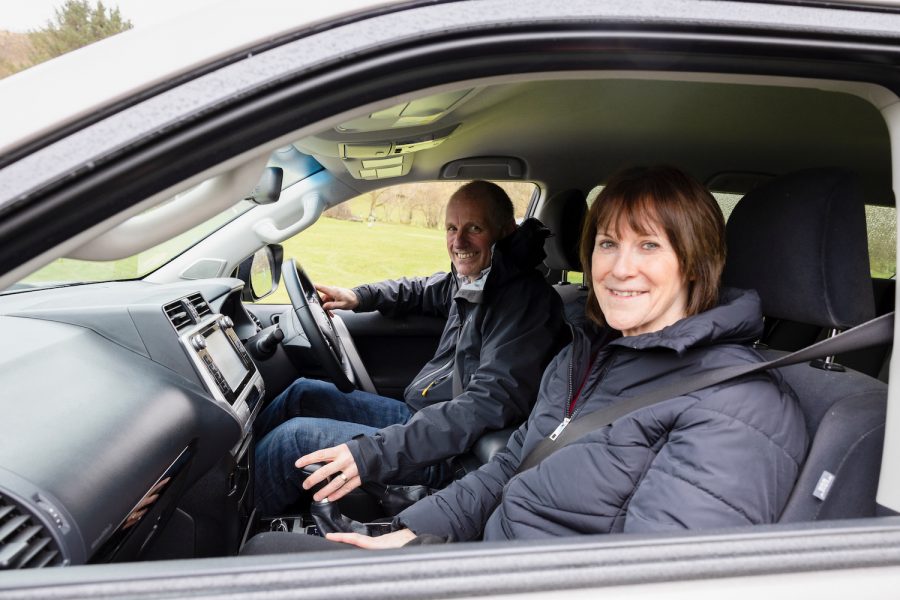 Sue, 57, who plans to share the driving added: "We don't have a route planned. We're catching the ferry from Portsmouth to Caen on 15 April. I'd like to visit Paris, then we'll just head south and then turn left or maybe right. We'll do lots of France and maybe head to Venice too. As we grow in confidence we may go further."
They bought their £35K, 7.85m long, Knaus Northstar 580 UF last April. It's fitted with a double bed, fitted kitchen, and just about every luxury you could imagine.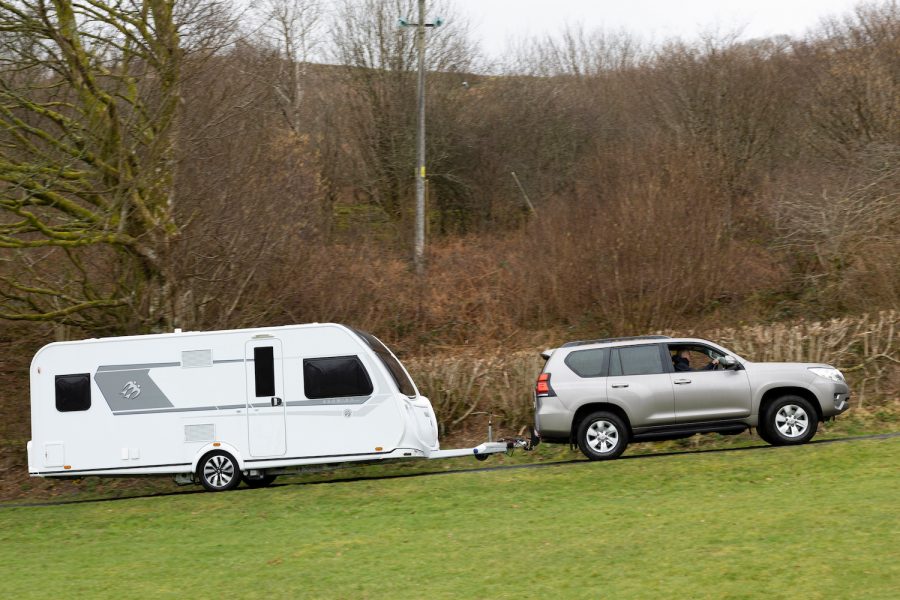 "I prefer the European caravan layout. The seating's more friendly and they're more luxurious.
"This one has everything. It even has radiators on the wall like you do at home and a remote control system for moving the whole thing around if you don't fancy reversing it into a tight space," said Dave.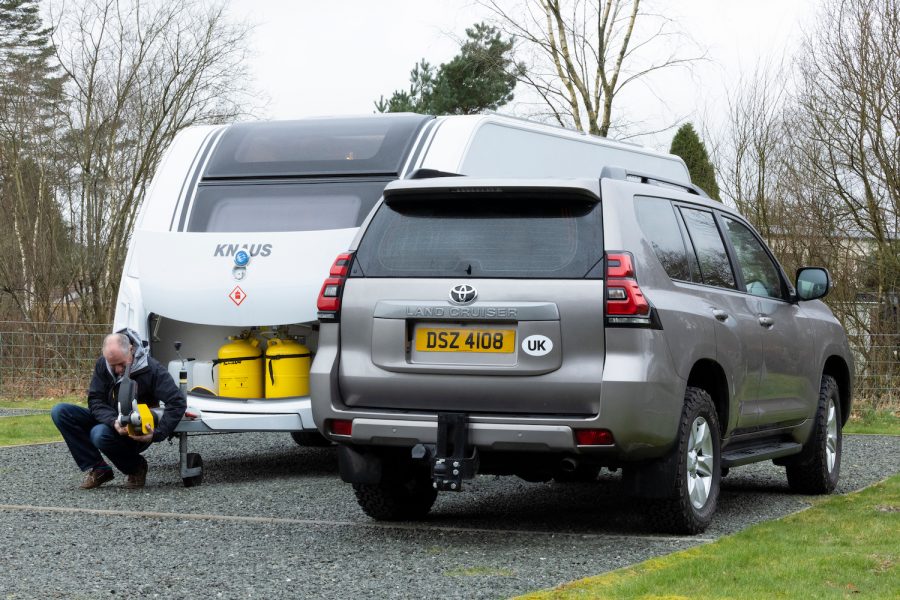 Inside and out, everything in the caravan is tidy and organised, stowed neatly with decks scrubbed and polished.
It's the same in the boot of the Land Cruiser – everything shipshape and in its place. You would expect nothing less from Dave who was a marine engineer for 40 years. There's a black and yellow toolbox with matching holdall, spare caravan wheel, a green plastic box filled with cleaning equipment, tow-bar cover, a green levelling ramp and a first aid kit – perhaps everything they'll ever need to be kept safe for a rainy day.