Do you believe in love at first sight? It's amazing to think that when Jessica Wittering went with her father to see a 2008 Aygo Black with a view to buying it for her first car, she wasn't particularly interested. But as soon as she clapped eyes on 'Joe' she fell head over heels for 'him', and now she even has an Instagram account dedicated to her nifty pink modified Aygo.
We caught up with Jessica to find out a little bit more about how this much-loved modified Aygo came to be such a head-turner and, most importantly, why it's called 'Joe'…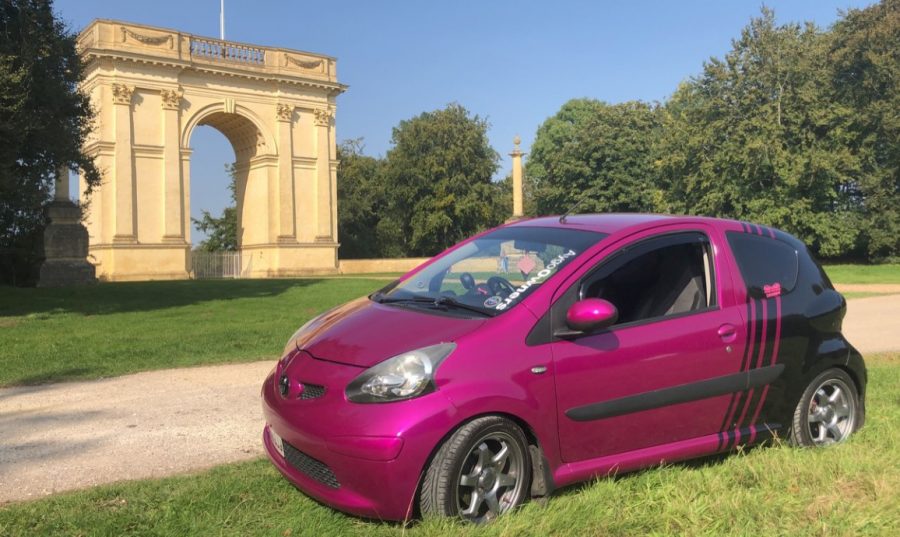 Tell us a little about your Aygo, Jessica.
Jessica: "I've got a 2008 Toyota Aygo Black called Joe, with 175,000 miles on the clock. He has been modified, and there are still plenty more to come. Joe is my first car and I've owned him for two years. I've loved every moment of it."
Where did your love of Toyotas come from?
Jessica: "My love for Toyotas came from Joe as he's the first one we've had in the family. I'm sure there's going to be many more in the future. They're so reliable!"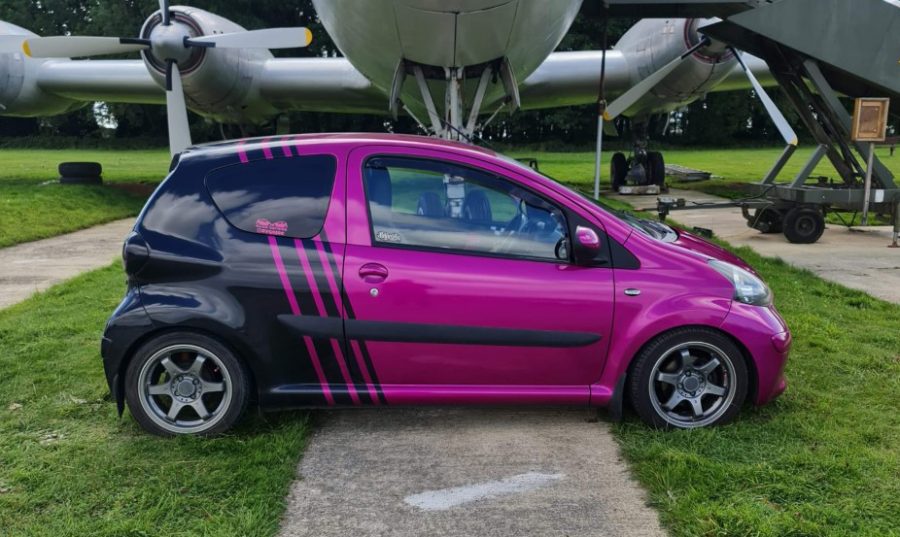 How did you come to own the Aygo? What was it about the Aygo that caught your attention?
It was just like a Hot Wheels car!
Jessica: "It's going to sound so bad but I never wanted an Aygo because I thought they were too basic and black cars are hard to clean.
A family friend was selling his Aygo, which he'd had since new. My dad took me to view it and It was love at first sight! It already had the alloys and lowering springs on, it was just like a Hot Wheels car. I also loved that I could actually reach the gearstick, I've got short arms and always struggled with the gears when learning. It was incredible how cheap it was to run: £20 a year tax and £35 to fill up. It still amazes me!"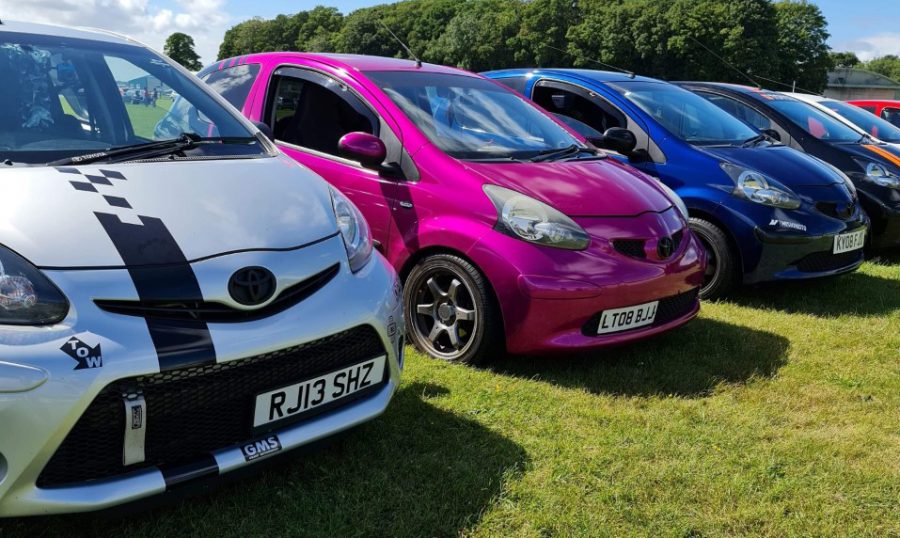 How did you land upon the name Joe for your Aygo?
Jessica: "The name of the man I bought it from was called Joe. He was originally called Big Jolly Joe, which is a bit ironic when it's a small car. It also fitted well with the last three letters on the number plate (BJJ) as well."
What modifications have you made to 'Joe'?
Jessica: "When I bought the car, it already had the alloys, lowering springs, wind deflectors, new exhaust and wiper delete.
Since then I've had the car wrapped on the outside and some of the inside, added a sun strip, changed the heater light to pink, added stickers to the outside and inside, and the indicators and rear lights are legally blacked out."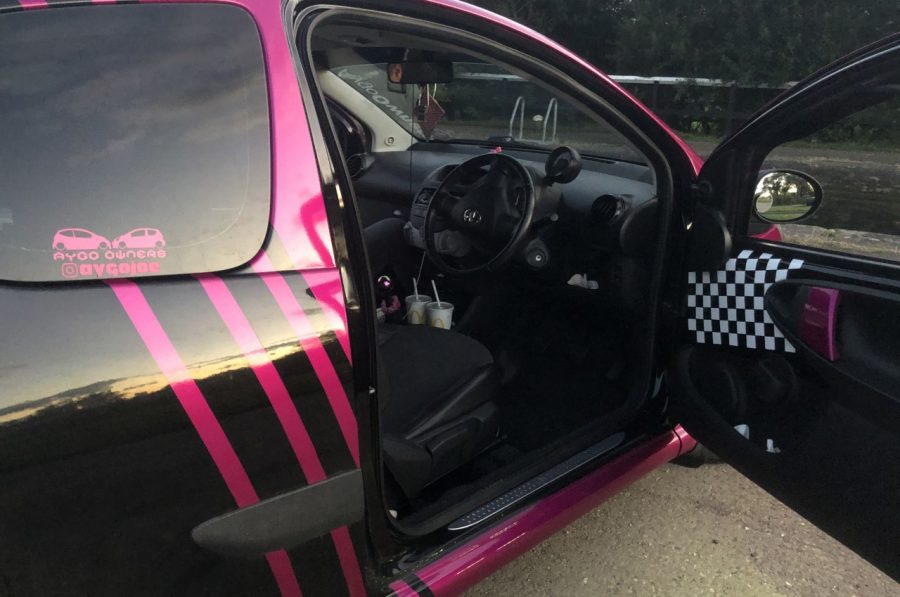 Did you learn any mechanical skills along the way?
Jessica: "I've learnt many mechanical skills along the way and Joe reminded me how much I love cars, so I'm now training to be an auto-care technician."
Why did you decide to create an Instagram page dedicated to 'Joe'?
Jessica: "I always followed the car community on Instagram through my personal page. I wanted a creative outlet, so the @AygoJoe account came into play. I love taking pictures of my modified Aygo, editing them and then posting them. I've also created a little book for shows."  
What's the Aygo 'Joe' like to drive? What's your favourite thing about him?
Jessica: "It's a quirky drive, it makes so many unique little noises. Because it's been lowered, you can sort of feel the road under your feet which I absolutely love!
My favourite thing about driving Joe is just how fun it is. It's just like driving a little go-kart!"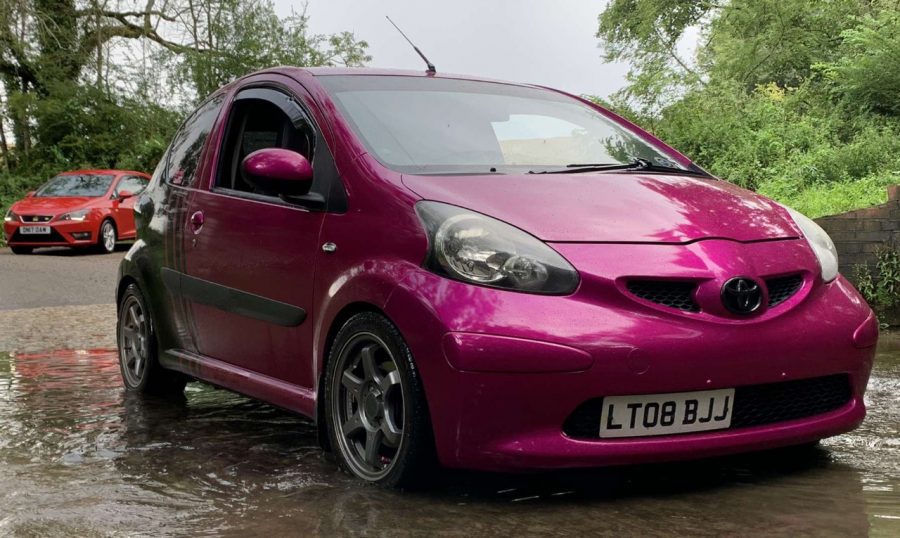 Any fun moments or memorable road trips with Aygo 'Joe' that you would like to share with us?
Jessica: "I've taken part in many trips through the City Bug Club. We've been to Silverstone TRAX, which was an amazing day out, Cotswold airport and a few other places. I've also travelled down to Norfolk and Southampton port and back, using just half a tank of petrol. I'm always travelling to see my friends Clo and Elliott for car photography sessions too."
How have other enthusiasts responded to 'Joe'? Are there others who have named their cars?
Jessica: "I get a lot of support most of the time and everyone seems to love Joe as much as I do. Quite a few of my friends, who I've met through clubs, have named their cars Kev, Daisy and Effy."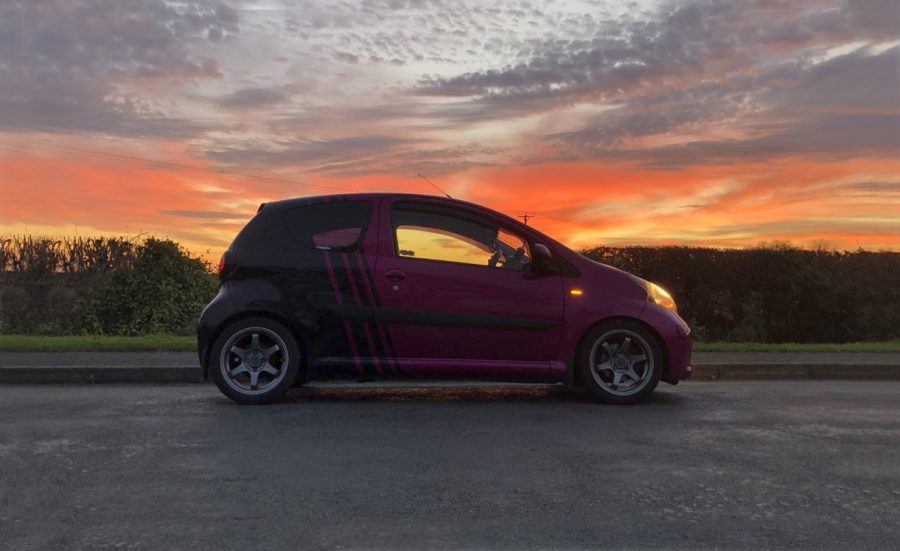 Which Toyota would you like to go for next?
Jessica: "I think next I'd either go for an MR2 as a project or a Toyota C-HR as a daily."
What's next for 'Joe' – any further plans?
Jessica: "I'm planning on keeping him for a very long time. I've got plans to get a custom spoiler and I need to get round to fitting a splitter and side skirts too. I'm sure there are going to be many more mods in time."
Toyota People… is a series that celebrates individuals with a special enthusiasm for Toyota, whether that is related to its vehicles, philosophies, or manufacturing processes. Read more here.