Joel Clark, an artist who works with hand-cut vinyl, doesn't exclusively create works based upon Toyota models. However, the fact that his most recent vinyl art production was inspired by the iconic FJ40 Land Cruiser is sufficient for him to meet our criteria as a Toyota person.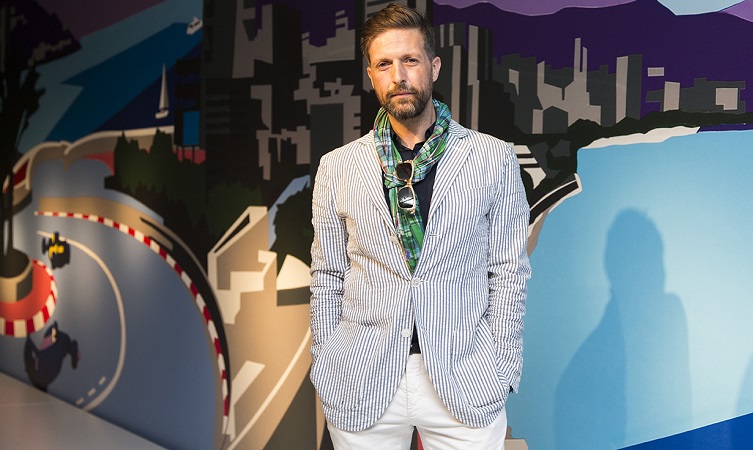 As an added bonus, Clark says he comes from a "Toyota family". Until recently he owned a Celica, and his father and brother also own Toyotas. That's good enough in our book and, as we'll explain, the FJ40 he's just finished creating for a client in New York is already proving to be one of his most popular and talked-about works.
So what is hand-cut vinyl art? Using photographs of iconic or cherished vehicles as a template, Buckinghamshire-based Clark meticulously cuts shapes from sheets of brightly coloured vinyl and sticks them to a surface. That 'surface' could be a backing board for a piece of two-dimensional artwork or it could even be a piece of car bodywork for a 3D piece. Clark explains more: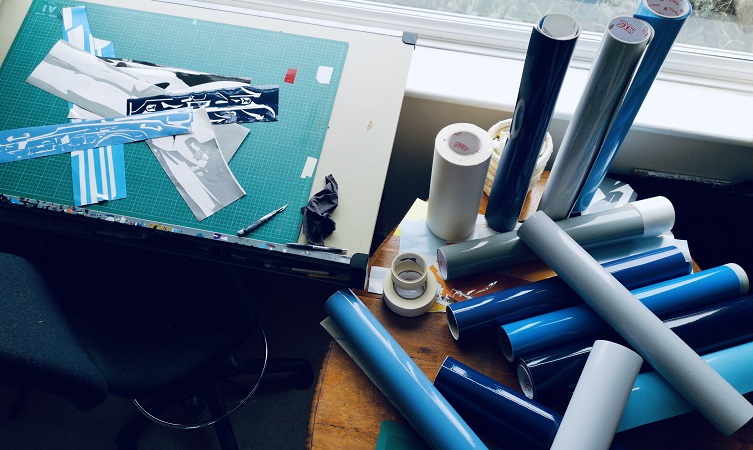 How did you get started as a hand-cut vinyl artist?
Joel: "I am a complete petrolhead and I've been drawing cars since I could hold a pencil. When I first left school back in 1990 I did a few months of work at a vinyl sign company based at Silverstone circuit. Back then there were no computer programmes at all to cut anything out, besides standard fonts, which could be done on a plotting machine. Logos such as Dunlop, Shell and Michelin all had to be cut by hand from vinyl. That planted a little seed in my head that only took about 25-odd years to flourish!
"After years of working in advertising, an opportunity suddenly arose for me to take the bull by the horns and go for it as a hand-cut vinyl artist. Since then, it's steadily grown. I've only been doing it for the last three or four years. With my advertising background, I knew that having a unique selling point is half the battle. There is a duo in the USA that also works in hand-cut vinyl, but apart from us three, nobody works in this medium as far as I am aware."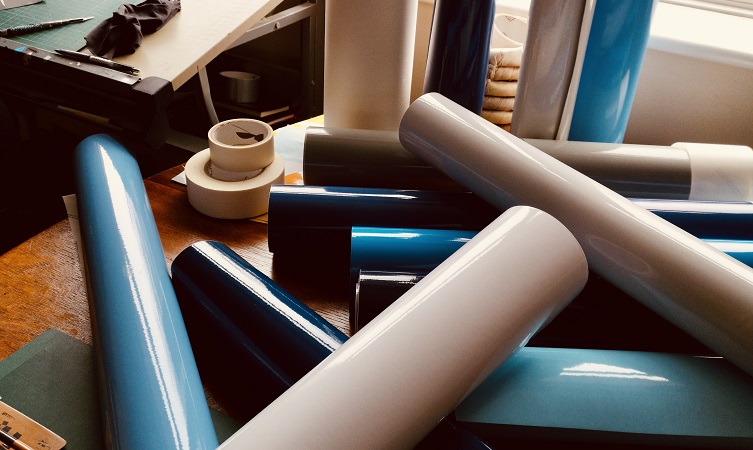 What are the benefits of working with hand-cut vinyl art?
Joel: "The vinyl has the same finish as the car I'm depicting. No painting can ever get near to that. Once the piece of work is on a wall, it takes on the light of that environment and you get all the reflections which would hit an actual car, in addition to the reflections I've included in the art from the original image I'm working from.
"That's a really good effect and because it is just bold colours and there's no blending, you've just got such punchy, vivid colours to work with. It has that Pop Art feel to it in the way it jumps off the wall."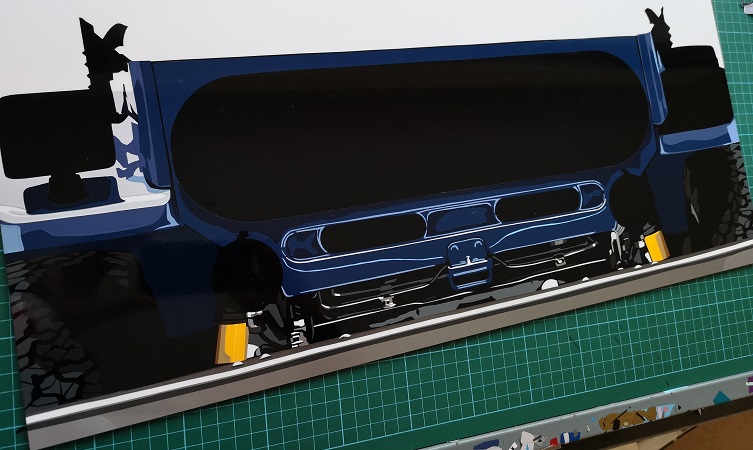 Does this style of vinyl art require any special tools?
Joel: "Just a scalpel, a squeegee to stick things down and a wiping cloth – the kind you might get with a pair of sunglasses – to wipe away any fingerprints. That's it, apart from a drawing desk. I'm strict in that I won't even use a ruler. People used to ask if the art is created using a computer, but I'm adamant and very clear that this is hand-cut. I will usually include just one line done with a ruler as a little thing in there for me to spot.
"The vinyl is now available in an abundance of colours. I buy rolls of the stuff, but it is certainly less expensive than tubes of oil paint. I haven't yet found it difficult to find at least a close-enough colour to suit what I'm doing. If I'm doing motorsport-based pieces, all the old liveries were originally done in the same kind of vinyl I now use, so is is easy to match the colour. I've come full circle: from making stickers for racing cars to making art of racing cars from the same material."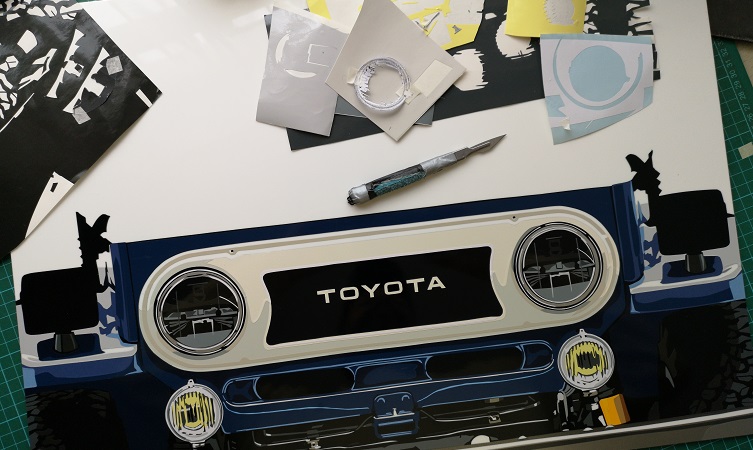 How does your creative process work?
Joel: "Usually clients will come to me with one of their particular cars in mind or simply a favourite racing car or classic car. I will then source an image of that car. If it is possible, I will go out and photograph the car myself on a day when the light is good.
"When an image has been chosen, I will then create enlarged photocopies of it and use those to draw all the sections which I then need to cut out of the vinyl. They are basically my blocks of colour. Then I start putting together the vinyl pieces like a jigsaw or collage. That's when the image starts to come together.
"I work in a similar way to painting, doing darker colours first and build up to lighter highlights. That's probably where the similarities end with painting – it is just such a different process after that."
How long does it take to create a hand-cut vinyl art piece?
Joel: "The Land Cruiser FJ40 vinyl art is A2-sized and has taken me between eight and ten days. That is quite small and it is a challenge to go any smaller because of the amount of detail in the work. You can't physically cut the vinyl any thinner without it splitting, stretching or snapping. But with the three-dimensional pieces based on car bodywork, there is no real issue with scaling upwards.
"The 2D work is framed and then sent to the client, while the 3D pieces are lacquered in a professional body shop with a clear coat, to give a nice depth of sheen. The owner can then polish it."
"Oddly enough, vinyl is slightly better to work with if you have a slight lack of patience! As much as it is insanely intricate and involves a lot of cutting with a scalpel, and hundreds and thousands of tiny pieces, I don't have to wait for paint to dry. I save on two major counts: mixing of colours and waiting for the paint to dry. At the end of the day I know that a section is finished and I can move on to the next one. It's a great medium and I really enjoy it."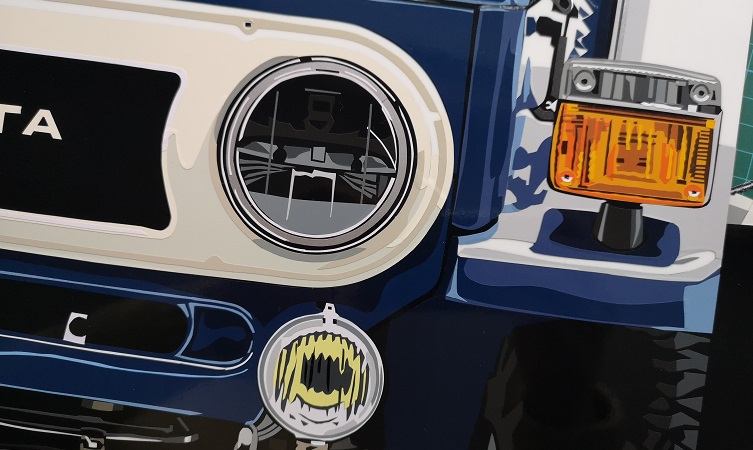 Why do you think the FJ40 art turned out so well?
Joel: "I get commissions for all sorts of classic cars and supercars, but this thing is just stunning. It is based on an image of an FJ Company restoration, and what was really great was being able to see the fantastic photographs the FJ Company itself had done of the car in a studio, where the lighting was absolutely perfect.
"It really brought it to life and enabled me to pick up on all of those fine details. If something is in the photograph, it's very hard for me to ignore it in the artwork. In the case of the FJ vinyl art, it inspired me to absolutely nail this piece."
Toyota People: Gemma Wade, young restorer
Toyota People: Gerard and Kieran, dedicated job-for-lifers
Toyota People: Julia Albu, epic adventurer
Toyota People: Fergus McIver, resto-modder
Toyota People: Guy Nicholls, world-class Hilux collector
Toyota People: Warner Lewis, rally's Mr Toyota