Toyota People… is a series that celebrates individuals with a special enthusiasm for Toyota, whether that is related to its vehicles, philosophies, or manufacturing processes.
Read more: Toyota People – Warner Lewis, rally's Mr Toyota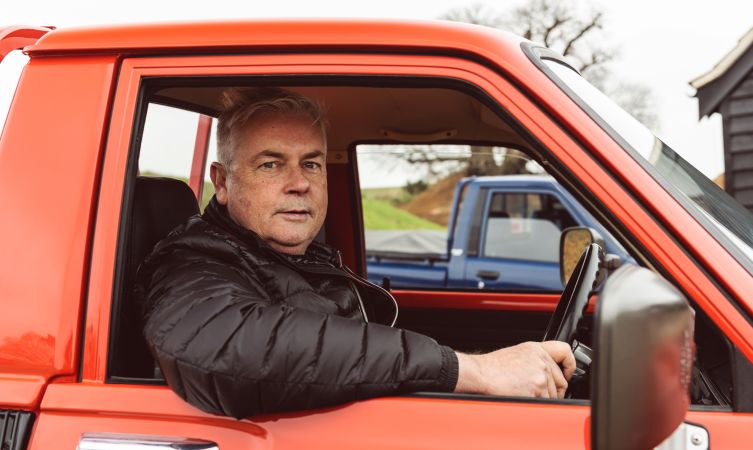 Toyota People: Guy Nicholls
The Toyota Hilux celebrates its 50th anniversary this year, which gave us the perfect excuse to travel to Suffolk to meet Guy Nicholls, a man who has managed to put together the finest and broadest collection of Toyota Hilux models we have ever seen.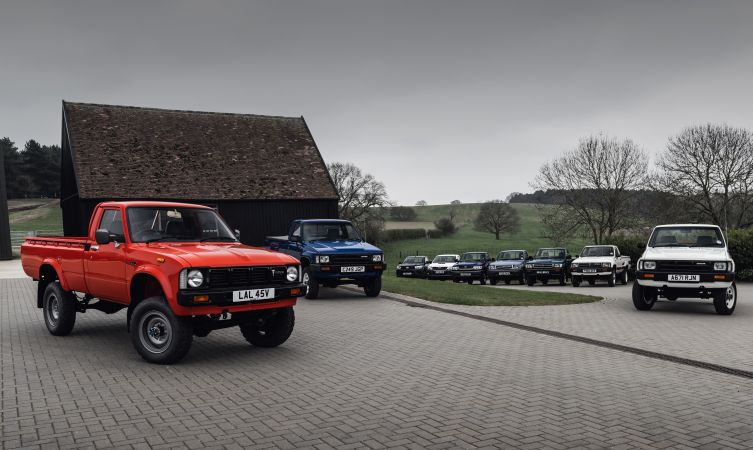 His unrivalled, nine-car display spans six generations of Hilux, all of which follow the same formula of being UK specification, four-wheel drive models in authentic, single cab guise. The line-up begins with a meticulously restored third-generation Hilux, a model Guy regards as the "Mark One" because it was the first version produced with his preferred four-wheel drive powertrain. Every successive generation is represented, extending to a brand new eighth-generation model.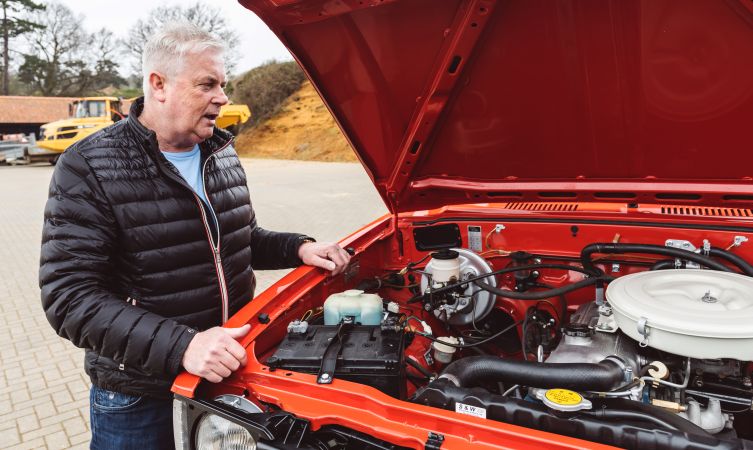 We met Guy at his family farm near Ipswich, where we were pointed in the direction of a modern, unmarked industrial unit. Parked neatly in age order against the far wall was the gleaming Hilux horde, though somewhat dwarfed by an imposing collection of heavy plant machinery that commandeered much of the available space. Truck and plant hire has been the family business since 1927 and we suspected it might have influenced Guy's passion for utility vehicles.
Eager to find out, we began our chat…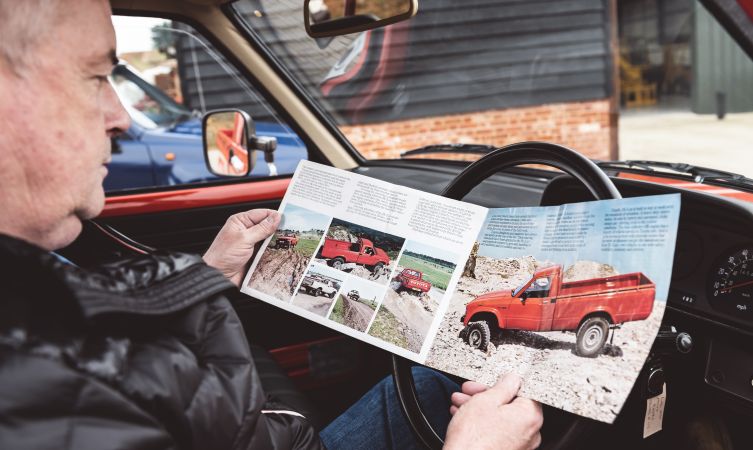 How did your passion for the Hilux begin?
Guy: "My father was a commercial vehicle dealer, and although he wasn't sure that pick-up trucks would take off in the UK – he didn't like the jacked-up, four-wheel drive look – as a youngster I really loved them. Later, as I got more involved in the commercial vehicle business I used to put big wheels on our Hilux models and install winches on the front end… all to try and make them look more American, I guess. I think I was influenced by the pick-up truck driven by Lee Majors in the American TV show The Fall Guy."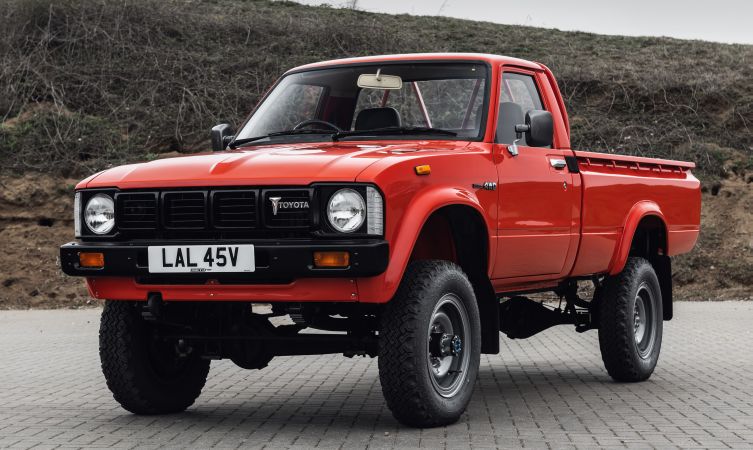 This immaculate, fully restored third-generation 1980 Hilux is just 65,000 miles old and represents the first time that four-wheel drive became available in the UK Hilux range.
Why do you like the Hilux so much?
Guy: "From my perspective, I think the Hilux changed our perception of utility vehicles in this country. Up until the late Seventies, British people only used to associate four-wheel drive vehicles with Land Rovers. But then the Hilux arrived and it was tough, it felt more like a car to drive, and it had a pick-up bed that you could actually use. Looking back, Toyota had an incredible march on all other manufacturers when it launched Hilux in the UK."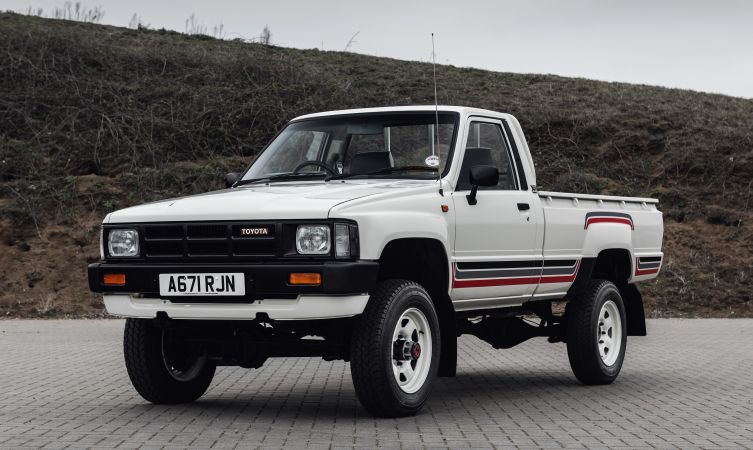 Potentially the most valuable model in Guy's collection, this pristine, unrestored fourth-generation 1984 Hilux was one of the first diesel models in the UK. It is particularly sought-after because it came from the first few months of production when power steering was not yet available.
From where have you sourced your collection?
Guy: "I search the internet literally every day – mainly UK auction sites but also other sites in New Zealand, Australia, South Africa and the United States. When I get home from work and have my tea, I get on my tablet and just search around. Every now and again a little jewel pops up, the last one being that 1993 model with just 10,000 miles on it. It was like a brand-new truck: it had been garaged from new and the chap that owned it was about 80 years old."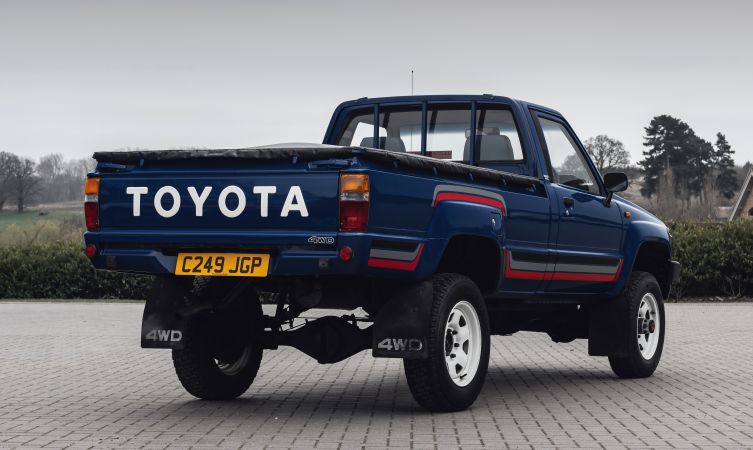 This fourth-generation 1986 Hilux was apparently one of the last fitted with a 2.0-litre four-cylinder petrol engine. Later models ran an enlarged, 2.2-litre version of the Y-series engine.
What challenges have you had finding and restoring these Hilux models?
Guy: "Finding the vehicles is one thing but sourcing parts and body panels is something else. I normally have to track them down from all over the world but sometimes you get lucky and find what you need on your doorstep, so to speak. For example, while the 1980 model was away being restored, Toyota GB was able to supply a full set of original equipment wheels and original headlining from central stock. And incredibly, the wheels were cheaper to buy brand new than it would have been to get the originals sandblasted and powder-coated. But then I had the difficulty of finding the correct style of tyre to match what it came with originally…"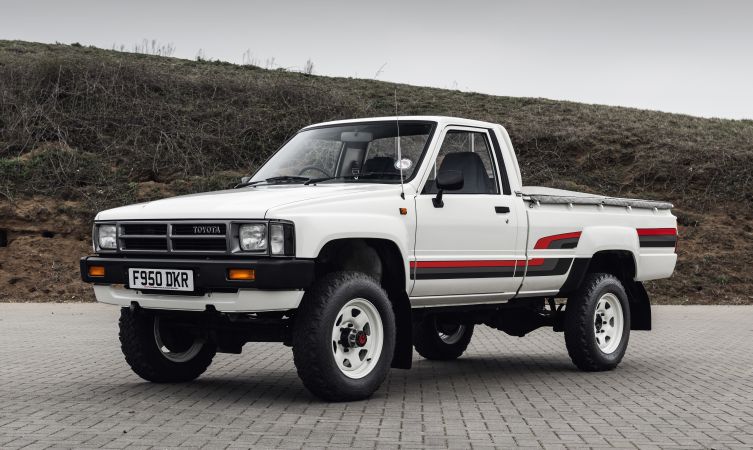 Guy's third fourth-generation Hilux harks from 1988 and is a facelifted diesel model with 27,000 miles. Alterations include a four-slat grille (earlier versions had six slats) and two individual seats instead of a bench.
Which Hilux is your pride and joy, and why?
Guy: "Definitely my 1980 Hilux. It's exactly the same age and colour as the first Hilux I ever bought, so it means a lot to me. There are hardly any left now, and it was the very first year that the Hilux was available with four-wheel drive. Back in the day, owners didn't treat them very gently and didn't bother to line the beds with timber, so they got damaged, which allowed the rust to set in. Although the outside of this one looked to be in poor condition when I found it – it was dented and had been hand-painted a couple of times – the body was in remarkably good condition rust-wise. We spent £35,000 restoring it and made sure that everything from the stickers on the brake master cylinder to the colour of the air filter cover is exactly as it was when it was new."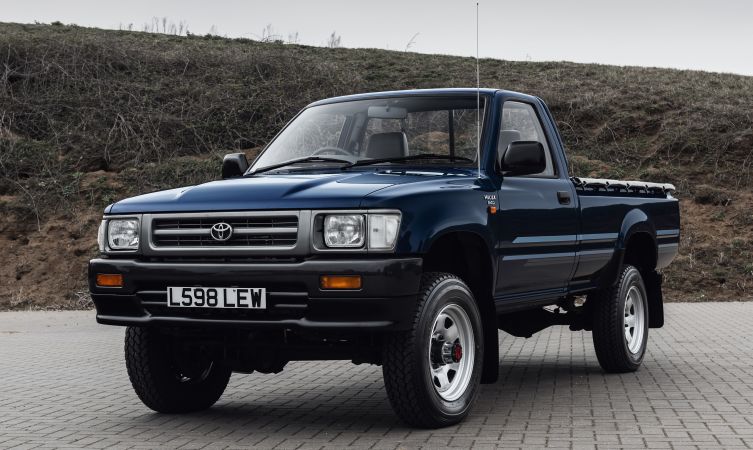 This 1993 Hilux 2.4 diesel has just 10,000 miles on the clock and is identified as a minor change fifth-generation model because it wears the new Toyota emblem in its grille.
Which Hilux is missing from your collection, and what are you doing about it?
Guy: "There was a facelift model available in the UK for about 18 months in the early Eighties that bridged the gap between two generations. It had essentially the same body as my 1980 Hilux but had square headlights similar to those on my 1984 model; it also came with a three-spoke steering wheel and had a slightly different dashboard. I've actually got two of them in my yard but neither are good enough to restore, and the parts that have disappeared are parts you cannot buy any more."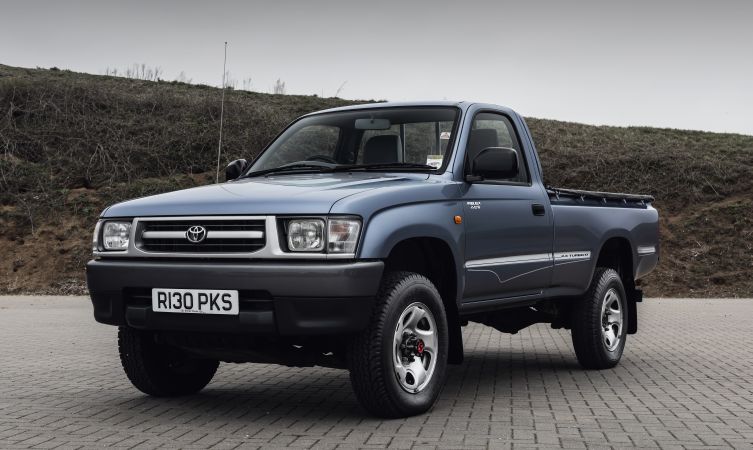 This sixth-generation 1998 Hilux comes from the first full year of production and has just 11,000 miles on the clock. It marks the introduction of a turbocharged 2.4-litre diesel engine to the UK market and more sophisticated independent front suspension.
What do you think about the current generation Hilux?
Guy: "I've just bought that black single cab to use around the farm and I think it drives really nicely compared to the older models – the difference is like night and day. I guess the nostalgic part of me still prefers the older models, but at 55 years of age I wouldn't dream of racking up the same sort of miles that I used to in a 2.0-litre petrol Hilux with a four-speed gearbox and no power steering. Perhaps we were tougher back then."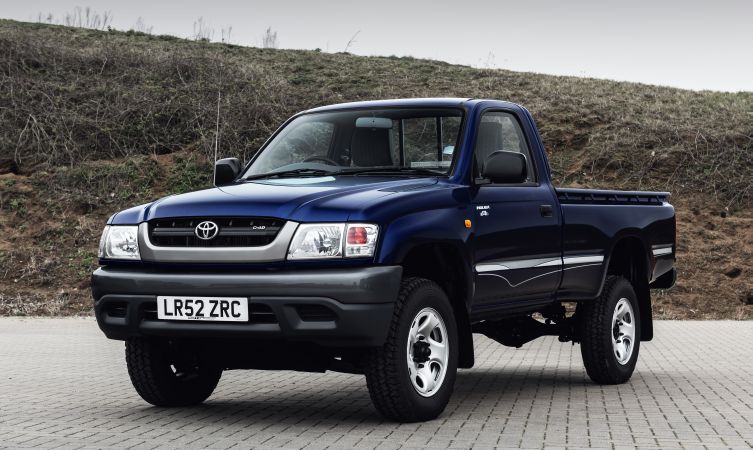 Facelifted for the 2002 model year, Guy's sixth-generation 2002 Hilux represents the first time that Toyota's 2.5-litre common rail, direct injection D-4D turbo-diesel engine became available. This example has just over 7,000 miles on the clock.
Do you know of anybody with a better Hilux collection?
Guy: "It may sound arrogant to say this but, no, I don't. In fact, if I found somebody with a better collection I'd try to buy it off them. I'd travel around the world to do it, too!"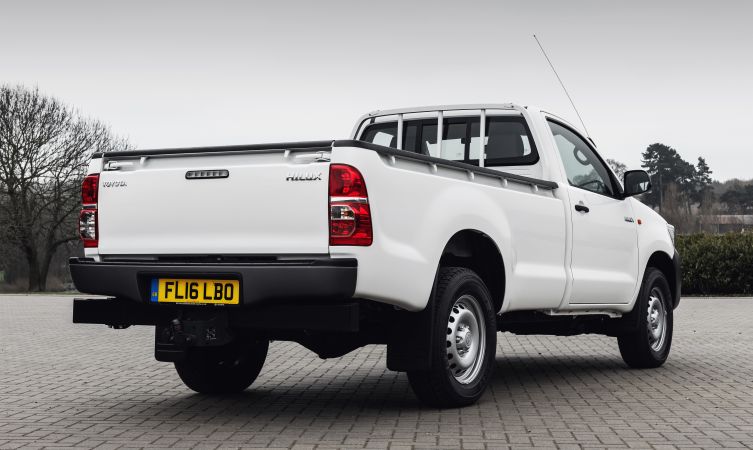 Showing just 156 miles, this seventh-generation 2016 model has the lowest odometer reading of Guy's entire collection.
What is the future for your collection?
Guy: "I'd definitely like to add more, if I can find the right models. It's becoming harder and harder but there must be the occasional one tucked away in a barn somewhere that somebody would like to get rid of. I'll even create the space by getting rid of my tractor collection – they can go because I've got no affinity with old tractors."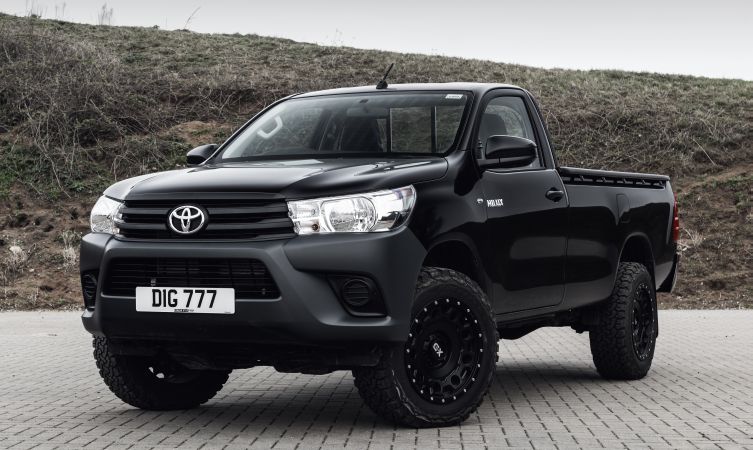 Guy's latest addition to his collection is this Galaxy Black current generation Active model, a relative rarity in Single Cab guise. In a fitting commemoration of his early exploits with the Hilux, this one is also equipped with chunky aftermarket wheels and tyres.
Learn more: History of the Toyota Hilux
Learn more: Our top ten Toyota Hilux posts