Named after the huge, fictional Japanese sea monster, Godzilla the Robot is just one of more than 400 articulated machines that work tirelessly in TMUK's Weld Shop at Burnaston.
The 20-foot high machine effortlessly moves underbodies – the car's floorpan and chassis – from the factory's automated weld lines. It's designed to lift unfinished bodies from floor to ceiling, depositing them precisely on the next stage of the production track where side panels and roof structures are added.
Godzilla effortlessly lifts car underbodies up 20 feet to the next stage of the line
Godzilla can move quickly too, completing the 20-foot lift in seconds, then returning on the same path to collect the next component.
With good reason, robots are a common sight in the high-tech welding area at Burnaston – when it comes to speed and accuracy, nothing else comes close. Toyota's robots are capable of accurately placing welds within one-tenth of a millimetre. More than 90% of the welds on each vehicle are performed by these very fast and accurate robots, highlighting how important robotic automation has become in increasing productivity and improving quality in the 21st-century manufacturing facility.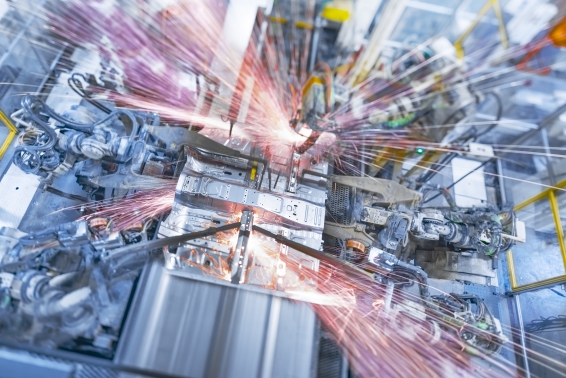 A mixture of highly skilled human and advanced robotic workers weld the sub-assemblies of the vehicles, which are then brought together at other robotic workstations to be welded to form the car's complete structure.
Obviously, every car requires many, many individual welds, each of which serves a different purpose. Some welds hold components together, some provide strength and rigidity, while others offer anchorage points for hinges or panels. Because of these variations, each weld is individually designed, using different thicknesses, temperatures and techniques.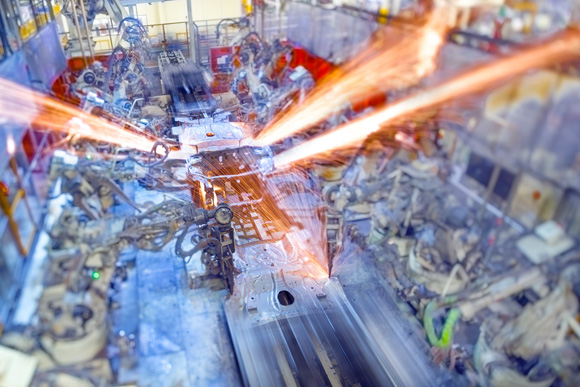 Both people and machines are backed by a diligent quality assurance team, whose job it is to regularly inspect the machines and components. Faults are addressed and rectified immediately so that imperfections are not passed on down the line.
Though welding is an industrial process, cleanliness and efficiency are hugely important. For example, metal particles introduced in the Weld Shop could have a significant impact further down the production line.
<<<PREVIOUS 17: Konnyaku Stone
To discover more about TMUK at 25, see the full list of 25 Objects.