Toyota is supporting vital research into the world's most threatened plant species at a dedicated research unit just opened at the Royal Botanic Gardens in Kew, UK.
The pioneering work by a team at Kew's Plant Assessment Unit (PAU) is expected to accelerate the identification of plants threatened with extinction. It is also pinpointing the factors that have put them at risk, such as invasive species, including emerging pests and diseases, loss of habitat and climate change.
This work, drawing on the Royal Botanic Gardens' world-leading knowledge resources, will help guide conservation activities and reduce the rate of global biodiversity loss.
The project benefits from Toyota funding, which is being channelled to Kew through Toyota Motor Corporation's five-year partnership with the International Union for Conservation of Nature to develop the organisation's Red List of Threatened SpeciesTM. The intention is to achieve a significant increase in knowledge about the risk of extinction faced by more than 28,000 species, including many that are key food sources for large numbers of the world's growing population.
The partnership is a key project in the first phase of the Toyota Environmental Challenge 2050, a far-reaching global commitment to significantly reduce the environmental impact of Toyota's vehicles and business operations and to enhance the world around us, helping build a future society that lives in harmony with nature.
Professor Kathy Willis, Director of Science, RBG Kew said, "It's so important to have this kind of dedicated support to allow us to resource our work properly and thereby speed up the pace at which we can identify threatened plant species. It is truly alarming how fast we are losing biodiversity and without timely investment like this we risk always being on the back foot so we are very grateful to Toyota and the IUCN that extinction risk assessment is getting the attention it richly deserves."
Steve Hope, General Manager, Environmental Affairs & Corporate Citizenship said: "Toyota recognises the vital importance of protecting the natural world and is pleased to support the work being done by the Kew Science team in identifying threatened species and the factors that put them at risk.  Through the Toyota Environmental Challenge 2050 we are not only seeking to reduce our impact on the environment, we are actively working on delivering positive benefits for the natural world."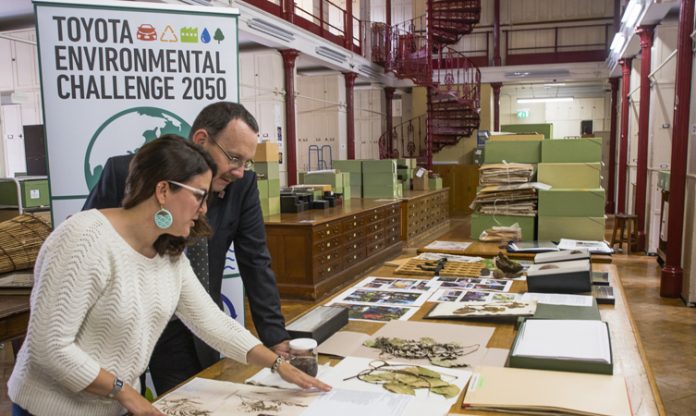 Read more
Toyota Environmental Challenge 2050 focuses our eco efforts
The details in this article were correct at the time of publication.