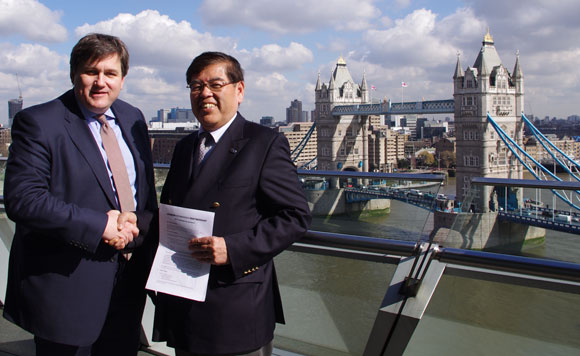 Toyota has joined the London Hydrogen Partnership (LHP), bringing Hydrogen and fuel cell-powered vehicles a step closer to reality in the capital.
The deal means Toyota has committed to work with other members of the partnership to bring hydrogen and fuel cell technology to London, as part of a wider plan to secure new jobs and investment whilst reducing environmental impact.
Hydrogen Fuel Cell Vehicles (FCV), such as the Toyota FCV-R, are accepted by many as a viable long-term successor to today's diesel and petrol passenger vehicles.
Read our exclusive interview with Toyota's 'Mr Hydrogen' Katsuhiko Hirose (pictured above, right), the man behind the FCV-R, here.
Over the last few years the LHP has initiated over £50 million worth of hydrogen projects; including bringing new hydrogen buses, taxis, scooters, refuelling stations, commercial vehicles and fuel cell Combined Heat and Power units to London.
Deputy Mayor, Kit Malthouse (pictured above, left), said: "We want Toyota and the London Hydrogen Partnership to develop a roadmap for fuel cell vehicles and hydrogen refuelling station rollout. Toyota will provide invaluable insights and bring global experience to the Mayor's innovative 'smart' low carbon low emission transport activities. I welcome their commitment to London's positive economic future".
Graham Smith, Managing Director, Toyota Motor Europe, London Office added: "We are pleased to participate within the London Hydrogen Partnership and add our support to its ambitions to develop and enable clean, sustainable hydrogen fuel cell transport for the capital. Toyota believes this technology offers great potential for sustainable transport and will be among the first manufacturers to bring hydrogen-powered vehicles to the European market in 2015 where hydrogen supply infrastructure is in place.
"With the benefit of our extensive experience in fuel cell research and development as part of our mission to develop low carbon low emission transport, we aim to provide practical insights into how London might best encourage and benefit from hydrogen-powered transport."