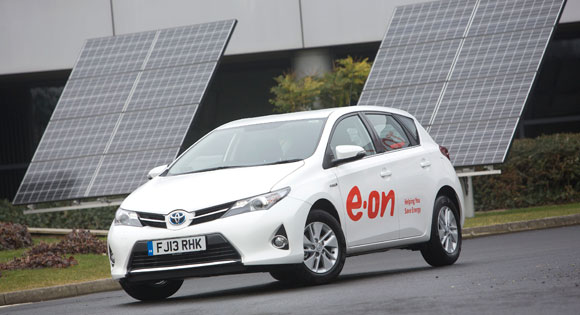 Energy company E.ON has chosen the Toyota Auris Hybrid for its Venues and Events teams across the country. Twelve of the cars were recently handed over to E.ON at Toyota's Burnaston factory in Derbyshire, home of Auris Hybrid production.
Toyota has an established track record with E.ON, whose field engineers already use Hilux pick-ups.
Marco Mazzafiore, System Support Manager at E.ON said: "We're committed to helping our own customers reduce their energy use, saving them money on their bills and lowering carbon emissions, and we're keen to do the same within our field sales fleet.
"We want to understand the benefits to our people and the environment of the Auris Hybrid compared to the rest of our fleet, and we'll monitor this through telematics which we're also trialing."
The full hybrid hatchback's low emissions – from just 87g/km – and excellent fuel economy offer fleets and business car users the chance to realise significant savings in tax and fuel costs. Toyota's technology also allows the car to be driven for short distances on its electric power alone, cutting tailpipe emissions and fuel consumption to zero.
Neil Broad, General Manager Toyota and Lexus Fleet Services, said: "E.ON's decision demonstrates how customers are no longer considering hybrid to be a niche or specialist choice, but view it as a mainstream option.
"Toyota continues to lead the market in bringing the benefits of hybrid technology to the marketplace and we will extend this advantage in the summer when Auris Touring Sports is launched. It will be a unique fleet proposition, a compact, full hybrid estate car with no compromise on performance or luggage space and with class leading combined CO2 emissions from 85 g/km."