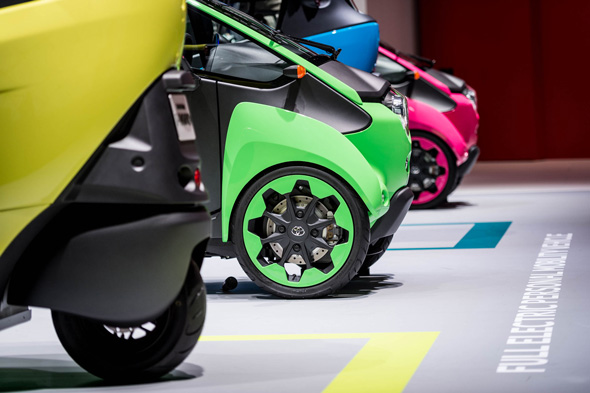 Less than two years after first revealing its i-Road concept, Toyota is presenting a road-legal version of its two-seater tricycle-format personal mobility vehicle (PMV), making its European debut at the 2014 Paris motor show.
PMVs are a new, more flexible type of transport for urban driving that is significantly more comfortable, weatherproof, stable and safe than scooters and motorcycles. While they share the zero-emissions and low running cost virtues of electric vehicles, their dimensions – in particular their width – are similar to a conventional two-wheeler, giving them the essential manoeuvrability needed for negotiating city traffic and easy parking.
User-friendly, weatherproof design
Toyota has refined the design of the original i-Road concept to improve visibility, weatherproofing, manoeuvrability and general user-friendliness.
The doors have gained manually operated windows, making i-Road completely weatherproof and giving it a considerable advantage over conventional two-wheelers in that it can be driven without a helmet or protective clothing in all weather conditions.
The rear has been redesigned with a reduced overhang, restyled and repositioned combination lamps and a small rear window. There is a choice of five bright colours for the bodywork.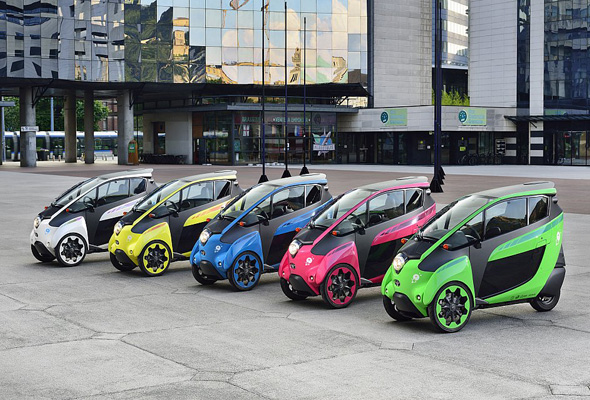 More from 2014 Paris motor show
Toyota C-HR concept revealed at 2014 Paris motor show
Toyota C-HR: new design direction and new platform
Toyota Fuel Cell Sedan at 2014 Paris motor show
Active Lean technology and rear-wheel steering
The revised Toyota i-Road measures 2,345m long, 1,455mm high and 870mm wide, and has a 1,695mm wheelbase. This makes it 5mm shorter than the concept, 10mm higher and 20mm wider – dimensions that remain ultra-compact.
This means it can be driven smoothly along roadsides and down narrow alleys. Up to four i-Road can be parked a single standard parking bay.
The full electric powertrain is unchanged: a lithium-ion battery powers a pair of 1.9kW electric motors mounted in the front wheels. With brisk acceleration and near-silent running, i-Road has a driving range of around 30 miles/50km (target distance at a fixed 19mph/30km/h). A full recharge from a conventional household power supply, takes just three hours.
Toyota's new, entirely intuitive Active Lean technology is key to i-Road's higher levels of stability, safety, comfort and enjoyment. Working in conjunction with rear-wheel steering, controlled by a conventional steering wheel, the system has a lean actuator motor and gearing mounted above the front suspension member and linked via a yoke to the left and right front wheels. An ECU calculates the required angle of lean, based on steering angle, vehicle speed and information from a gyro sensor. The system automatically moves the wheels up and down, in opposite directions, and can apply a lean angle to counteract the centrifugal force of cornering.
The system also operates when i-Road is being driven straight ahead on a stepped surface, the lean actuator automatically compensating for changes in the road surface to keep the body level.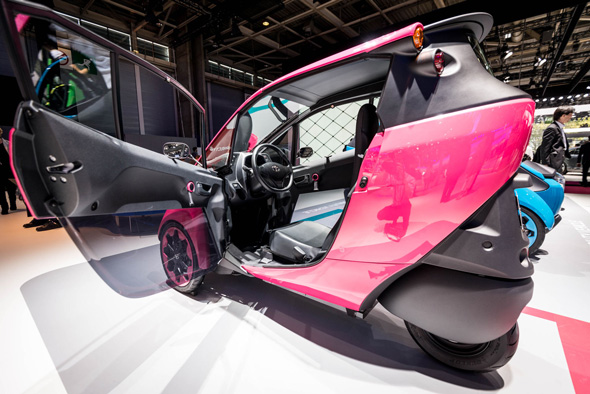 Active Lean technology gives a unique driving experience, with all the enjoyment of two-wheeler riding, exceptional manoeuvrability and a minimum turning circle of just three metres, yet with no need for the driver to keep the vehicle stable at low speeds, or when stationary.
The fact the driver doesn't have to put his or her feet on the road surface at any time allows i-Road have a safer, weatherproof, closed body construction. Not only does this mean the driver doesn't have to wear a helmet, there is a more car-like environment inside, with the opportunity to install heating, an audio system and Bluetooth.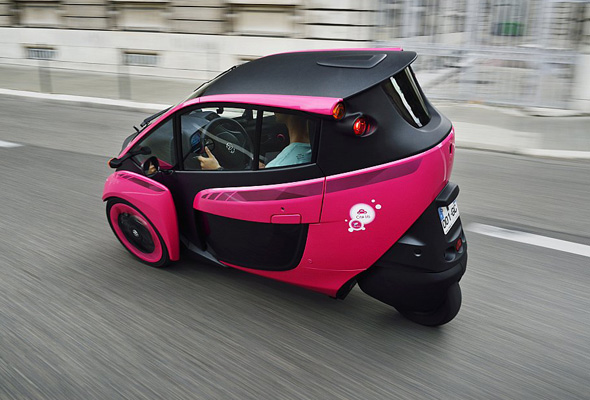 Three-year test programme in Grenoble
The urban transport of the future is becoming a reality in the French city of Grenoble, where a partnership between Toyota, the local authorities, EDF, Sodetrel and Cité-lib is conducting a three-year trial targeting improvements in the efficiency and effectiveness of public transport systems by interconnecting them with electric PMVs.
The real-world test, called as Cité lib by Ha:Mo, will encourage commuters to use a PMV for the first or final few miles of their journey, linking in to their use of a bus, tram or train for the greater part of their trip. This will not only increase the flexibility of the transport service and save time, but will also contribute to reducing traffic congestion and improving air quality in the city centre.
Toyota is supplying 35 i-Road (and 35 four-wheeled electric COMS vehicles) to the project and is also contributing its Ha:Mo (harmonious mobility) system to manage the scheme day-to-day, following a model that's already been successfully trialled in Toyota City in Japan.
Anyone 18 or older who holds a valid driving licence can register with Cité Lib to gain access to the Toyota electric vehicles. Once subscribed to the service, they can download an application on their smartphone, tablet or computer to see the real-time location of vehicles that are charged and ready to use. Another application can be used to plot the most efficient route and most effective transport option.
People can pick up their car and drop it off at a different location – any of 27 charging stations in the greater Grenoble area – rather than having to make a round-trip. When the vehicle is dropped off, it is plugged into the station to be recharged and ready for the next customer.
See also:
Wired says Toyota i-ROAD may be 'the Perfect EV'
World-first drive of the Toyota i-Road electric concept
Toyota i-ROAD hits the roads of Japan