This week, Toyota Home Sewing dropped by Toyota GB's headquarters to demonstrate the new Oekaki Renaissance model, and we couldn't resist taking it for a 'test-drive'.
Oekaki is Japanese for 'to draw'. In Japanese, oekaki is spelt お絵描き, which can be separated into お as the formal prefix, the letter 絵 referring to 'a picture', and 描き as the kaki suffix. The name reflects the free-motion embroidery technology that the model, launched in November, employs. Free-motion embroidery enables users to draw designs directly onto the fabric – ideal for quilting, dressmaking and adding a personal touch to home furnishings.
There are two main operating modes, 'Normal' and 'Oekaki'. When 'Oekaki' is selected, the function of the machine's foot pedal switches from altering the speed of the stitch to altering the width of the stitch. We found the shifting functions easy to pick up, and as it is not possible to accidentally speed up a stitch in 'Oekaki' mode it means that creating detailed patterns is relatively straightforward.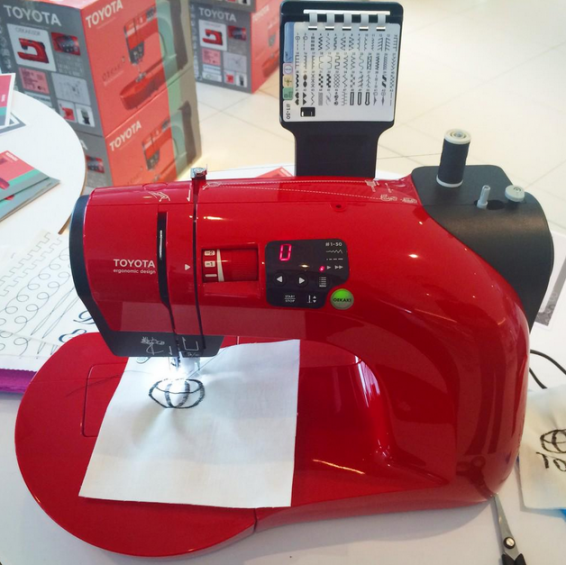 You could say that Toyota has the sewing machine market sewn up, having produced the devices since 1946. The first Toyota sewing machine was constructed under the guidance of Toyota Motor Corporation founder Kiichiro Toyoda, whose philosophy was that every machine should be "Functional but yet beautiful."
The Oekaki model is certainly beautiful. In fact, we initially mistook it for an artisan coffee machine! Available in a choice of three colours – gloss black, red or sage green – and offering a curvaceous shape, it stands out from other sewing machines on the market.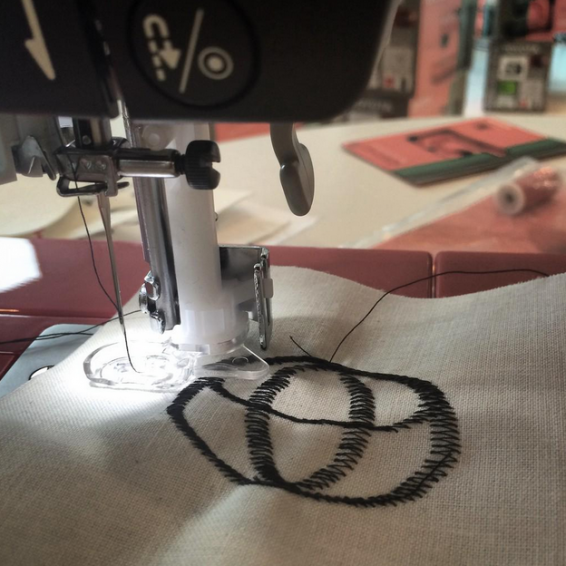 In Europe, Aisin Europe S.A. is the dedicated distributor of Toyota sewing machines. We asked UK branch manager Terry Smith to share his favourite function of the Oekaki model with us. He said: "The super jeans function. This provides the ability to pierce through 12 layers of denim, which is made possible because the model does without the seam support foot that typifies rival machines.  Instead, Oekaki has a gliding foot, and that is unique to this model."
The Toyota Oekaki Renaissance sewing machine is available from selected UK electrical retailers, priced from £399. The model also features on the Ideal World and Create & Craft shopping channels. During its November launch on Ideal World, 600 Oekaki models were sold.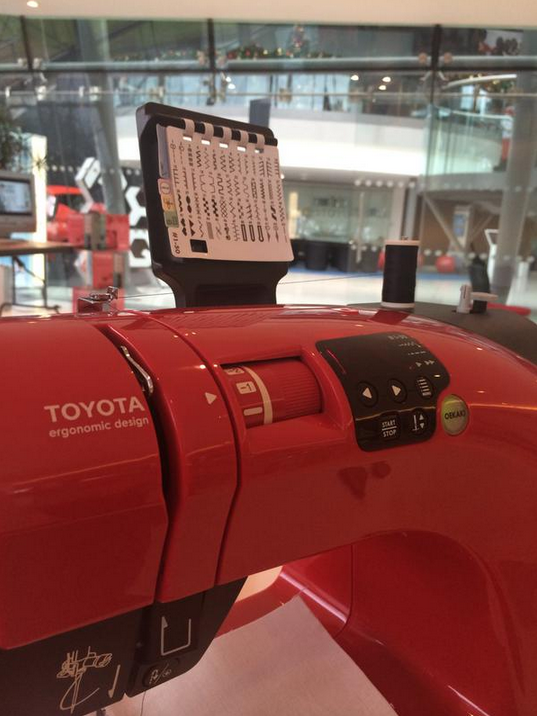 Further information about the model is available on the dedicated Toyota Oekaki World microsite. You can see the model in action below.