Toyota GB has received a major accolade for its trailblazing environmental performance at the Energy Saving Trust Fleet Hero Awards.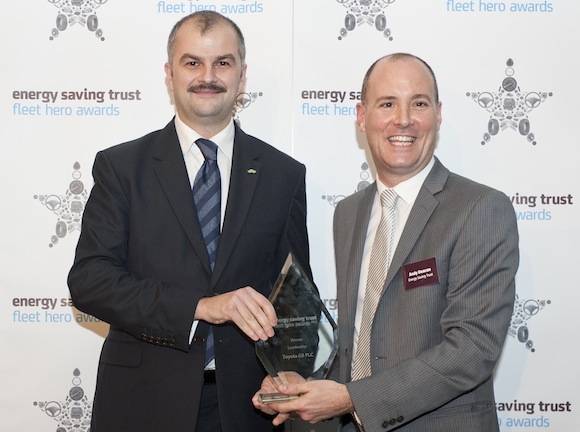 We took the Leadership award for our efforts in reducing CO2 emissions both of our vehicles and in the production processes used at the Toyota Motor Manufacturing UK factory in Derbyshire.
The awards recognise the efforts of companies like Toyota GB that aim to promote a greener way of doing business, and follows Toyota being named the world's greenest brand earlier this year.
Philip Sellwood, chief executive of the Energy Saving Trust, said: "I would like to congratulate Toyota GB on winning an Energy Saving Trust Fleet Hero Award.
"Toyota GB has set a great example to others and has shown how innovation, leadership and effective management in this area of the business can not only help us meet the UK's sustainability targets but also make significant cost savings in the process."
Norman Baker MP, Parliamentary Under-Secretary of State for Transport said: "There are myriad ways for organisations to cut their carbon emissions – from investing in cleaner, greener vehicles, to making sure their drivers have the most up to date training on fuel-efficient driving.
"The Fleet Heroes Awards celebrate the achievements of those who are leading the way in this area – I congratulate all those whose efforts have been recognised by the Awards and hope that others will be inspired to follow their lead."