The eighth financial year of the Toyota Fund for a Better Tomorrow – a programme of small grants designed to help local charities, schools and community projects – has come to an end. The initiative has supported 105 deserving schemes, allocating more than £179,000 over the past 12 months.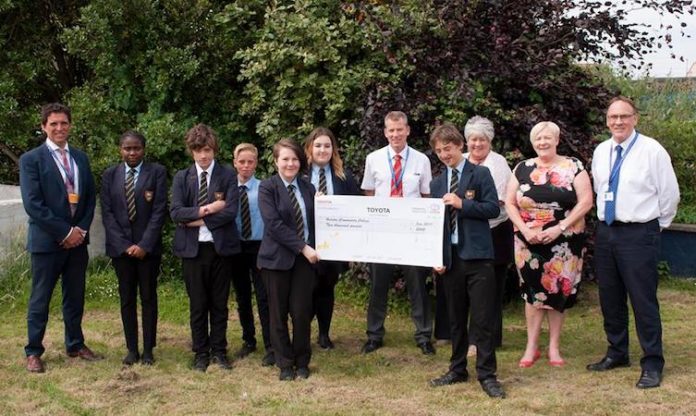 Helston Community College have received £2,000 thanks to Parklands Toyota
In all its worldwide operations, Toyota seeks to be a good neighbour, supporting its local communities and the environment, fulfilling its role as a good corporate citizen. Through Toyota Fund for a Better Tomorrow it is able to involve its Toyota and Lexus retailer network in deserving community schemes and provide financial help.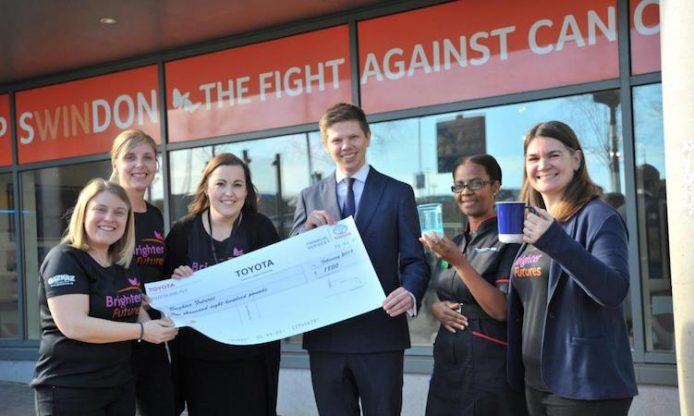 Lexus Swindon have supported Brighter Futures
Grants of up to £2,000 are available. Applications can be put forward by retail centres on behalf of projects in their local community, individual Toyota and Lexus staff members, or directly to the fund from projects local to Toyota GB's Head Office in Epsom.
Here are just a few of the projects that gained funding during the past 12 months:
Yetminster and Ryme Intrinseca Parish Council, with a grant to provide a centrally-located open-access defibrillator for Yetminster village. (Somerset County Cars Yeovil).
The Smallpiece Trust, Leamington Spa to support their 'Girls into Engineering' Project aimed to encourage more females to pursue STEM related education and career paths. (Listers Coventry).
Tytherington Treacles W.I. received £1,500 to fund a new ultrasound scanner for the Breast Screening Unit at Macclesfield Hospital. (RRG Toyota Macclesfield).
Cerebral Palsy Plus, to run a 'Funtastic Day' providing a chance for young members of the charity to go away for the day and to have fun, share lots of laughter, and do what children love doing. (Motorline Bristol North).
Happy Faces Playgroup for a project bringing the playgroup and local elderly care home together for activities such as crafts, picnics, signing and baking. Inchcape Toyota Basingstoke have worked tirelessly to facilitate multiple visits, and Inchcape's Tony Hatherall even dressed up as Santa for the Christmas Party!
Ballyclare High School, to provide an Alzheimer/SEN-Friendly Community Garden on the school grounds. (Curtis Ballymena).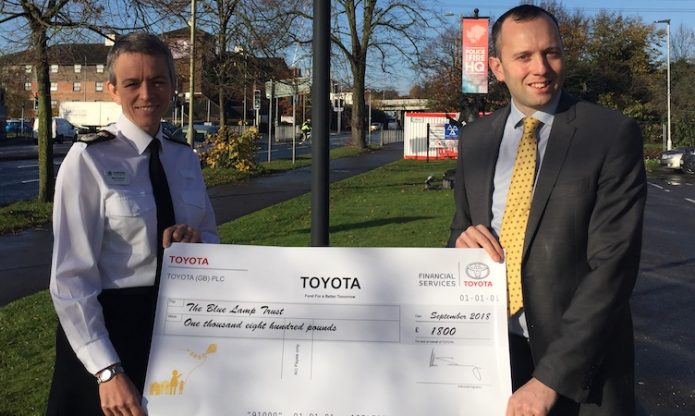 Snows Toyota Waterlooville have supported the Blue Lamp Trust
Organisations, schools and charities interested in finding out more about how the Toyota Fund for a Better Tomorrow might help them and the procedure for making an application should get in touch with Toyota GB here.
The Toyota Fund for a Better Tomorrow is operated by the Toyota (GB) Charitable Trust on behalf of Toyota (GB) Plc and Toyota Financial Services. Registered Charity Number 327808.
Learn more: How the Toyota Fund for a Better Tomorrow helped in 2017-18