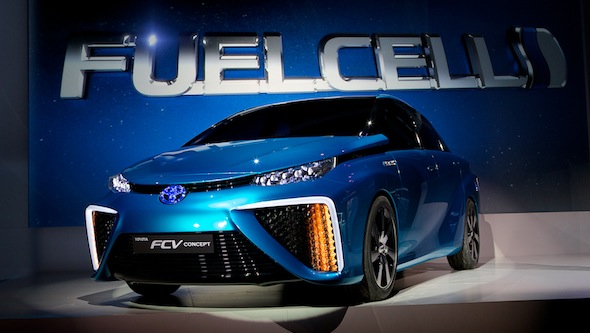 The Toyota FCV hydrogen fuel cell hybrid has taken a bow at the 2014 Consumer Electronics Show (CES) in Las Vegas.
The Toyota FCV made its debut appearance at the Tokyo Motor Show in November 2013, but the appearance at CES had given the world's technology media a first chance to see it.
Due to go on sale in 2015, the FCV has a range of 300 miles on a single fill-up of hydrogen, a zero to 62mph time of around 10 seconds and a top speed of 100mph – in other words, it's a regular car, except for the fact that it emits only water when driving.
Better still, it could provide an answer to keeping the lights on when power cuts strike, as its electric motor can produce more than 100kW and, with a full tank of hydrogen fuel, could generate enough energy to power a regular home for a week.
Engineers are now researching an external power supply device that could be used with the car to provide a safe and simple domestic connection.
Also announced at the show was funding worth $200 million from the state of California to create a network of 100 hydrogen filling stations – 20 will be complete by 2015 and 40 by 2016.