Toyota has set itself six environmental challenges that it plans to have in effect by 2050. As well as achieving zero environmental impact in all vehicle-related activities, Toyota wants these initiatives to have a positive and sustainable impact on society as a whole.

The six environmental challenges are listed below, followed by a detailed description of how Toyota plans to implement the final challenge by 2050. Click on any of the further links to be taken to separate posts describing how each challenge will be implemented.
Toyota Environmental Challenge 2050:
1) Zero CO2 emissions in new vehicles
2) Zero CO2 emissions throughout a vehicle's life cycle
3) Zero CO2 emissions from all production facilities
4) Minimising and optimising water usage
5) Establishing a recycling-based society and systems
6) Establishing a future society in harmony with nature
Challenge 6: establish a future society in harmony with nature
Toyota is undertaking and promoting environmental conservation activities in order to establish a society where humans and nature coexist in harmony. With such activities, Toyota hopes to connect these regions with the rest of the world to guarantee our future.
Why is it needed?
Every year, deforestation robs the earth of many thousands of acres of forest, which Toyota has calculated is equivalent to 14% of the total land mass of Japan. If humans and nature are to coexist into the future it is essential to conserve forests and other rich, natural eco-systems in all regions of the earth.
What is Toyota already doing about this challenge?
In its aim to address biodiversity issues into the future, Toyota created a set of Biodiversity Guidelines in March 2008. These guidelines set out Toyota's philosophy on such initiatives, following three action items:
1) Contribution through technology – pursuing the possibilities of bio-, afforestation and environmental technologies, with the aim of balancing biodiversity with corporate activities.
2) Collaboration and cooperation with society – building collaborative and cooperative relationships with organisations involved in promoting biodiversity.
3) Information disclosure – Toyota voluntarily discloses its biodiversity initiatives and their outcomes in order to contribute to the development of a sustainable society.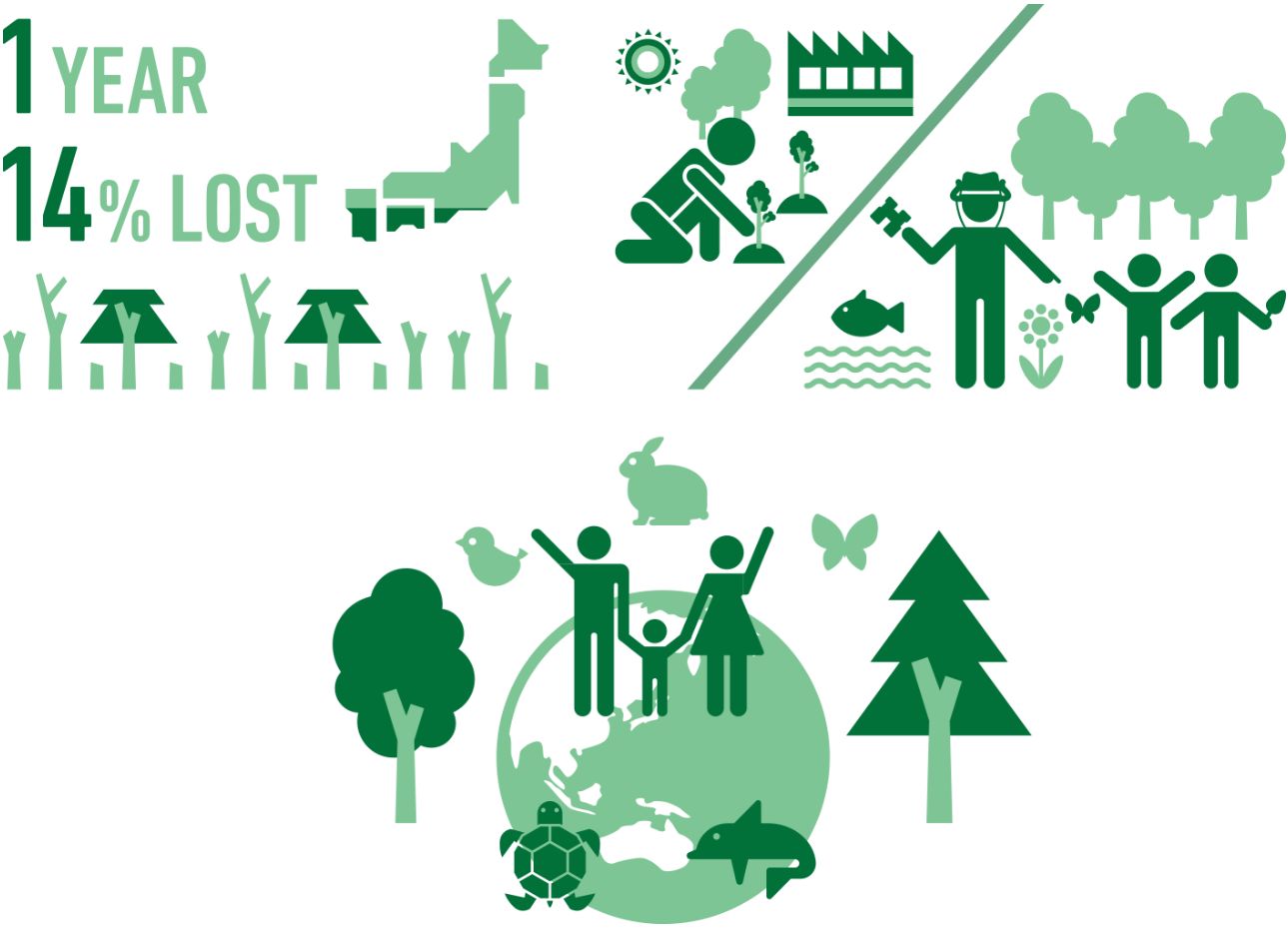 To realise these initiatives, Toyota engages in a huge variety of activities, from local tree planting and environmental conservation activities to environmental education. Insights gathered from these activities are shared at group, regional and organisation levels.
Click this link to view Toyota's comprehensive Sustainability Data booklet,
published in 2016
Learn more: Toyota releases 5,600 fuel cell patents for free