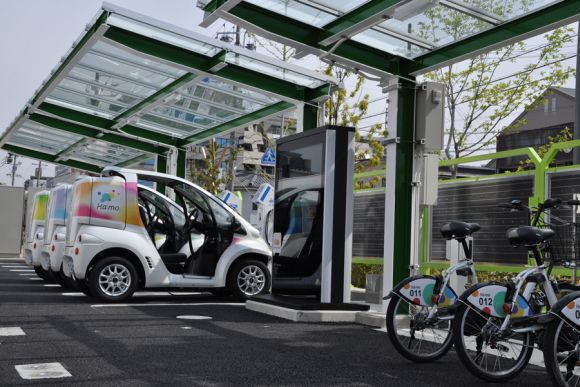 Toyota's vision for the future of urban transport has taken a step forward with the introduction of new autonomous charging stations in Japan.
Four new Smart Mobility Park charging stations have been added to the Ha:mo network in Toyota Ecoful Town, a low-carbon district in Toyota City, Japan.
Functioning as a charging hub for the single-occupancy electric cars and power-assisted bicycles within the Ha:mo network, the improved Smart Mobility Parks can now generate and store their own power independently of the electricity grid.
Each station is equipped with solar panels, electricity storage functions, a direct connection to the power grid, and indicators of each vehicle's charging status. Additionally, several household power outlets have been added to supply stored electricity to appliances such as mobile phones or laptops. The values of each of these elements is managed on a minute-by-minute basis in order to make the most efficient use of harvested energy.
Located within easy reach of public transportation points, Ha:mo is a transport sharing service designed to provide the short-distance travelling solution between public transport and your final destination.
Since its successful introduction in October 2012 with docks at Chukyo University and two local train stations, Toyota plans to expand the service to the centre of Toyota City with another 20 Smart Mobility Park charging stations catering for 1,000 fee-paying members. The number of single-occupant EVs will therefore increase from the 11 currently in service to approximately 100, while the number of power-assisted bicycles will see a similar increase from ten to around 100 units.