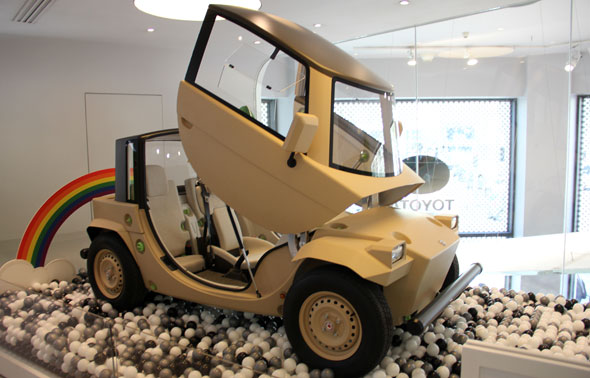 When it comes to putting the fun back in to owning and driving a new car, Toyota's efforts don't just end with the award winning GT86…
One of the more recent proposals to add a bit of Waku Doki to the firm's future car line-up comes in the form of the Camatte, a three-passenger concept car first shown at the Tokyo Toy Show in June 2012. It's currently being displayed at Le Rendez-Vous Toyota on the Champs-Élysées in Paris, France, alongside the recently revealed ME.WE concept designed in collaboration with Jean-Marie Massaud.
Laurent Bouzige, Assistant Chief Designer at Toyota's ED2 design centre in southern France and the man in charge of the ME.WE project, says he chose to display the Camatte at Rendez-Vous Toyota because its non-traditional design is similar in direction to the ME.WE concept: "It's a lifestyle car, something you want to take and drive on the beach."
Designed primarily to appeal to kids and young drivers, the Camatte aims to introduce the joys of driving and vehicle customisation to a future generation of drivers. The car's interchangeable body panels can be easily removed and installed, allowing for a range of different colour and design combinations.
"This was a follow-up to the Motor Triathalon Race Car (MTRC) concept created at ED2 in 2004," says Bouzige, citing the advanced sports car concept car developed for Sony's PlayStation gaming console. "It was created after a study we conducted [which showed] that there is a 60 per cent chance that children who like cars from ages 8-12 will buy a car from that brand in the future."
At just 2.7 metres long and 1.3 metres wide, the Camatte's diminutive size and playful green caps add to the vehicle's toy-like appearance, while its forward tilting glazed roof canopy facilitates entry to the cabin.
Inside, the Camatte's triangular seating arrangement is family-oriented. Its centrally-positioned front seat and pedals can be adjusted to suit a child driver, while the two rearward seats are arranged in close proximity to enable adults to assist with the car's steering and braking functions.
"Driving a car when you're a child is impossible, but we propose a solution," says Bouzige. "[The Camatte is] a didactic type of car: you learn to drive in it and it's about safety. It also shows the younger generation that driving is a pleasure."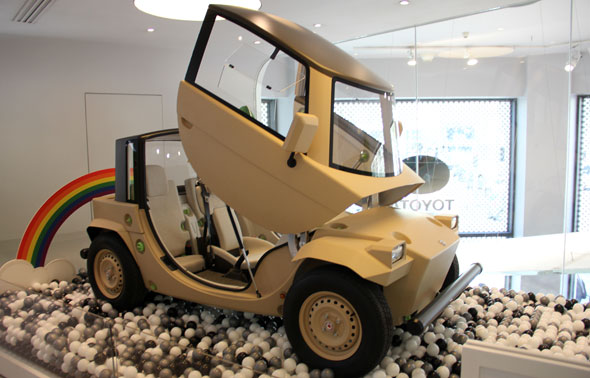 Watch the original video of the Camatte from the 2012 Tokyo Toy Show.