The 2012 Festival of Speed was the most popular in the event's history, attracting over 185,000 people to the Earl of March's Sussex estate. The date also coincided with the official launch of the highly anticipated Toyota GT86 sports coupe.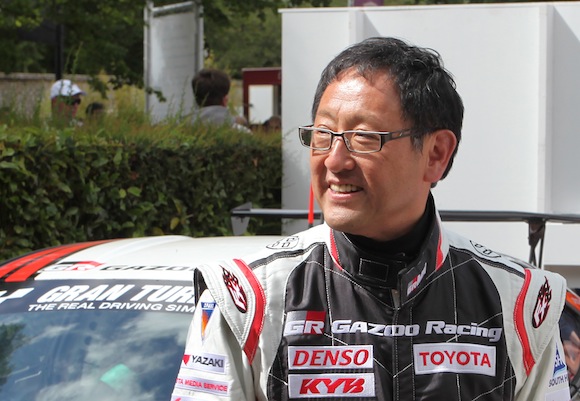 Not surprisingly, this year's event was celebrated with numerous examples of the GT86 in different guises — from standard road-going versions to race track and concept specials — on display and in action up the Goodwood hill climb. In addition, the new coupe was one of the primary attractions of the festival's Moving Motor Show, where prospective buyers could get behind the wheel and experience for themselves its intuitive rear-wheel drive handling.
Pride of place in the new Toyota pavilion was the GT86. It was positioned alongside the 2000GT, the manufacturer's original 1960's sports coupe, and a racing replica of its more recent spiritual predecessor, the AE86 Corolla GT Coupe, during its back-to-back BTCC-winning campaign in 1986 and 1987.
The tuning potential of the new coupe was underlined with a trio of modified models. The display featured the class-winning Gazoo Racing GT86 endurance racer from the recent Nürburgring 24 Hours, which was thrashed up the hill by Toyota president Akio Toyoda with Lord March in the passenger seat. Next to it was the stunning, track-derived GRMN Sports FR concept with its 316bhp twin-charged (supercharged and turbocharged) engine, and a regular production GT86 with a full complement of TRD styling and performance accessories.
One of the themes of the 2012 Festival of Speed was a celebration of 30 years of Group C racing. Toyota has a long history with this series, plus its related IMSA GTP and Le Mans Prototype classes. Often this has been exemplified by appearances of Toyota's GT-One and Eagle racers, but this year Toyota chose to debut its first hybrid power Le Mans car, the groundbreaking TS030 Hybrid.
Seen for the first time in the UK fresh from the Le Mans 24 Hour race, the all-new TS030 sustains Toyota's long heritage of competing at the highest level internationally, while also demonstrating its commitment to world-leading hybrid power technology that can be developed to meet the extreme demands of the race track.
A gritty level of excitement was provided on the festival rally stage, where Toyota put into action all of its world championship-winning cars, plus rarities such as Midgley Motorsport's TE27 Corolla Levin from the 1970s.
An unplanned off-road excursion was also experienced by Rod Millen during Sunday's timed hill climb shoot-out, who left the tarmac in his extraordinary 900bhp Toyota Tacoma Pikes Peak special while exiting Molecomb corner. The crazy Kiwi emerged unscathed from the accident and even managed a smile, but the front suspension of his truck had unfortunately seen better days.