Covering 2.7 million square feet of the Las Vegas Convention Center, the vast SEMA show is an extravagant display of the products and creativity of the automotive aftermarket – an industry worth almost $40 billion in the US alone.
This year marked the event's 50th anniversary, coincidentally the same milestone as our evergreen Corolla. So Toyota decided to join the celebrations with its largest ever SEMA showcase. Among the exhibits is a rare display of all 11 generations of Corolla and an epic suite of a further 30 vehicles that explore the past, present and future of modified Toyota models.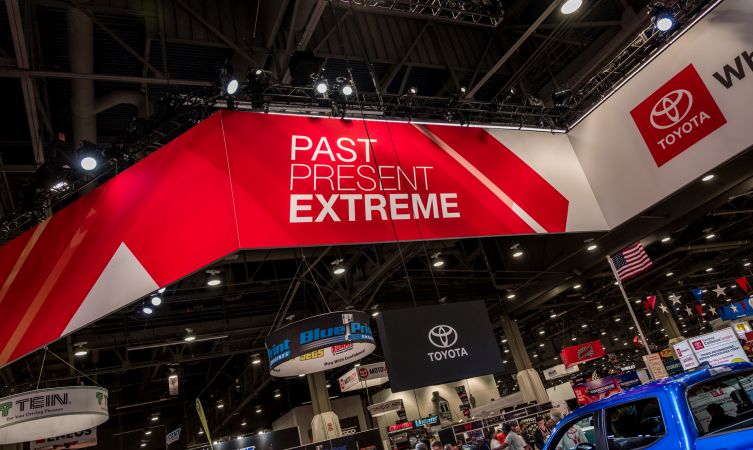 Continue scrolling to see our coverage of the highlight Toyota models displayed at this spectacular, trade-only event.
2016 SEMA: 50 years of Corolla
As the world's most popular automobile, the Corolla has accumulated more memories and miles than any other vehicle.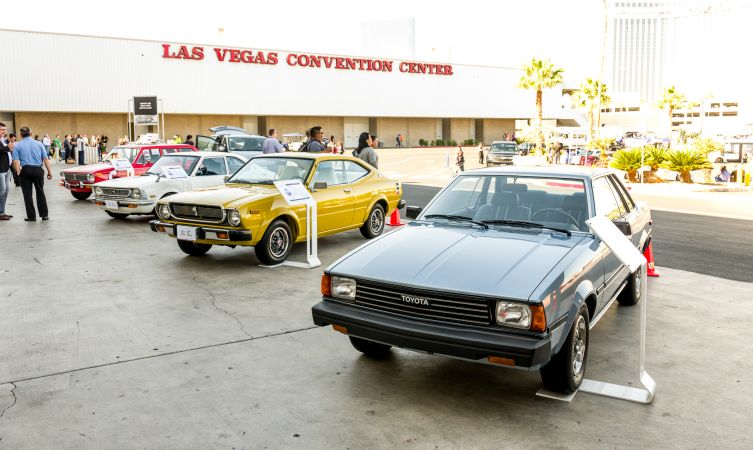 Regarding the full line-up of Corolla generations in the patio area adjacent to the main Toyota stand, Dawn Mercer, Toyota USA's national small car manager, commented: "This is a truly special exhibit. To gather all 11 generations in the same place at the same time is historical. SEMA inspires imagination and progress in automotive enthusiasts, and looking at the full Corolla story drives it home. This is the perfect occasion and space for this reunion."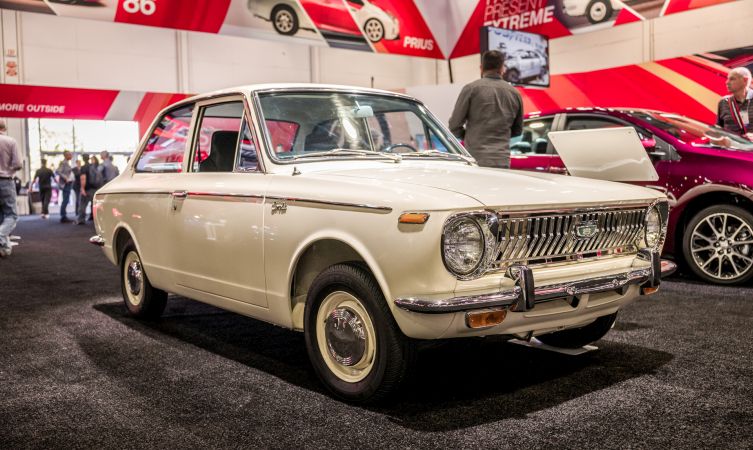 Back on the main showfloor, Toyota had arranged to display two further classic first-generation models: a pristine 1969 Corolla two-door coupe from the Toyota Automobile Museum, and a liveried 1970 saloon that recently took part in the Great American Race – a long-distance endurance competition from Northern California to Illinois.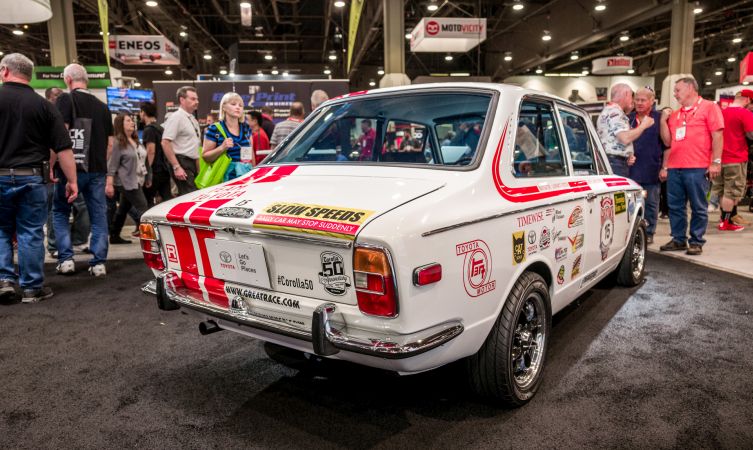 2016 SEMA: from the sublime to the ridiculous
But in a very good way, we hasten to add. Because another big draw of the Toyota stand this year was a collection of six crowd-gathering 'Extreme' builds designed to embody the SEMA spirit of imagination and innovation.
We will look at some of these vehicles in greater depth in further posts, but here are the highlights.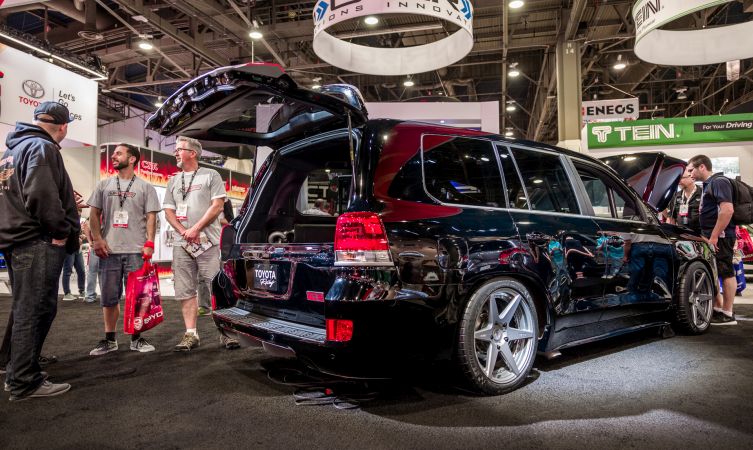 LAND SPEED CRUISER: Unusually low-slung and sleek, this Land Cruiser has been transformed into what we believe to be the world's fastest SUV. Capable of an incredible 220mph, its velocity comes courtesy of a heavily uprated and twin-turbocharged 5.7-litre V8 that sends power through to a custom transmission.
Click here to learn more about the Toyota Land Speed Cruiser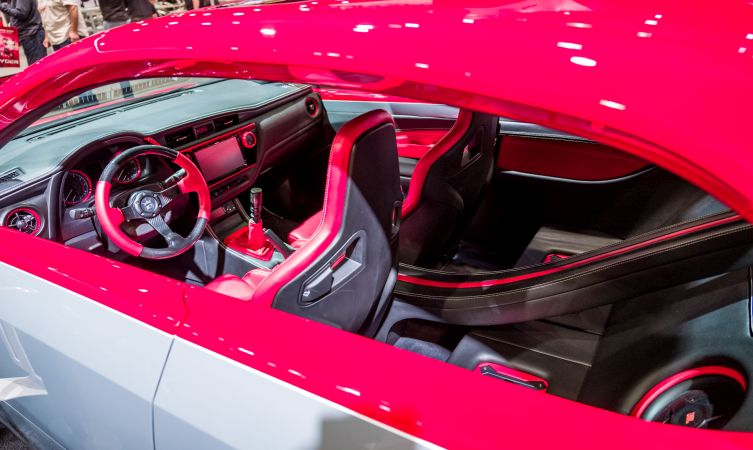 EXTREME COROLLA: Transformed from a four-door saloon to a two-door pillar-less coupe, this Corolla also offers two-tone paintwork, a custom interior and turbocharged engine.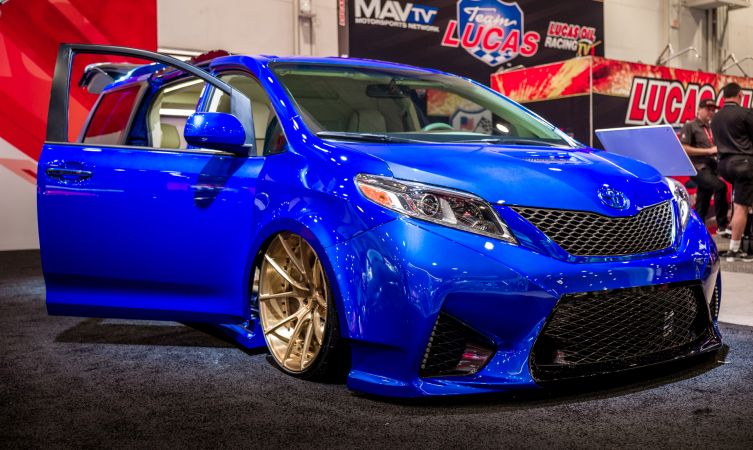 EXTREME SIENNA: There have been a number of 'Swagger Wagons' built and displayed by Toyota over the years, but this US model Sienna is the most dramatic yet. Its aircraft-style interior smacks of high-end luxury, while everything from its in-car entertainment to its air suspension can be controlled remotely via Bluetooth.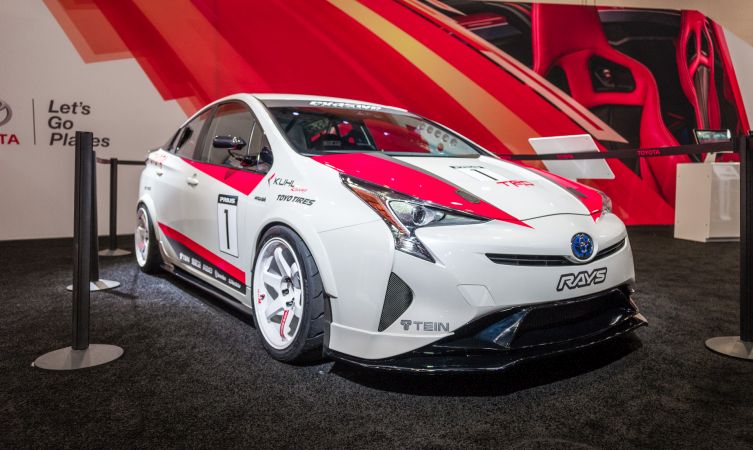 PRIUS G: For this project, the 'G' stands for G-force, because this Prius builds on the acclaimed TNGA platform to deliver a car that can stretch facial tissue. In fact, with the ability to pull 0.99 G around a bend, this super-grippy hybrid now grips as hard as a supercar.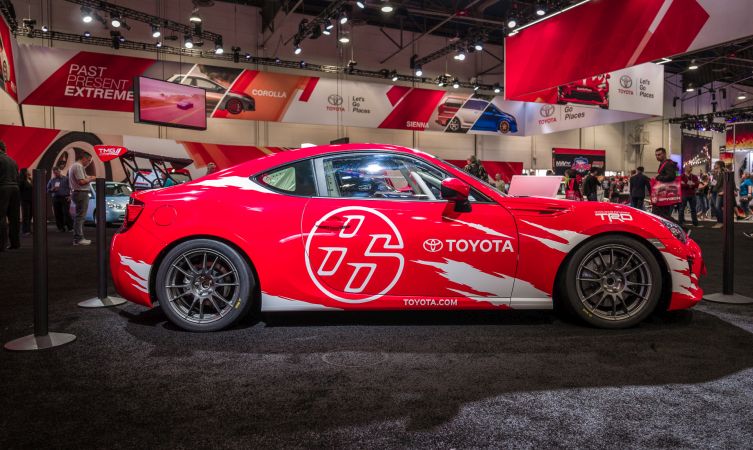 TMG GT86 CS-CUP: This is not only the first 2017 model Cup-series GT86 built by Toyota Motorsport GmbH in Germany but it is the first time one has ever been displayed in the US. The coupe's red-and-white livery pays homage to Toyota's racing heritage.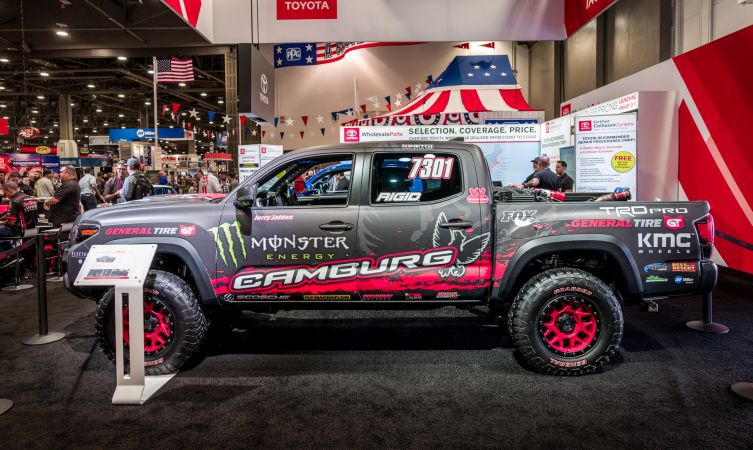 TACOMA TRD PRO RACE TRUCK: Built to go places other trucks fear to tread, Toyota plans to showcase this desert-modified US model pick-up in the Great American Off-Road Race.
2016 SEMA: best of the rest
The beauty of the automobile aftermarket is its variety, encompassing everything from sports tuning to restoration and adventuring. Fantastic Toyota models relevant to almost every category could be found throughout the vast halls of the convention centre.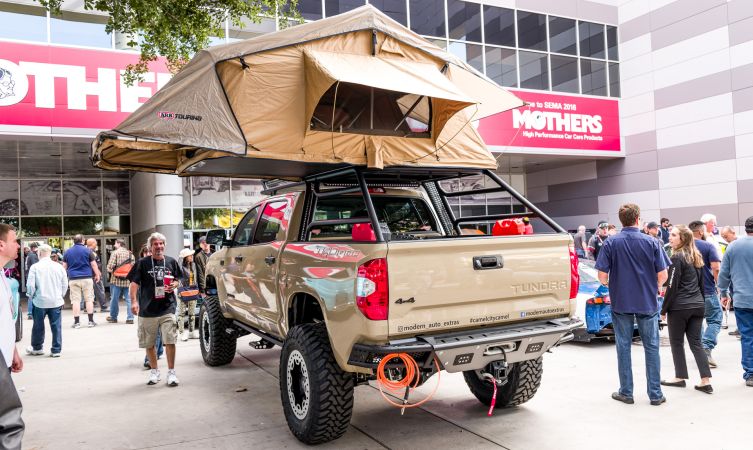 Since its launch, the GT86 has been extremely popular with aftermarket tuners. As the hunger for Rocket Bunny wide-body conversions appears to be mostly satiated, space has opened for other producers to make an impression.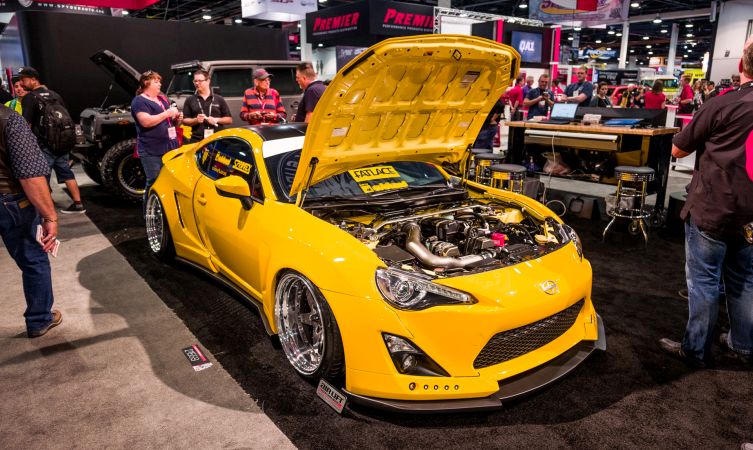 The car above, for example, was put together by Thanh Giang, who beat rivals to complete the country's first wide-body conversion from Vlene Japan. Its arches – up to 100mm wider than standard – are filled with incredibly wide and aggressively offset alloys, not to mention the plummeting effect of air suspension.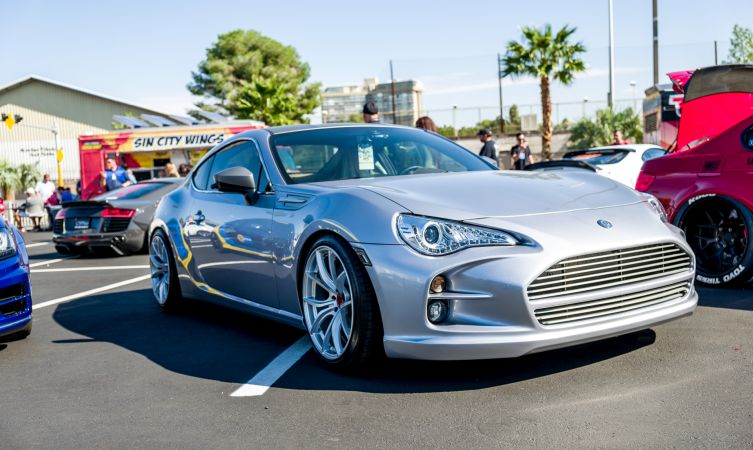 Meanwhile, Japanese supplier DAMD decided to produce a makeover that turned the GT86 into a relatively decent interpretation of a model made by a certain British sports car manufacturer.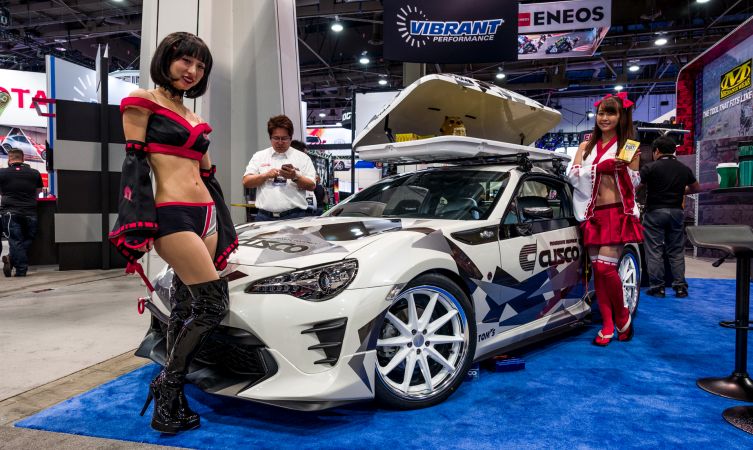 Elsewhere, the adaptable GT86 was being equipped with a prototype roof bar package to become more lifestyle-friendly, or installed with a howling Italian V8 to help it vaporise tyres around a drift circuit. Yes, like its host city of Las Vegas, anything goes at SEMA.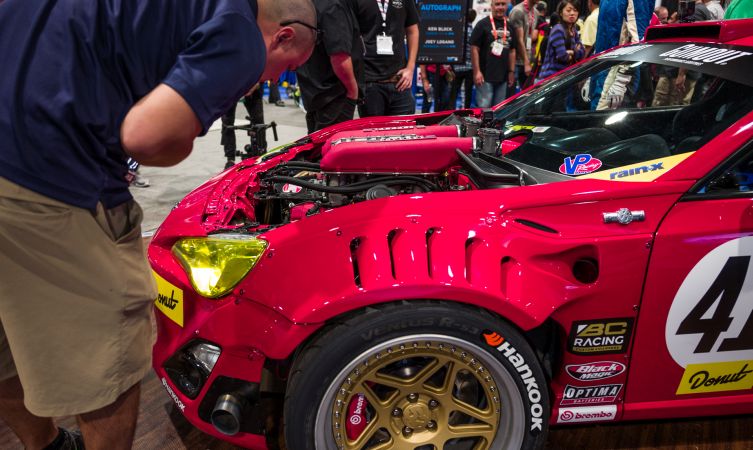 Four-wheel drive vehicles are big news at SEMA, and the US market Tacoma pick-up shared a significant proportion of the limelight among domestically produced models. It certainly helped that petrolhead celebrities such as Rutledge Wood, co-presenter of Top Gear USA, was there to wax lyrical about his own short-wheelbase Tacoma project.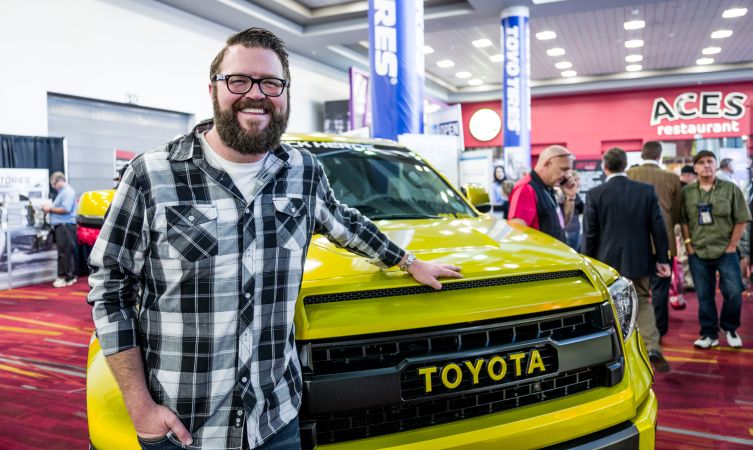 But of all the off-road models in attendance, few tug on the heartstrings as much as classic FJ-series Land Cruiser models. Although out of production for over 30 years and extremely collectible, the FJ is rare in that both modified examples and meticulously restored originals are held in equally high regard.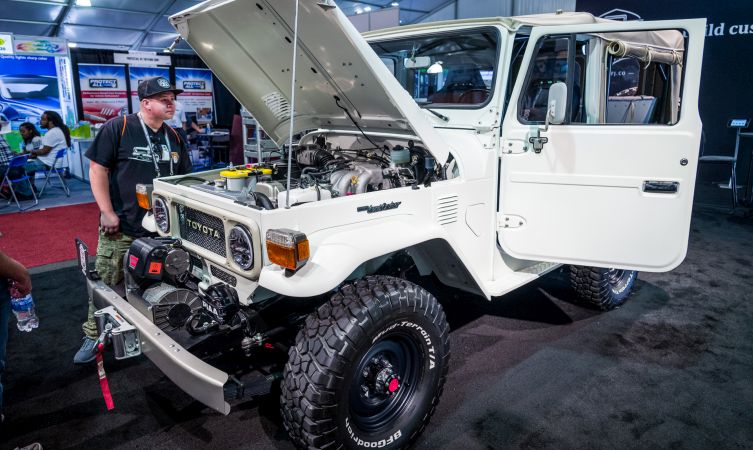 You can pay upwards of $80,000 for the latter, as seen in the stunning FJ43 (above) displayed by the FJ Company. Or you could copy Ed Goff's example and take one on a 4,500-mile trip across America using only dirt roads, and then drive it straight onto the show stand without a wash.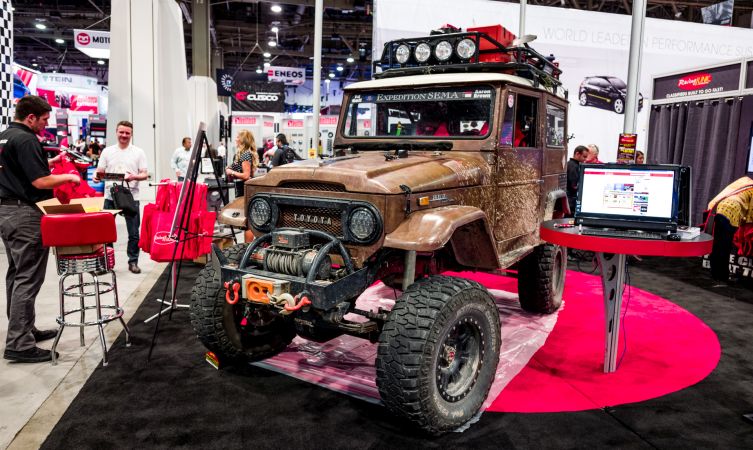 2016 SEMA: bonus images