Toyota's Total Human Model for Safety, otherwise known as THUMS, is an advanced software programme that enables engineers to enhance vehicle safety within a virtual environment. It achieves this through a precise understanding of the severity and type of injuries sustained to human bodies in simulated road accidents.
From its introduction as a world-first technology in 2000, ongoing development by Toyota engineers has seen the capabilities and accuracy of THUMS expanded to the point where it now encompasses different genders, ages and physiques, even detailing skeletal structures, internal organs (including the brain) and muscles.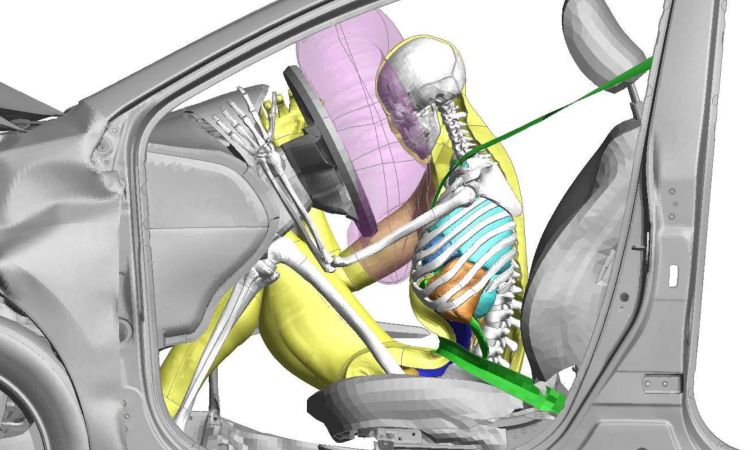 What can THUMS do?
Indeed, compared to crash test dummies used in traditional vehicle collision tests, THUMS is able to simulate and analyse collision-related injuries in much greater detail. It allows repeated analysis over an unlimited range of accident patterns, and dramatically reduces the expense and development lead times associated with physical collision testing.
THUMS is currently used in vehicle safety research by over 100 vehicle manufacturers, suppliers, universities and research institutions throughout the world. The software is assisting these to develop components such as seat belts, air bags and body structures that reduce the risk of injury to both pedestrians and vehicle occupants.
Toyota has a history of releasing patented technology for the greater good, and this initiative is no different. Though an indispensable technology in our own vehicle development process, it is hoped that the broader use of THUMS technology will accelerate vehicle safety research worldwide. It will also allow users to contribute further improvements to the computer model and share the results with others.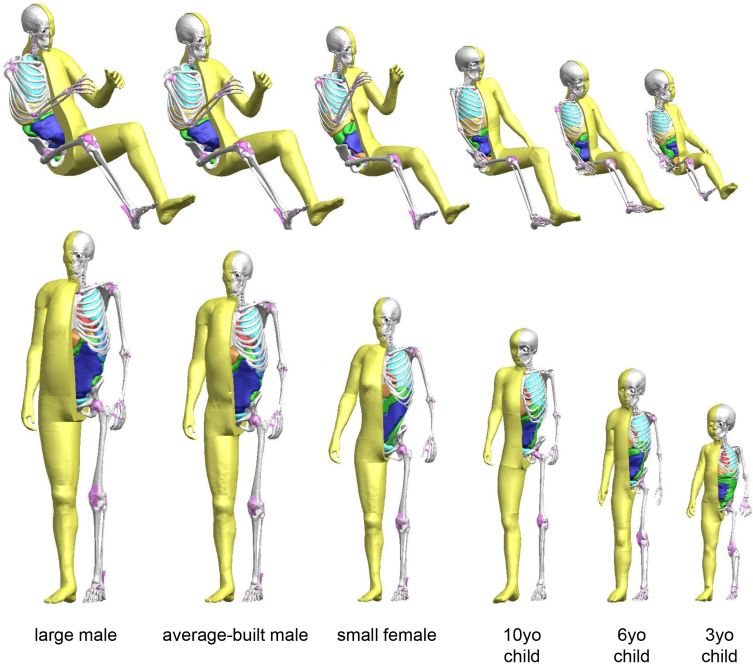 Toyota announces further development in 2023
Toyota has announced further development of THUMS (Total Human Model for Safety), its software programme for computer simulation and analysis of the injuries resulting from vehicle crash impacts. The latest advances take account of changes in people's posture when taking advantage of automated driving systems.
The latest Version 7 of THUMS has improved modelling of the human body – men, women and children – with more accurate rendering of the geometry and properties of key body parts, including the pelvis, abdominal organs, spine and ribs. The programme can further predict the impact on human bones, organs and muscles when vehicle occupants are in a reclined position, and reproduce how people will change their position and brace muscles when manoeuvring a vehicle in an emergency, or when safety systems such as a emergency braking and steering control kick in.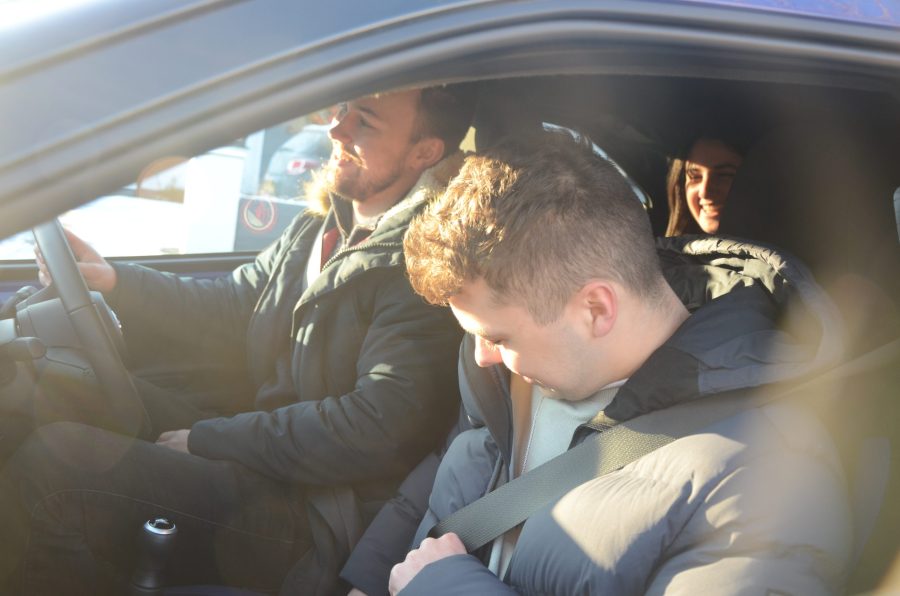 They also address the changes in people's posture as automated driving systems become available. For example, ADAS (advanced driver assistance systems) at SAE Level 3 which see the car automatically carrying out most of the driving tasks, so the driver can sit back and relax. When a person is in a reclined position, the body reacts different with the seat and restraint systems. Even when they are sitting up, the change in posture can lead to significantly different effects in the event of an impact, causing different types of injury.
The new capabilities allow for even more precision in the computerised crash simulations, helping in the development of more effective safety provisions.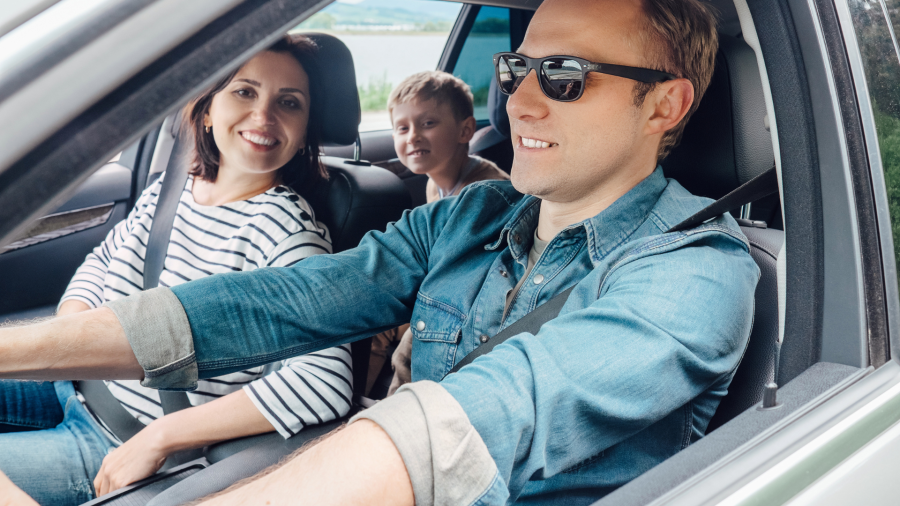 Sabine Compigne, Technical Manager in Toyota's R&D Safety Research operations, explained: "Special attention must be paid to ensuring that the pelvis remains in the seat at the time of a crash. This is crucial to avoid the 'submarine effect' where the occupant slides out from under the lap belt, risking abdominal injuries. Good pelvis retention helps to limit compression on the spine and thus prevent spinal injuries."
The principles of the THUMS programme make it valuable for safety research in other transport fields, such as trains and aviation. Recognising this, Toyota has provided free access to its know-how since 2021, with a view to helping built a future safe mobility society.
A brief history of THUMS
Toyota began developing THUMS together with Toyota Central R&D Labs in 1997. The first version launched commercially in 2000 and was the first software programme to accurately recreate the human body's mechanical characteristics. More than 80,000 elements had been digitally recreated within the structure of an average adult male (175cm tall, 77kg in weight and 30-40 years old). These included body shape, bone strength, skin tenacity, and detailed anatomical components such as vertebrae, hand and foot joints, ligaments and tendons.
From the outset, THUMS was designed to predict predict, calculate and analyse the body's behaviour in a simulated collision. It could quantify the chance and degree of injuries, including fractures and damage to joints, and also evaluate injuries to people not inside the vehicle, such as pedestrians.
Building on this basic body structure, Version 2.0 arrived in 2005 with detailed facial modelling, and Version 3.0 was introduced in 2008 with a precise model of the brain.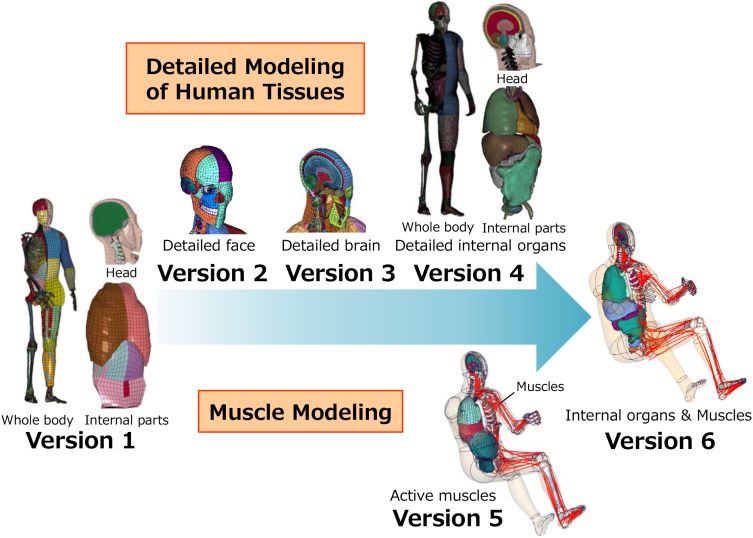 In order to make further progress with THUMS, Toyota joined forces with external research institutes and utilised high-precision computed tomography (CT) scanners to measure the body's internal structure around the ventral cavity. As a result, the next update released in 2010 added detailed modelling of internal organs, as well as precise mapping of their relative positions to each other.
Version 4.0 therefore contained approximately 14 times more information than Version 3.0. This incredible development allowed engineers to simulate in even greater detail how areas of the torso deform during a collision and how the body's vulnerable internal organs can be affected as a result. Its arrival marked a significant advancement in safety technology as damage to internal organs was calculated to account for approximately half of all injuries in automobile collisions.
Additional refinements to Version 4.0 arrived in 2011 with the basic virtual human model expanded to include a small adult female (153cm tall) and a larger (189cm tall) adult male. This meant it was now possible to account for different body sizes when analysing injuries. What's more, all three models now came in two types – as a vehicle occupant or a pedestrian – effectively increasing the THUMS line-up to six models.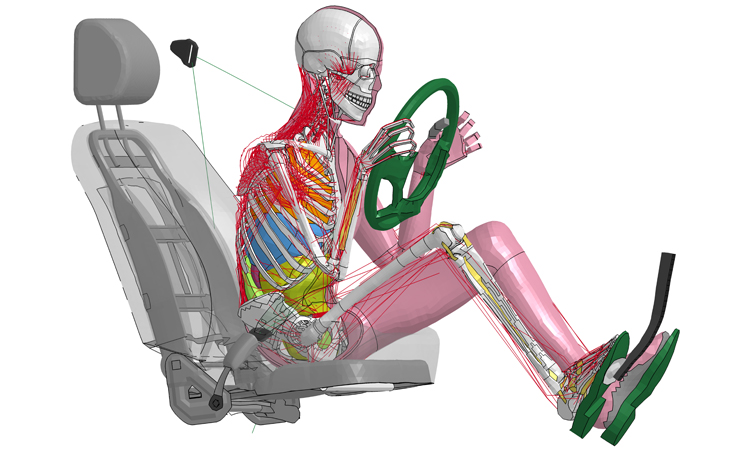 One of the most remarkable developments came in 2015 when Version 5.0 added muscle modelling to the THUMS package. This demonstrated the important influence of a driver or passenger realising there is going to be an impact and instinctively bracing themselves. Previously, the software had only been able to simulate changes in posture after an accident had occurred. So this upgrade provided another layer of intelligence that allowed greater insight into the influence of reflex actions on body movement during a crash, as well as a better understanding of how whiplash injuries can occur.
As a direct result of these ongoing safety developments, vehicle manufacturers have been able to refine the design of seats to reduce whiplash injuries and introduce bonnets that pop up in the event of an accident to create a deformable space to cushion any blows to a pedestrian's skull. Motorsport governing bodies have also been able to formulate regulations for seat shapes that reduce the likelihood of drivers sustaining rib fractures as a result of racing accidents.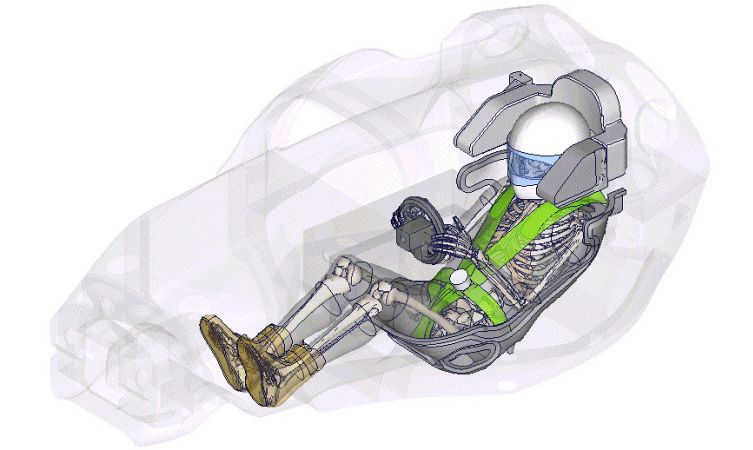 In 2016, Toyota expanded the virtual human models with three new models, representing children aged three, six and ten with physiques measuring 94cm, 118cm and 138cm respectively. These new models were created as a result of collaborative research with various United States universities and the Toyota Technical Center in Michigan. As with the adult models already available, they were available in either passenger or pedestrian versions.
The latest development was introduced in 2019 as Version 6.0. Previously, researchers had needed to use Versions 4.0 and 5.0 to understand both pre-crash changes in occupant posture and injuries sustained at the point of collision. But this current version combines the two technologies in one software package, therefore removing the need to switch between versions and contributing to improved efficiency.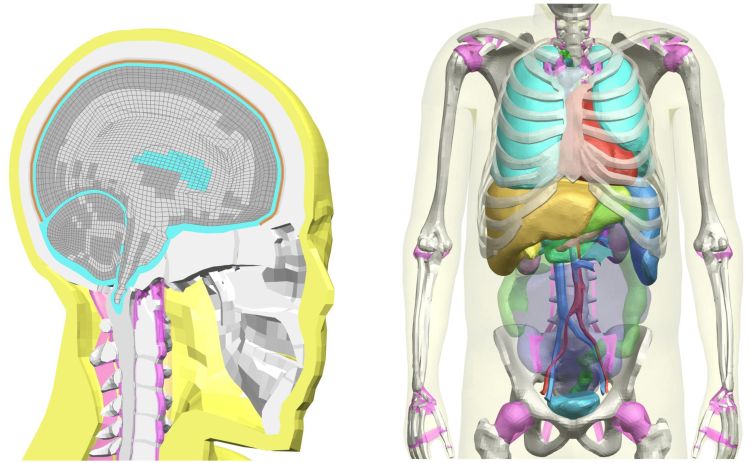 Since its commercial release, THUMS has been available to purchase through the JSOL Corporation in Tokyo, Japan, and the ESI Group in Paris, France. As the license associated with this technology comes to an end in 2020, Toyota will make the software for Versions 4.0, 5.0 and 6.0 freely available from January 2021.
Toyota is still discovering and exploiting new opportunities for using THUMS. Moving forward, our researchers will continue to adapt the software to develop even more effective preventative safety measures. It is currently being used to improve automated driving technologies, and its capabilities can be expanded into ergonomics and the assessment of ride quality and seat comfort. The potential is even there for THUMS to become a kind of virtual driver.
Click here to learn more about Toyota's active and passive safety measures
THUMS timeline
| | |
| --- | --- |
| YEAR | PROGRESS |
| 1997 | Toyota begins development of THUMS with Toyota Central R&D Labs |
| 2000 | Version 1 released: detailed modelling of bones added |
| 2005 | Version 2 released: detailed modelling of faces added |
| 2008 | Version 3 released: detailed brain modelling added |
| 2010 | Version 4 released: detailed modelling of internal organs |
| 2022 | Different physiques added: small female and large male models added |
| 2015 | Version 5 released: modelling of all body muscles added |
| 2016 | Child models added to Version 4: child models representing ages 3, 6 and 10 years |
| 2019 | Version 6 released: muscles added to internal organ modelling |
| 2021 | Free access to THUMS enabled from January 2021 |
| 2023 | Version 7 released: increased accuracy in geometry and properties of key body parts; modelling to show effect of occupants in reclined position. |