We're pleased to announce that the incredible Griffon GT86, created by Toyota Racing Developments, has arrived safely in the UK from Japan and is being prepared for its appearance at this year's Goodwood Festival of Speed.
We caught up with the Griffon GT86 at a top-secret location in Hampshire, to release some early teaser images before it is fully unleashed for public consumption. And we can truthfully say that the track-spec racer is every bit as radical and eye-catching as TRD has promised.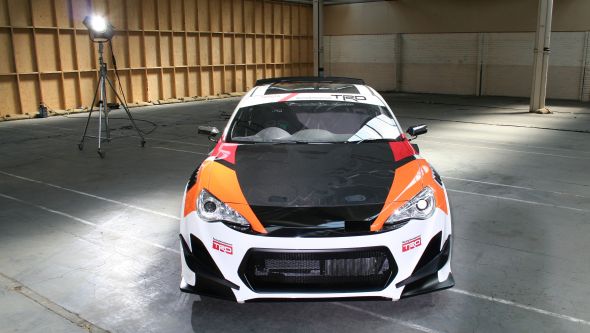 Modifications have been applied throughout the car, giving it a dramatic appearance, while the extensive use of lightweight, composite materials makes a big improvement to the power-to-weight ratio.
To improve the handling, the chassis has been uprated with fully adjustable coilover-type suspension and lightweight forged alloy wheels wrapped in track-spec tyres. The brakes are upgraded too, and now feature multi-piston calipers clamping on dinner plate-sized discs.
Opening the carbon fibre doors reveals a stripped interior with a single bucket seat, small diameter steering wheel, and a trio of TRD gauges emphasising the Griffon's focused intent — that of posting fast lap times and plastering the widest grin on the face of the driver.
Chances to see the TRD Griffon GT86 in the UK are limited to the Goodwood Festival of Speed on 12-14 July and at Oulton Park Circuit on 21 July, where it will be displayed statically at a special invite-only GT86 track day. If either of these events are not already in your diary, rest assured that you can catch our reports right here on the Toyota Blog.