The security guard looks half-asleep as she directs me into Uttoxeter Racecourse. It's 5:30am and already warm. The sun is rising into a perfectly blue sky and I wish I hadn't lost my sunglasses. 
Reminding me of the duvet I'd just unwillingly left, a quilt-like patchwork of giant multi-coloured nylon sheets is spread across almost a whole field. Sitting next to each is a wicker basket – 26 in total.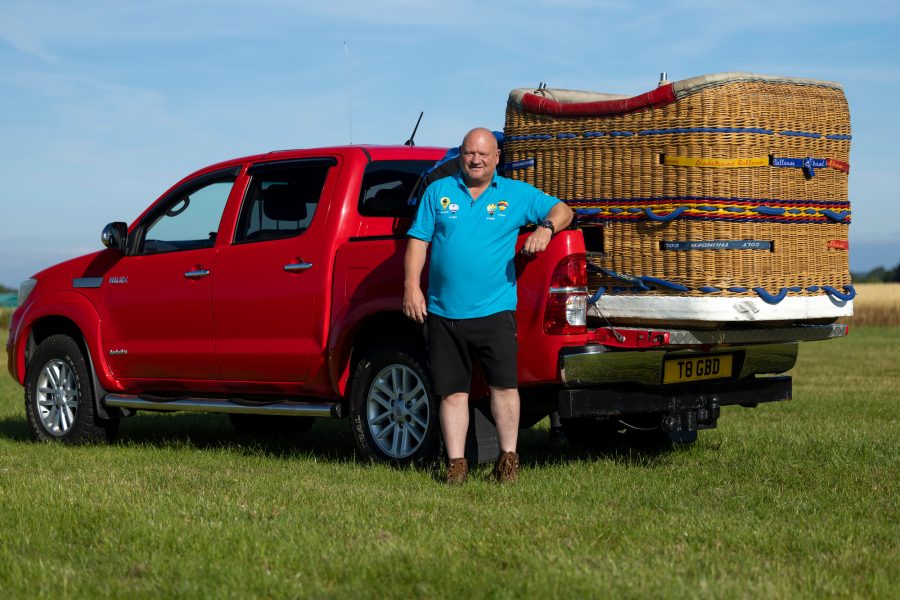 From one basket a rope leads to the front of a Toyota Hilux. The sun gleams off its red paintwork – I don't think red has ever looked so red. Gary Davies has owned his Hilux for seven years. He climbs into the basket, glances up at two chrome gas burners which look a bit like upward-facing rocket nozzles and twists a metal tap to test them. A blast of orange flame roars more than 20ft into the sky.
At the pilots' briefing, we are told flying conditions are perfect. A light north-westerly breeze is predicted to take the balloons towards Abbots Bromley. Pilots are warned to avoid landing on a particular farmer's land – he's not a fan of hot air balloons. The gathered balloonists all laugh. I can feel everyone's excitement and keenness to get airborne. Two guests' names are called out. But I guess they are still wrapped up in their duvets – so there are two spare passenger spaces available – and one of them is in Gary's balloon. It takes me a millisecond to decide and a few moments later Gary is giving me a safety briefing. In my excitement, I don't remember much except for the instruction to keep my hands and arms inside the basket if we tip over on landing.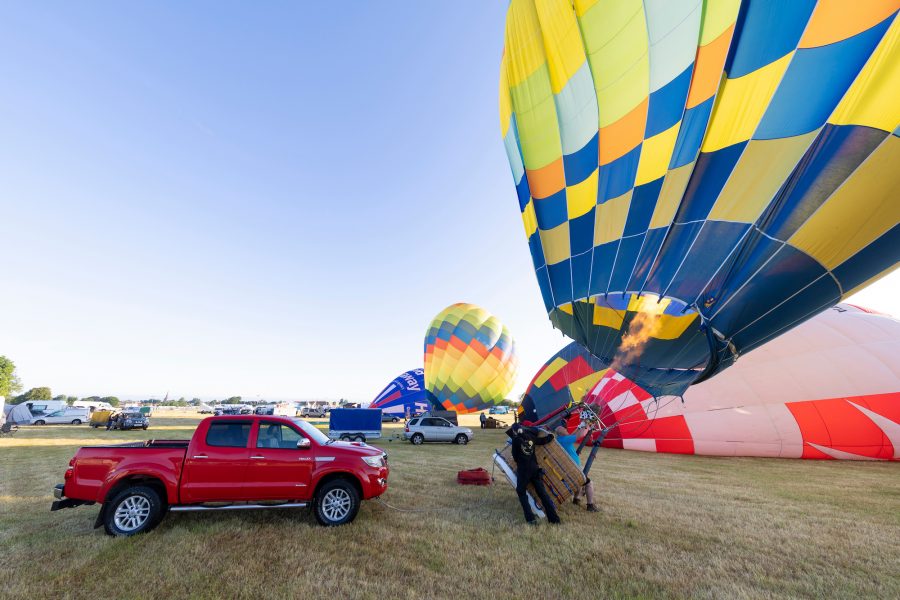 Gary's truck is a 2013 Invincible automatic. "It's the best truck I've ever owned – my garage says they're the Rolls-Royce of four-by-fours," says Gary, who has been flying in balloons all his life, and has held his licence since 1999 and has clocked-up 1500 hours in the sky. 
The basket is tipped on its side and a large fan is used to start inflating the envelope – the correct name for the balloon part – with air. This is followed by a few more blasts from the burner. The air inside the balloon is soon hot and Gary and his team give the basket a helping shove as the balloon stands up. Only its tether to the Hilux is stopping it from lifting off.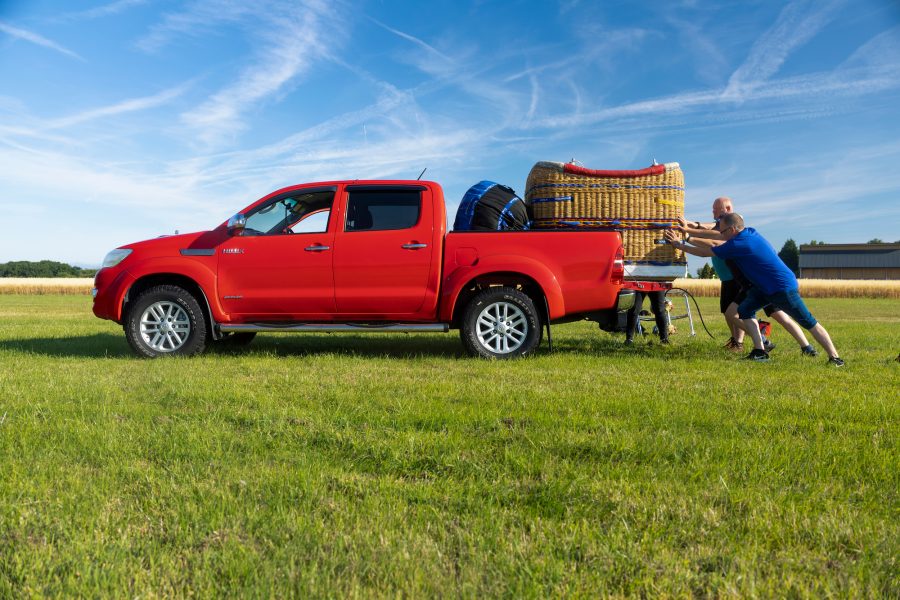 I climb in clumsily. After helping to load my cameras into the basket, Gary's friend, Paul Coman, disconnects the Hilux from the 15-year-old Lindstrand 90A – one of seven hot air balloons Gary owns. Paul is the 'retriever' for this flight – it's his job to follow the balloon to wherever it might float off to and bring it, and us, back to the Staffordshire Balloon Fiesta. It's the short-straw – even driving Gary's immaculate Toyota probably isn't as quite as exciting as a morning's ballooning.
We're the second balloon to lift off. I watch as everywhere beneath us balloons are being inflated accompanied by staccato salvos of burner blasts. It's sensory overload. We skim low over the banks of the river Dove. A startled hare darts across a field. It's completely side-on to the low sun which casts a tremendous and perfect shadow, probably seven or eight times the hare's height, across the short grass.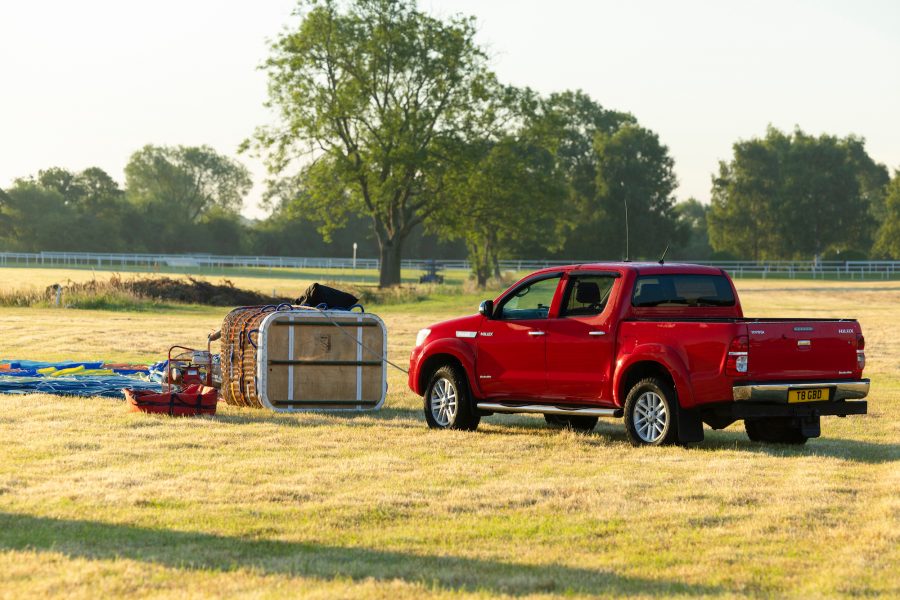 Gary fires the burners. The heat scorches my head and I duck down, before popping my head up again to see the red Hilux leaving the take-off area.
"It's my pride and joy," he says as he checks our location on his iPad. "I look after it and it looks after me. I have it serviced every 10,000 miles – I don't mess about.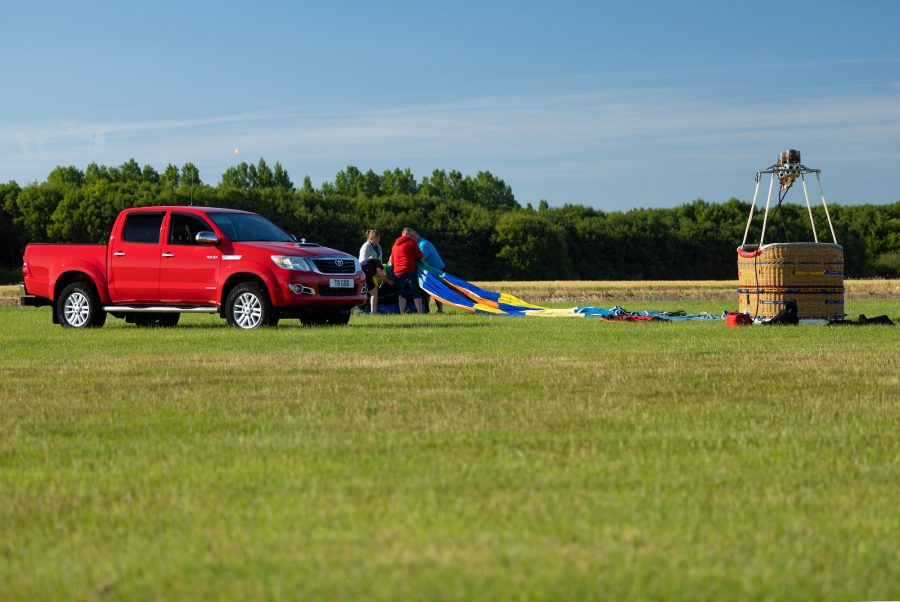 "It was immaculate when I got it and it still is now. I bought it – one lady owner – with only 50k on it. It's now got 94 on the clock.
"In March, we flew at an event in Saudi Arabia. All the retrieval vehicles were Toyotas – and they all had Toyota emblems mounted on top of their bonnets. So I thought 'I want one – I want to get a mascot to remember the trip' – that's why I have one on my bonnet," Gary explains.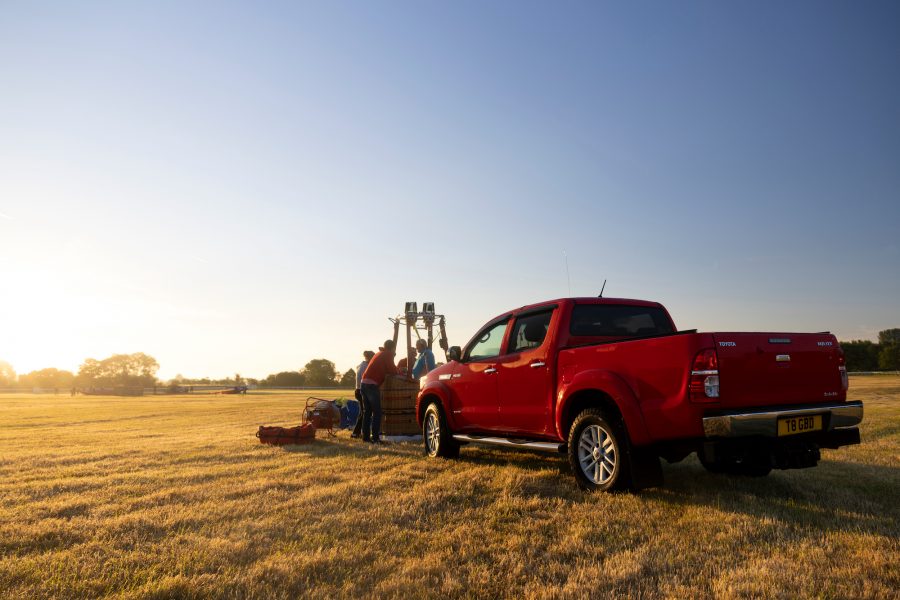 We quickly rise to 1,200ft. All the other balloons have taken off and are now following behind. Far off in the distance a cloud-inversion cloaks the landscape somewhere over towards Shropshire.
"I've fitted a steel plate on the truck's bed to protect it – I once even landed a balloon in the back of the Hilux," Paul laughs. "It's also fitted with a tow-bar so I can take a larger balloon in the trailer – sometimes I take two balloons.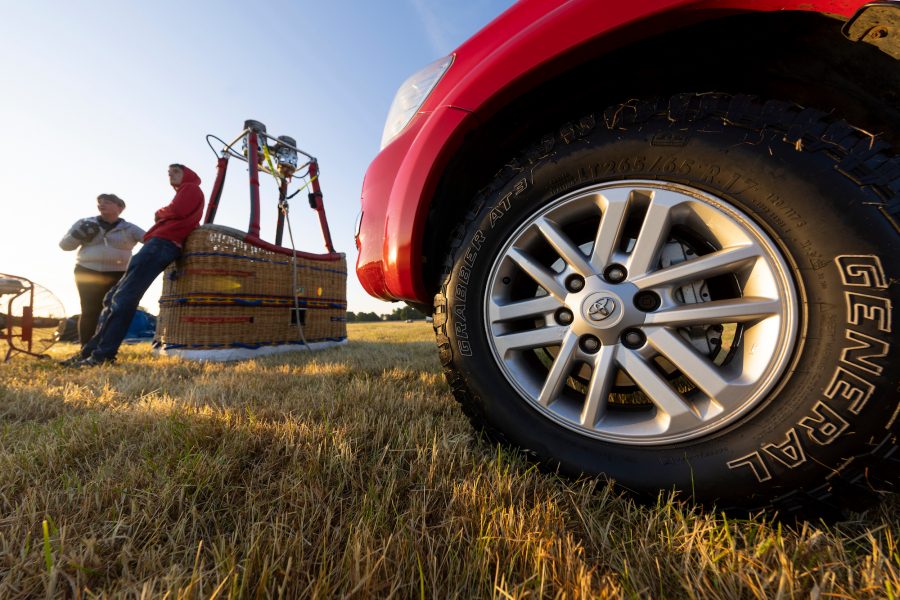 "It's a perfect size, model and shape – it pulls a trailer like you don't know you're pulling it.
"We fly all year-round. When it's wet we often use the four-wheel-drive – it's fitted with 70:30 ratio off-road tyres – and has saved our butts on numerous occasions."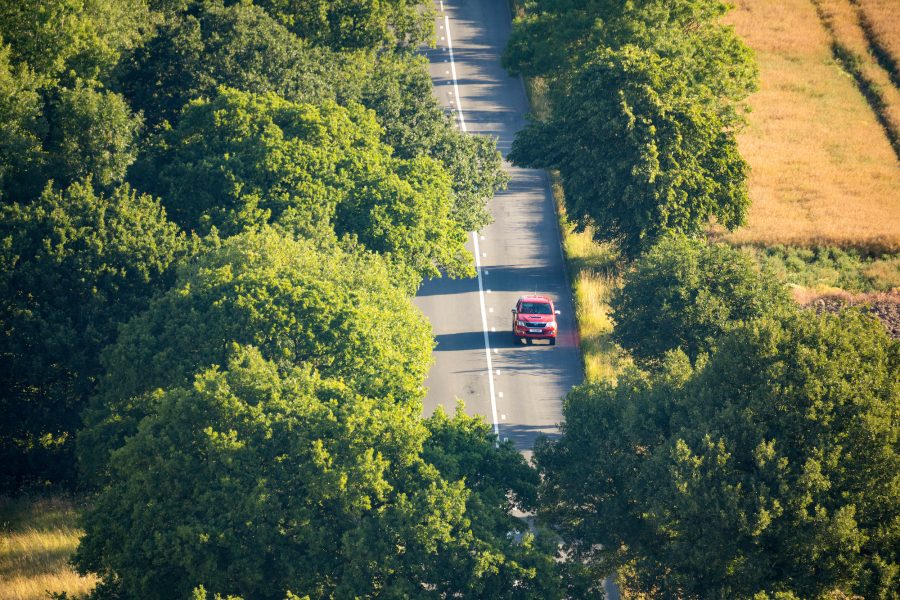 The two-way radio crackles and beeps. Gary curses briefly as Paul, in the Hilux somewhere below, is slow to respond. Then, as if meticulously choreographed, we see the Toyota's red paintwork emerging from a tree-lined road. "Don't stop, keep going, speed up a little" instructs Gary. The radio clicks and Paul replies simply: "Received". Moments later Gary points out our shadow which is racing across a field of summer crops. The Hilux is chasing the shadow and my finger presses furiously on my camera's shutter button.
Gary, 50, a builder from Peterborough is also a hot air balloon instructor and is currently training to become an examiner.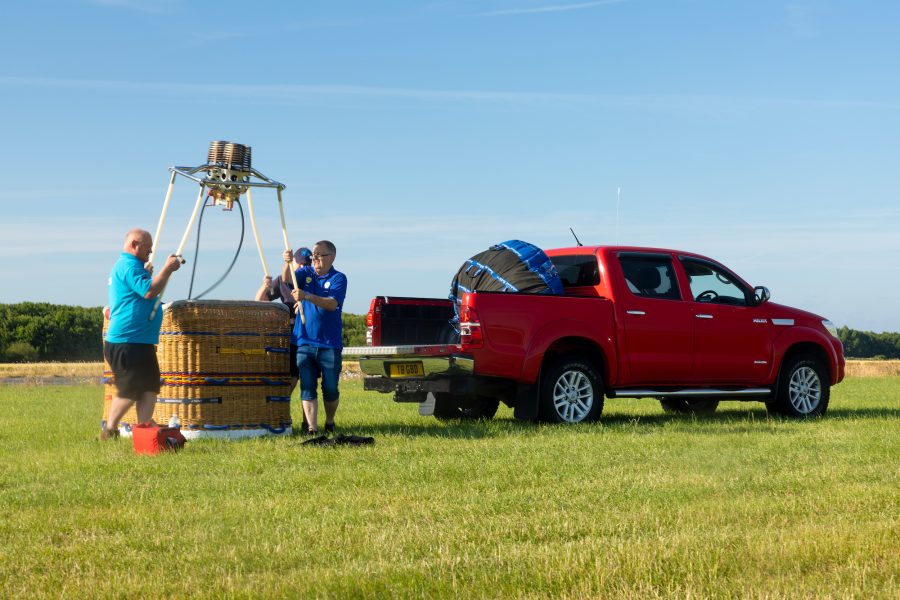 "One of the highlights of my ballooning career was flying with 50 balloons in Qatar ten years ago. We go abroad a lot. I'll be taking the Hilux to Holland next week, Switzerland in January, and Germany, France and Ireland later in the year too. I'm not planning to ever sell this truck," he says.
Fifty-five minutes after take-off and seven miles, as the crow – or balloon – flies, we land, with a slight thud, at Tatenhill Airfield. All around us other balloons are landing. Some competition balloonists fly overhead trying to drop markers on a large white cross marked out at the end of a runway. People cheer when markers are dropped on target and jeer at those who miss their mark.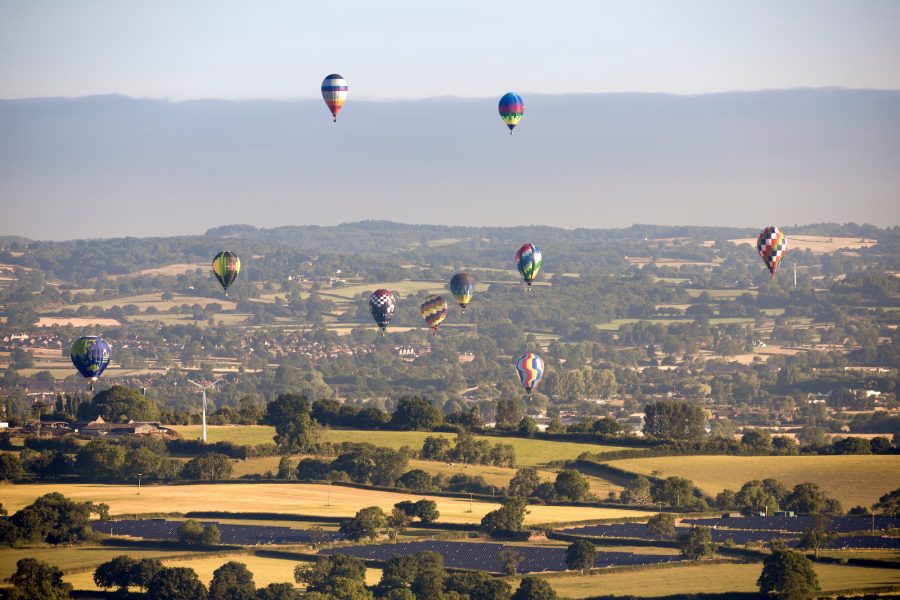 Paul drives the Toyota onto the airfield and the balloon is packed away. The basket is lifted into the back and strapped down.
We all jump into the Hilux for the short drive back to Uttoxeter. I shake hands, thank Gary for a superb experience and head home for breakfast.