Enabling sustainable, accessible and inclusive mobility is at the heart of Toyota's mobility concept for the Olympic and Paralympic Games Paris 2024. As the worldwide mobility partner of the International Olympic Committee (IOC) and the International Paralympic Committee (IPC), Toyota has unveiled its mobility concept for Paris 2024.
The concept will provide sustainable mobility solutions to the athletes, officials, volunteers, accredited media and spectators with a focus on inclusivity, sustainability and mobility for all – values shared by Toyota, the IOC, the IPC and the Paris 2024 Organising Committee for the Olympic and Paralympic Games.
Toyota's philosophy of Ever Better Mobility for All believes that freedom of movement is fundamental for a diverse society. Toyota is on its way to becoming a mobility company, working to reduce obstacles to movement for all, regardless of their physical abilities. With many thousands of athletes, staff and volunteers, Paris 2024 will be a demonstration of what is possible when we work for a better and more inclusive society.
Yoshihiro Nakata, president and CEO Toyota Motor Europe, commented: "When everyone is free to move, we are one step closer to the inclusive and sustainable society that Toyota is committed to building. That is what Mobility for All means to us at Toyota. We share this vision with the IOC and the IPC. We want to support the athletes who devote their lives to sports and remove barriers to exercise their freedom to move."
In collaboration with the IOC, the IPC and the Paris Organising Committee of Olympic and Paralympic Games, Toyota is dedicated to making Paris 2024 the most innovative showcase of inclusive and sustainable mobility to date. That starts by making sure that athletes and their families, staff, volunteers, and spectators can all move around sustainably and safely.
Ensuring 'Mobility for All'
During the Olympic and Paralympic Games Paris 2024, Toyota will offer personal and group mobility products that are designed to enable ease of movement for everyone.
It will provide around 250 personal battery electric vehicles: seated and standing C+walk models. Both have a maximum speed of approximately 3.7mph and are equipped with front obstacle detection systems to ensure the safety of the drivers and those nearby. The seated version will be available to athletes, organisers and volunteers, while the standing version will be distributed to staff and volunteers to help them move around the Paris 2024 venues.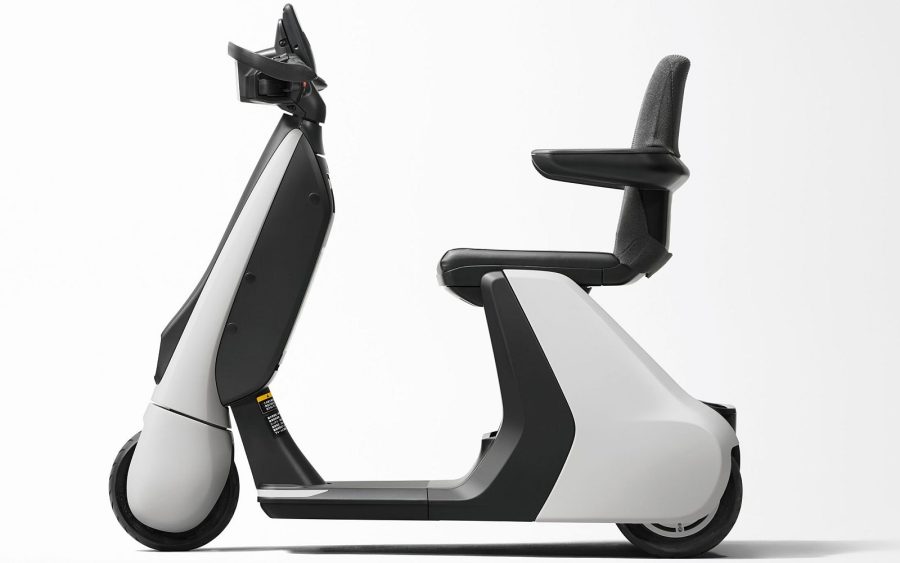 For wheelchair users, Toyota will also provide 50 wheelchair e-pullers available throughout the Paris 2024 Games in the athletes' village. An additional 150 will be made available during the Paralympic Games opening ceremony to make sure that athletes in wheelchairs have easy access to join this unique event.
To ensure fair and easy access to these personal micro-mobility solutions in the Paralympic Village, Toyota will offer them as a shared mobility service powered by the KINTO Share mobile app. This will maximise their use by Paralympians and staff, as well as keep the operations more efficient.
In addition to personal micro-mobility solutions, Toyota will deploy around 250 zero-emission electric Accessible People Movers (APMs). Building on the vehicle's success at the Tokyo 2020 Games, a new APM has been redesigned and built in Europe with the spirit of inclusivity in mind.
Toyota's APMs are designed to support all athletes, as well as organisers, volunteers, and spectators with physical disabilities, including wheelchair users. They will act as a shuttle service in the Olympic and Paralympic Village, and at the venues; some will move small goods across the Games and a number will be designated as emergency relief vehicles. APMs will operate mainly inside the Paris 2024 security zones, bringing Toyota's Mobility for All vision into reality.
Toyota will also provide 150 wheelchair-accessible battery electric Toyota Proace Verso people carriers to support the mobility of Olympic and Paralympic family members in wheelchairs. After Paris 2024, all vehicles will remain in the Paris region where they will be used to provide specialised personal transport services to people in wheelchairs.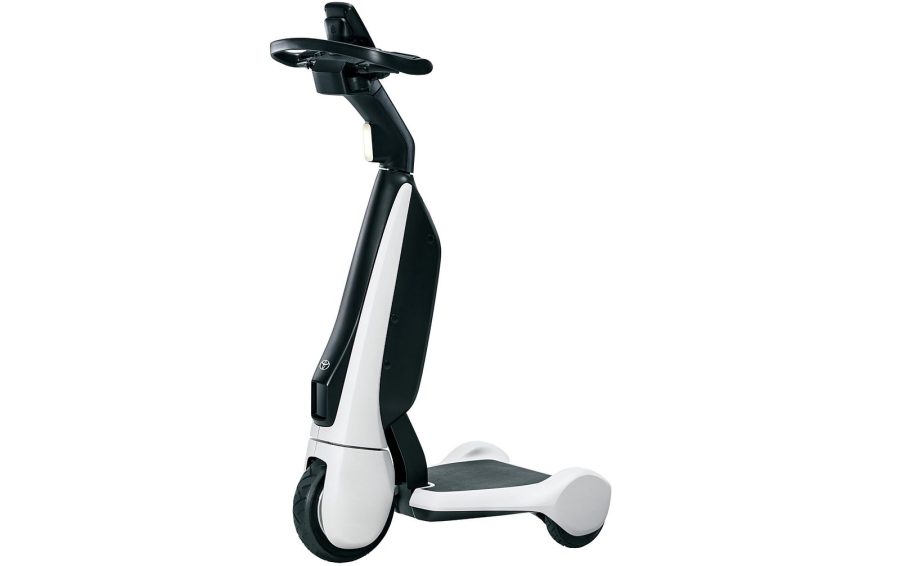 In total, Toyota plans to provide 700 personal last-mile mobility products such as C+walk, wheelchair e-pullers, 250 APMs, as well as 150 wheelchair-accessible Toyota Proace vehicles, among other mobility solutions. In this way, Toyota will ensure that athletes, volunteers and organisers have access to the most inclusive and sustainable mobility fleet ever seen at the Olympic and Paralympic games.
A more sustainable fleet
Sustainability is a significant part of Toyota's commitment to building a better world, underlined by its Environmental Challenge 2050, in which the company aims to achieve carbon neutrality at a global level by 2050, and in Europe by 2040. That is why Toyota's multipath strategy, combining different electrified vehicles, is at the core of the Toyota fleet to be provided for the Olympic and Paralympic family at Paris 2024. Toyota will bring a 100% electrified passenger vehicle fleet to Paris, in line with its commitment to reduce carbon emissions.

Toyota will provide more than 2,650 electrified passenger vehicles in total at Paris 2024, of which 150 will be wheelchair accessible. Around 60% of the fleet will have zero tailpipe emissions, including battery electric vehicles (BEVs) Toyota bZ4X, Proace and Proace Verso and Lexus RZ models, and 500 hydrogen-fuelled FCEV Toyota Mirai.
During the Olympic and Paralympic Games Paris 2024, Toyota will provide 500 Mirai to enable zero tailpipe emission movement for the Olympic and Paralympic family, athletes, organisers and volunteers alike. After the games, all 500 Mirai vehicles will join the existing Paris hydrogen taxi fleet, increasing the number of FCEV vehicles to 1,500.
In addition to zero tailpipe emission vehicles, Toyota will also bring around 1,000 hybrid electric (HEV) and plug-in hybrid electric (PHEV) vehicles – Toyota's global best-selling RAV4 in both PHEV and HEV versions, as well as Toyota Corolla Touring Sports, Yaris Cross, and Highlander, all with hybrid electric technology.
The official fleet will be complemented by additional vehicles connected via Toyota's car-sharing service KINTO, which will give the Olympic and Paralympic family even more flexibility to move around.
Overall, Toyota aims to reduce vehicle carbon emissions at the Paris 2024 Games by 50% compared to those of previous Games. Almost 60% of the Toyota fleet will be produced in Europe, including 37% in France, contributing to the vision of a sustainable and locally sourced Olympic and Paralympic Games.
Building a sustainable hydrogen mobility legacy
Toyota believes that hydrogen is a key pillar for the creation of a low-carbon and a more sustainable society. That is why the company has put it at the heart of its mobility concept for the Olympic and Paralympic Games. During Paris 2024, Toyota will showcase its vision of building a sustainable hydrogen ecosystem through a demonstration of hydrogen solutions that further push the boundaries of hydrogen-powered mobility.
In addition to the 500 Mirai FCEVs, Toyota will also bring specific applications that go beyond the traditional automotive offering. Toyota and its partners are planning to showcase up to ten different hydrogen mobility (mostly fuel cell) applications – a significant increase from Tokyo 2020 and Beijing 2022. These will range from buses and trucks to boats and forklifts – all demonstrating the potential of hydrogen-powered society. These applications are a result of Toyota's integration of its fuel cell technology with partners, with the aim of solving today's most pressing mobility challenges.
Among the hydrogen applications to be displayed at Paris 2024 are two FCEV city buses, converted specifically for this occasion, with accessibility and team spirit in mind. These will each be able to accommodate an entire wheelchair team.
On the logistics side, Toyota will showcase the benefits of hydrogen-powered FCEV trucks, developed together with its partners. In addition, FCEV forklifts, designed by Toyota Material Handling, will further demonstrate how hydrogen-powered logistics operations can support the hydrogen economy.
Toyota's fuel-cell technology will be present in FCEV-powered boats, coaches, the hydrogen Hilux prototype (below), and other solutions to support the operations at the Olympic and Paralympic Games Paris 2024.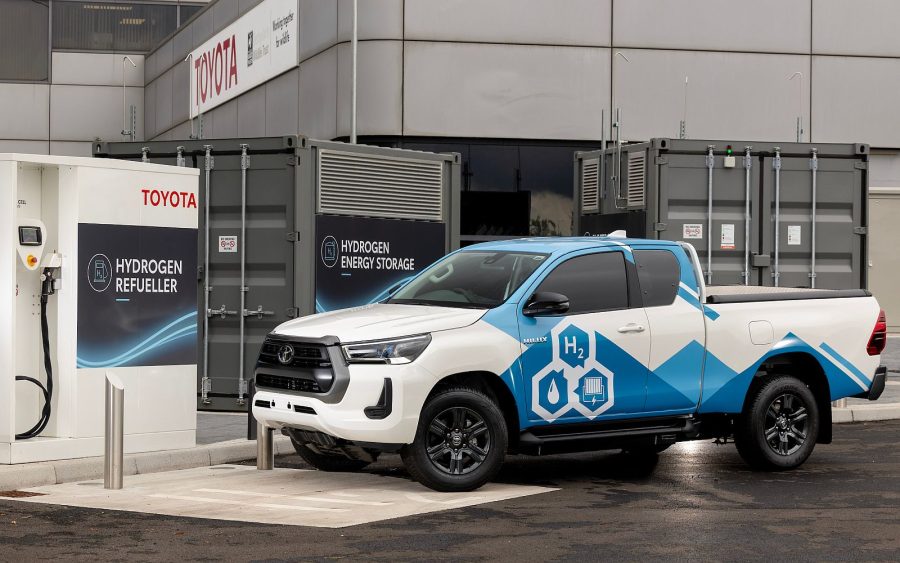 Building a sustainable hydrogen-powered mobility requires a robust ecosystem that supports hydrogen-based business solutions. Toyota expects that by demonstrating the feasibility of hydrogen mobility solutions at Paris 2024, it will encourage a wider roll-out of the hydrogen infrastructure.
Putting people at the centre with Global Team Toyota Athletes
Toyota's partnership with the Olympic and Paralympic Games is a result of its commitment to building a better world of tomorrow. Sports and the way that athletes face and overcome challenges to reach their goals is an inspiration and shows the way to building a more inclusive and sustainable society.
That is why Toyota is a proud partner of around 240 athletes from 43 countries on their road to qualify and compete at Paris 2024, all training under the umbrella of Global Team Toyota Athletes. These Olympians and Paralympians embody Toyota's core value of continuous improvement and desire to overcome challenges.
Toyota's commitment to building a better society goes even further. The company is dedicated to making movement better for everyone and ensuring that everyone gets the same chance to be their very best. In 2018, Toyota rolled out the Start Your Impossible global corporate campaign that reflects the Olympic and Paralympic spirit of encouragement, challenge and progress. The initiative is built on three pillars – Ever Better Society, Ever Better Toyota and Ever Better Mobility for All – that encompass Toyota's pledge to a constantly evolving world. The campaign continues with Paris 2024.
In addition, in the run-up to the Olympic and Paralympic Games, Toyota Motor Europe, under the Start Your Impossible banner, has launched a European activation campaign. More than 100,000 Toyota employees from across Europe can take on non-business-related challenges, such as sports, volunteering, or mindset shift activities to contribute to the ever-better society, and therefore an ever-better Toyota. And by being active in their lives and their communities, they can be one of the 4,000 employees to have a chance to attend and support the Paralympic Games Paris 2024.
Cities around the world still face challenges surrounding mobility, having to solve issues ranging from traffic congestion to air pollution, traffic accidents, and access for people with impairments. Starting from Tokyo 2020 and through Beijing 2022, and continuing now in Paris 2024, Toyota is hoping to help cities tackle these challenges around the world and contribute to developing a sustainable mobility society.
Toyota will disclose more of its plans and contributions, including those related to new mobility products and solutions, between now and Paris 2024.
Tony Estanguet, president of Paris 2024 commented: "Working with Toyota as global mobility partner of the Paris 2024 Games enables us to act towards a more accessible and inclusive mobility. And a more responsible one, too, as we focus on our goal of reducing greenhouse gas emissions by 50% for the Paris 2024 Games, in comparison with previous editions. To this end, Toyota's innovative approach to new technologies is essential. With less than a year until experiencing the Games of a new era, our work with Toyota is becoming more concrete every day, and we are very happy about it."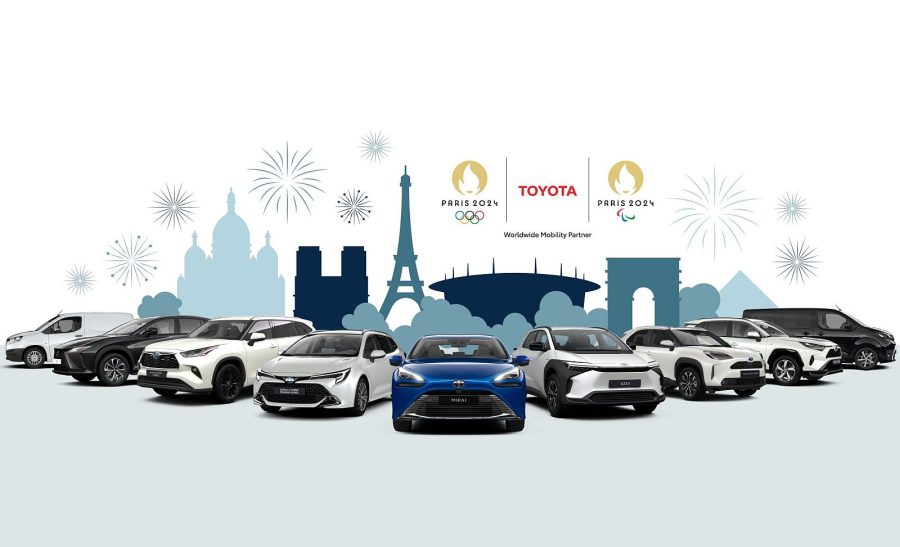 Toyota's 100% electrified passenger fleet
| | |
| --- | --- |
| Vehicle | Number |
| FCEV (Mirai) | 500 |
| HEV | 845 |
| PHEV | 176 |
| BEV | 1003 |
| Wheelchair-accessible BEV | 150 |
| TOTAl | 2674 |
Toyota's last-mile inclusive mobility solutions
| | |
| --- | --- |
| Product | Number |
| New APM | 250 |
| C+Walk (seated) | 60 |
| C+Walk (standing) | 190 |
| Wheelchair e-puller | 200 |
| TOTAl | 700 |